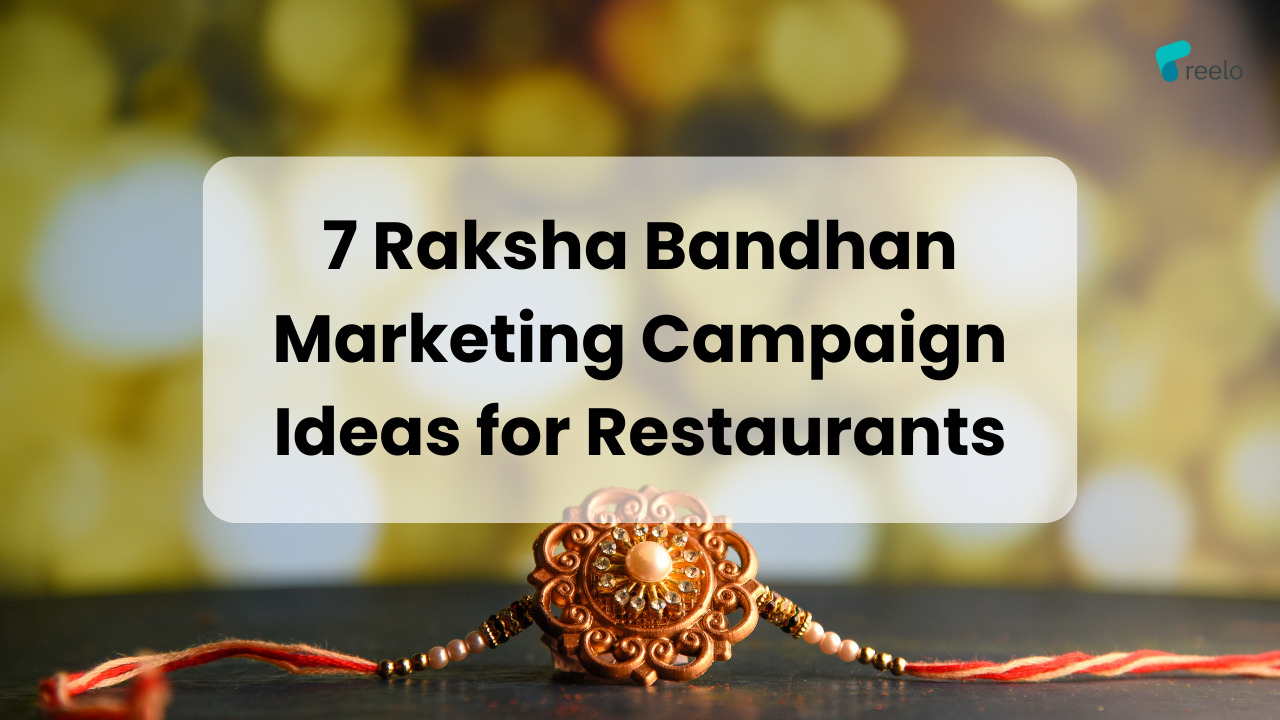 Looking for marketing ideas for Raksha Bandhan 2023? Here's a quick guide to help you plan your Rakhi marketing campaign!
It's finally that time of year when family and friends come together to celebrate love and brotherhood: Raksha Bandhan.
Rakhi always arrives with grand celebrations and an array of tempting delicacies. In the past, people used to relish sweets and other treats within the confines of their homes.
However, nowadays, they step out to indulge in delectable food and enjoy themselves. thus creating opportunities for restaurants and food businesses to attract more and more people.
The festive season is an ideal time to boost sales and enhance customer loyalty. And this can be achieved through marketing campaigns.
You can create unique, heartwarming, and entertaining Raksha Bandhan marketing campaigns to make heads turn towards your business.
Moreover, these campaigns can leave a long-lasting impact on consumers and build brand awareness for your restaurant.
Raksha Bandhan is just a week away, and this is the perfect time to plan festive marketing campaigns. We have some unique marketing ideas that you can use this Rakhi!
Let's get in!
What Is The Importance Of Marketing Campaigns?
Marketing campaigns play a crucial role for every business, including restaurants. Whether you are launching a new cuisine or promoting a festive offer, people need to know about it. And the only way they know it is through marketing campaigns.
Here's why you need to use marketing campaigns for restaurants:
Helps in brand building: These campaigns help in building a strong brand by communicating the core values and beliefs of your business. Marketing efforts across various channels increase reach and present your USPs in a standardised manner that distinguishes you from competitors.

Moreover, through consistent marketing, it becomes easier for customers to identify your business through your brand logo and colour, building trust and credibility. All of this helps you build a brand and set yourself apart from other businesses!

Increases brand awareness: Marketing campaigns aren't only for existing customers. They also attract new audiences and increase your customer base. These campaigns are a way to introduce your offerings to customers who might not have known about them otherwise.

Boosts sales and revenue: These campaigns are a unique way to aware the customers too. When customers are aware of your offerings, they will buy, increasing the total sales and revenue.
7 Rakshabandhan Marketing Ideas For Restaurants
1. Introduce Rakhi Special Menus
Break free from your daily food combos and restaurant menus. Instead, curate a special menu that brings out unique flavours and highlights the importance of the festival. You can name it ''Raksha Bandhan Special'' and list down the items under it.
You can make it more special by naming these menu items after famous sibling pairs or childhood favourites. Rakhi special menus are a great way to capture customers' attention and give them a personalised yet fun experience.
Personalised menus will help you provide better customer engagement and word-of-mouth!
2. Rakhi-themed Decor
What's a better way to celebrate Raksha Bandhan than by decorating your restaurant with rakhi-themed decor?
You can decorate your space with elements like rakhis and traditional motifs. Apart from that, you can create a small photo booth either inside or outside your restaurant. This creates an immersive environment and encourages customers to take pictures with their siblings or cousins. The customers might tag you on social media with those pictures, and you get free publicity.
Furthermore, a well-decorated space will encourage customers to enter your restaurant and spend more time there. This will boost your sales and improve your festive dining experience.
3. Raksha Bandhan Restaurant Offers
Every festive season is incomplete without exclusive discounts and offers. It increases footfall and gives you a competitive advantage.
For instance, you can club Raksha Bandhan restaurant offers with your special rakhi menus i.e., 10% Off on one special menu item. Or you can offer free dessert on a total bill of INR 1500.
Discounts and offers often grab the attention of potential customers who might be looking for more deals. Moreover, they will be likely to choose your offerings over those of their competitors. This can help in attracting new customers and retaining existing ones.
4. Rakhi-themed Restaurant Events
Hosting rakhi-themed events is your way to attract mass visitors to your restaurant. These events help create fun and memorable festive dining experiences for your customers. Here are some rakhi-themed restaurant event ideas that can help you attract more customers:
Host a rakhi DIY rakhi workshop where customers create their own rakhi using different materials and designs.

Invite your customers to share their favourite sibling stories. You can create a contest out of it and ask people to vote for the best story.

Host a sibling trivia night where everything is centered around famous sibling pairs. Winning can win exciting prizes and rewards.

Turn your restaurant into a dance floor for particular hours and ask your customers to join in with their siblings, cousins, or family members.
5. Raksha Bandhan Social Media Campaigns
You can use platforms like Instagram to run social media campaigns for Raksha Bandhan. It will build excitement and show what makes your restaurant unique during the festive season.
Here are some social media campaign ideas tailored for Raksha Bandhan marketing for your restaurant:
Create fun polls and quizzes related to rakhi tradition, festival dishes, and sibling relationships to encourage audience interaction.

Host a contest where you post a festival-related image and ask the audience to caption it. The top five captions can win gift vouchers.

Do influencer collaborations. Ask influencers to visit your restaurant and share their experience on social media platforms. You can either offer them a freebie in return or do a paid collaboration.
Following is how Knnor India wished Raksha Bandhan on its social media: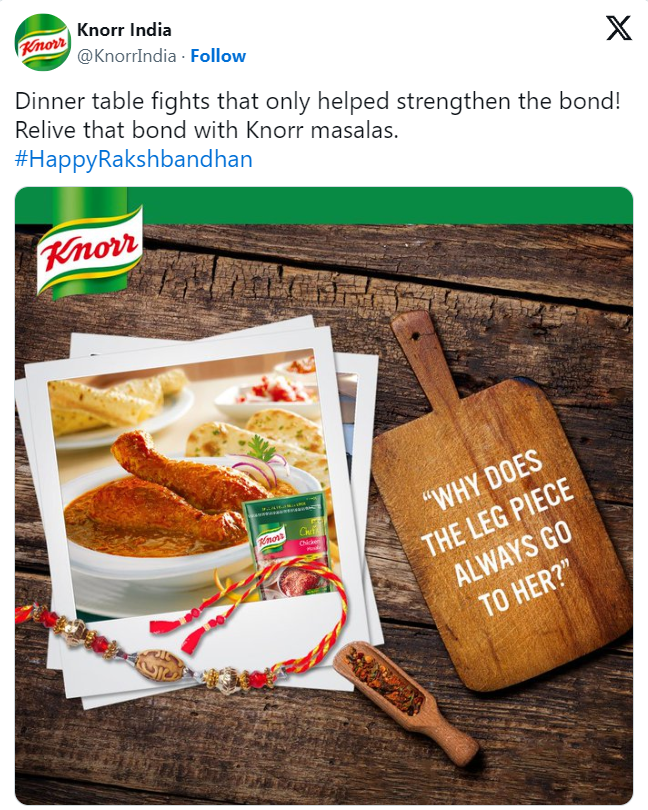 Source: Socialsamosa
Remember to maintain consistent and genuine engagement with your audience for a successful social media campaign.
6. Sibling Loyalty Discounts
You can combine your loyalty program with Raksha Bandhan discounts. These discounts can be specially curated for your loyal and old customers. Offer a discount to loyal customers who bring in their siblings to dine in. It will incentivize customers to bring more people to your restaurant.
Moreover, this will motivate all your new visitors to enrol in your loyalty program. On top of this, it's an excellent way to make your existing customers feel special and valued.
To build a base of loyal customers, design a customisable loyalty program through Reelo.
7. Unique WhatsApp Campaigns
WhatsApp marketing is the hero marketing channel for every business these days. With Rakhi and Onam coming up, WhatsApp campaigns can help you capture some limelight too.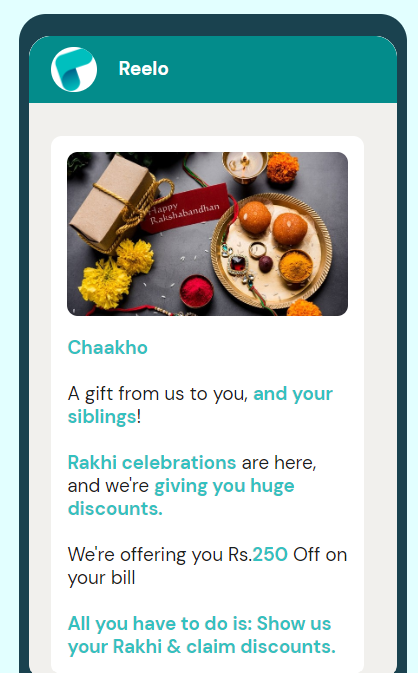 You can plan unique and interesting WhatsApp campaigns for festivals, urging customers to not only visit you but also share them with friends and family.
WhatsApp marketing is your way to stay connected with customers and keep them engaged—on the go!
Create Raksha Bandhan Campaigns with Reelo
Now that you know the importance of marketing campaigns during festivals, it is essential to know tools that can help you create and share these campaigns with your audience.
Your customers won't visit your restaurant during festivities if they are unaware of your plans and surprises. You need to let these campaigns reach them through targeted marketing.
Reelo is the perfect partner for businesses looking to make the most of marketing campaigns. It helps you create customised marketing campaigns for WhatsApp, Email, and SMS, and engage your customers like never before.
From festive offers to weekend specials, there are 3000+ pre-built templates available for you to customise and send to your targeted audience.
If you are a restaurant owner, looking for marketing campaigns for Raksha Bandhan 2023, then Reelo is for you! Send targeted marketing campaigns to your customers and be a part of their Rakhi Celebrations!
And trust us—they will love it!
Final Thoughts
The landscape of marketing has evolved throughout the years. Sending personalised messages and implementing these ideas can be fruitful in nurturing your customer relationships and business growth.
So, don't waste any time, and start sending marketing campaigns today.