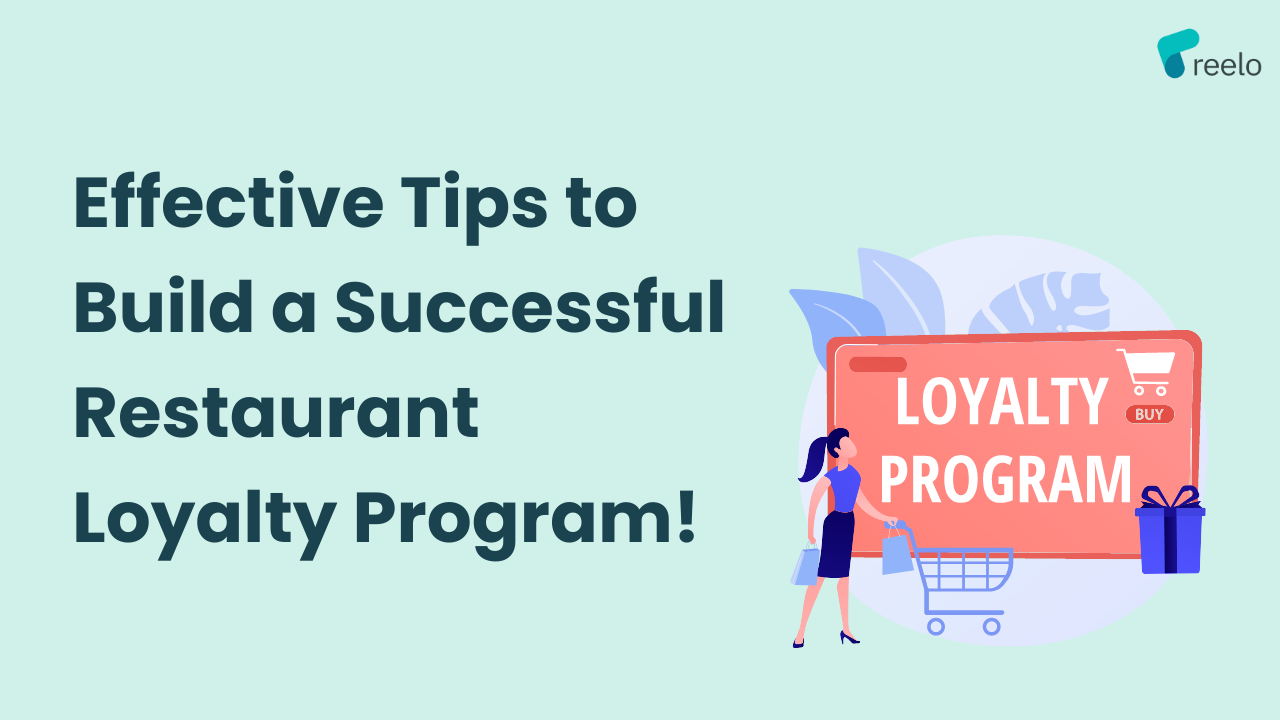 Do you want to get the best out of your restaurant loyalty program? Read these effective tips and make that happen!
Wondering why your restaurant's customers are not returning? Well, you are not the only one! Lakhs of restaurant owners admit not having enough repeat business. Yet they keep on with their old business practices without understanding what their restaurant is missing! Fortunately, there's a solution.
Restaurant loyalty programs are the secret ingredient for consistent repeat business. Restaurants these days believe in investing in a successful customer loyalty program. It will help them get repeat visitors and sustain a prosperous food business.
A restaurant loyalty program is a marketing strategy where the restaurant rewards its regular customers with personalised rewards and encourages them to visit again. Customers get rewards like cashback, reward points, discount offers, and freebies.
With benefits like personalisation and strong customer relationships, a loyalty program is the perfect retention marketing strategy for restaurants.
From Starbucks to Sephora, every brand from different industries has been cashing in on their customer loyalty programs for ages. However, the importance of loyalty program benefits is valuable for restaurants. Thus, every restaurant should build a successful loyalty program. A program that not only rewards its customers but also encourages, engages, and retains them.
If you are a restaurant owner looking to build the best customer loyalty for your food business, then you are at the right place! We have the most effective tips that will help you create a successful restaurant loyalty program.
Read on to learn more!
Why Customer Loyalty is Important
Before we take you through the tips and tricks of building a successful loyalty program, let's take a moment to understand why these programs are so important!
Reward programs or loyalty programs are the building blocks of customer loyalty. When you reward your regular customer for buying something from you, you make them feel appreciated and nice for spending that much money.
This impacts them to a level that they want to visit you again and again to get access to personalised rewards and feel awarded. A customer who visits you repeatedly is loyal to you and promotes customer loyalty. Moreover, the order value of a repeat customer is often more than a first-time visitor. Thus, customer loyalty gets you consistent repeat sales and revenue.
ALSO READ: 10 Key Benefits of Restaurant Loyalty Programs
Effective Tips for a Successful Restaurant Loyalty Program
1. Offer Personalised Rewards:
Rewarding loyal customers is the basis of any loyalty program. But how should a restaurant reward a customer? Well, a study reported that most restaurant loyalty marketing focussed just on "freebies" in exchange for any customer experience. Modern customer loyalty programs should try to know their customers well and then personalise a reward program for them. Customers are aware today; they know what they want. So, offer them the reward they want to have not what you want to give.
2. Clarify How your Reward Program Works:
Most of the time, customers aren't aware of the loyalty program system of any restaurant. They don't know that the restaurant will reward them with rewards on every purchase. Also, they remain unaware of important details like:
How many rewards do they collect at every purchase
When they can redeem them
Can they redeem all rewards at once
Will they get rewards again
What happens if points expire, and so on…
When customers don't know about the loyalty system, then how can they participate in it? Thus, a restaurant should take measures to clarify every detail of its reward system to the customers. It will ensure maximum participation of customers and build a successful restaurant loyalty program.
3. Promote your Rewards Program:
Promoting your loyalty program should be a part of your checklist while building a successful one for your restaurant. If you notice brands like Starbucks, Sephora, Amazon, Subway, and many others promote their rewards program through social media and other channels because they want more and more people to know about their attractive rewards. Word-of-mouth marketing is probably the best form of promotion that digital loyalty programs get. People are more likely to be influenced by their friends and family, and hence, word-of-mouth is more effective in bringing people to enrol for reward programs.
4. Listen to Customer Needs and Preferences:
Loyalty programs prove successful only if your customers are happy with your services. No matter how engaging a loyalty program is, if your customers are not satisfied with your overall business, they will not enrol in the loyalty system. Hence, restaurants should focus on listening to their customers, and understand their needs, likes and dislikes, grievances, reviews, and everything else that helps in providing a better customer experience. Moreover, it will help you know the customers well in designing an engaging and customised customer loyalty program.
5. Diversify the Rewards:
The problem with most restaurant loyalty programs is that customers don't get multiple rewards or benefits out of them. With endless options available, customers are picky when choosing a program for them. Hence, you need to make sure that you offer various types of rewards through your loyalty system. Having a system that offers rewards for all types of customers will help you enrol all your customers and engage them well. A few of the things that you can do to diversify your rewards system are:
Increasing the number of methods that customers can earn points (such as sharing posts on social media, reviewing products, etc.)
Organizing unique occasions, such as a happy hour
Letting customers select between receiving a cashback payment, using their points for free delivery, giving the value of their points to charity, and other benefits when redeeming their points, etc.
Conclusion
At last, we can undeniably understand that building a successful restaurant loyalty program will require consistent efforts. You need to make sure that you are understanding the needs of your customers, diversifying the loyalty rewards, offering personalised rewards, explaining how the loyalty system works, and promoting your reward program well enough. By doing all of this, any restaurant will be able to boost customer loyalty and retain customers for a long time.
If you are a restaurant owner looking to build an engaging loyalty program, within minutes, then check out Reelo's loyalty program feature, and boost your customer loyalty like never before!