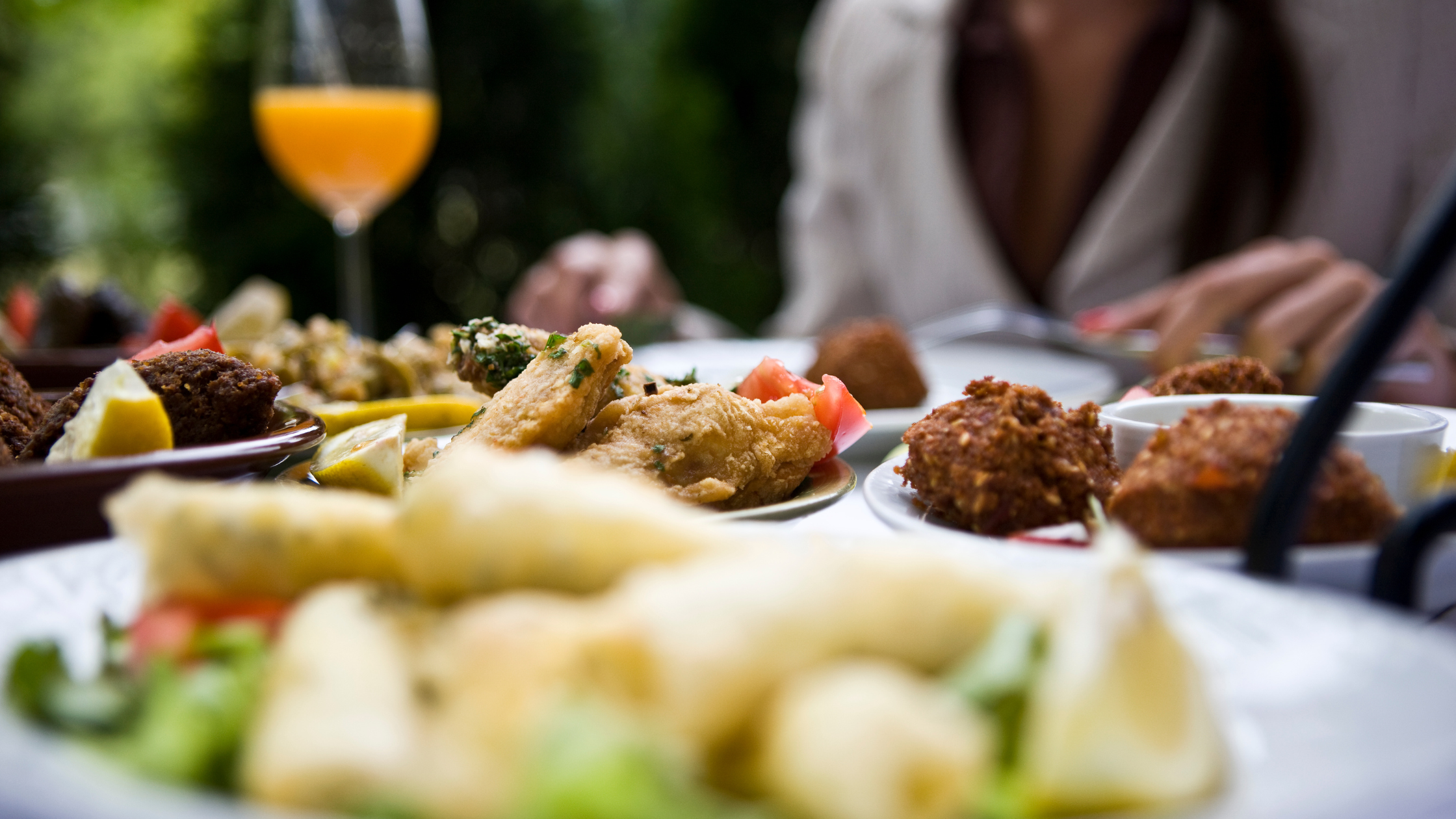 You've got to try something different when you are serving different flavours to people from diverse cultures. Gautam's O Dine wanted to do the same. Check out how Reelo helped the restaurant solve various issues and become a success story!
About Gautam's O Dine
Gautam's O Dine is a multi-cuisine restaurant, which surely stands for "different flavours serving different cultures". The restaurant serves different flavours from different cultures which includes Italian, South Indian, North Indian, continental, mocktails and ice cream.
Shubham Gautam, the founder of this dine-in restaurant, learned about Reelo at a corporate event. It was then that Shubham thought of trying our smart customer engagement platform for his restaurant. It's been two years of Gautam's O Dine using Reelo and there's no looking back for them.
Let's look at how the Reelo solutions worked for Gautam's O Dine!
Why Gautam's O Dine Chose Reelo
Similar to any food business, Gautam's O' Dine was also looking to boost customer retention, collect more customer data, and engage their customers better. They wanted an all-in-one tool to do all of this and more.
Here are some challenges that urged this restaurant to choose Reelo:
Customer data collection:

Before using Reelo, Gautam's O' Dine found it hard to collect customer data which could help them know their customers better. They wanted a system that provides huge customer data in an easy interface. Lack of sufficient customer data leads to not knowing what the customer needs, lower customer engagement, and losing more customers. Thus, the collection of customer data posed a serious problem for the growth of Gautam's O'Dine.

WhatsApp Campaign customisations:

Being a multi-cuisine restaurant, Gautam's O' Dine wanted to send different marketing campaigns to various customers. The team wanted a tool that could help create customised marketing campaigns easily. Living in a technology-driven industry, they wanted to get modern marketing campaigns instead of depending upon traditional marketing methods.

Customer retention:

According to the marketing team of Gautam's O' Dine, the biggest challenge for the restaurant was to retain the existing customers. While they wanted to collect more and more customer data for better retention, the team also wanted to build customer loyalty through loyalty programs. Loyal customers boost customer retention rates. Hence, an attractive loyalty program was also on the restaurant's bucket list.
Here's What Reelo Offered Gautam's O Dine to Solve the Challenges:
Gautam's O' Dine serves people from different cultures and backgrounds. Thus, the restaurant wanted an all-rounder tool like Reelo, which provides deep customer insights and helps with personalised engagement solutions.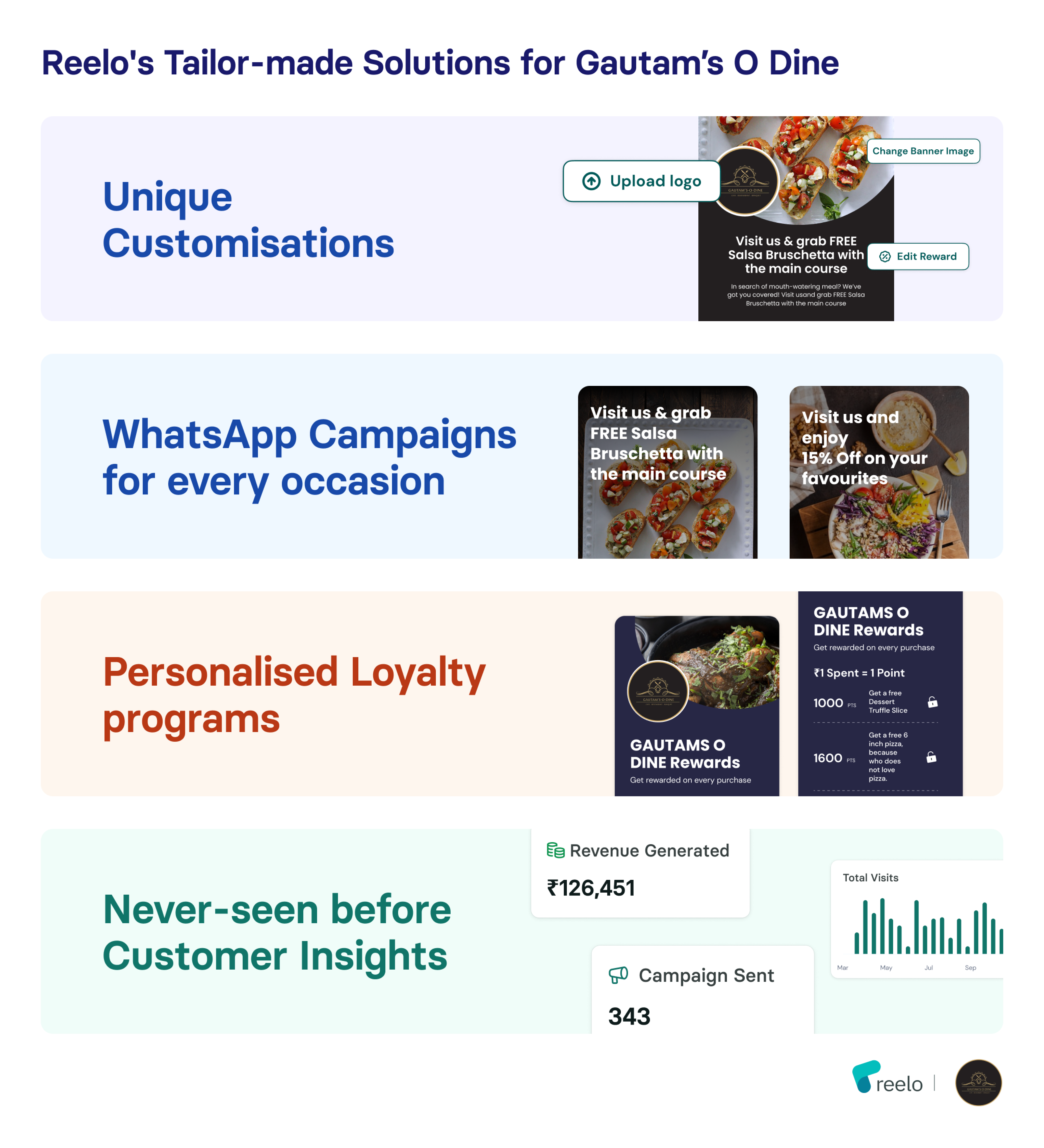 Let's take a detailed look at how these solutions impacted Gautam's O' Dine restaurant:
Exclusive customer data:

Collecting customer data was one of the top priorities for Gautam's O' Dine. The restaurant wanted to get this data and then use it to engage and retain their customers well. Be it QR codes or customer feedback, Reelo collects customer data from every customer interaction. This has overcome the challenge of data collection for Gautam's O Dine.

Never-seen before Insights:

Gathering data is one thing but understanding it is different. Reelo's features are helping the restaurant gather unique customer insights to understand its customers better. These insights let Gautam's O Dine know who are the regular customers, potential, and lost customers. Moreover, Reelo's easy-to-use interface makes it convenient for the team to understand the data easily.
"Using Reelo's customer data, we now know what our customer wants. Every time we update our menu, we now consider our customers' valuable feedback on what they want on the menu. This has helped us build customer relations and experiences" -Marketing team, Gautam's O Dine.
Reelo's unique campaign customisations:

As a multi-cuisine restaurant that serves a variety of customers, Gautam's O Dine wanted to have software that helps the team to market better. Reelo offers a pre-built campaign library with over 1000 customisable templates. With Reelo's campaign templates, the restaurant has been able to attract new customers, engage existing ones, and boost customer retention rates.
"Our favourite feature from Reelo has to be the campaign library. We send out campaigns almost every week. The best part about this feature is the customisations. The customisations that Reelo offers are rare. We have never seen any other brand offering such customisations for campaigns"- Marketing team, Gautam's O Dine.
Gautam's O Dine has made the most of Reelo's campaign library. The restaurant generates consistent revenue from every campaign. The team has also admitted that this feature has helped them boost customer engagement. One recent instance of the impact of campaigns for Gautam's O Dine is: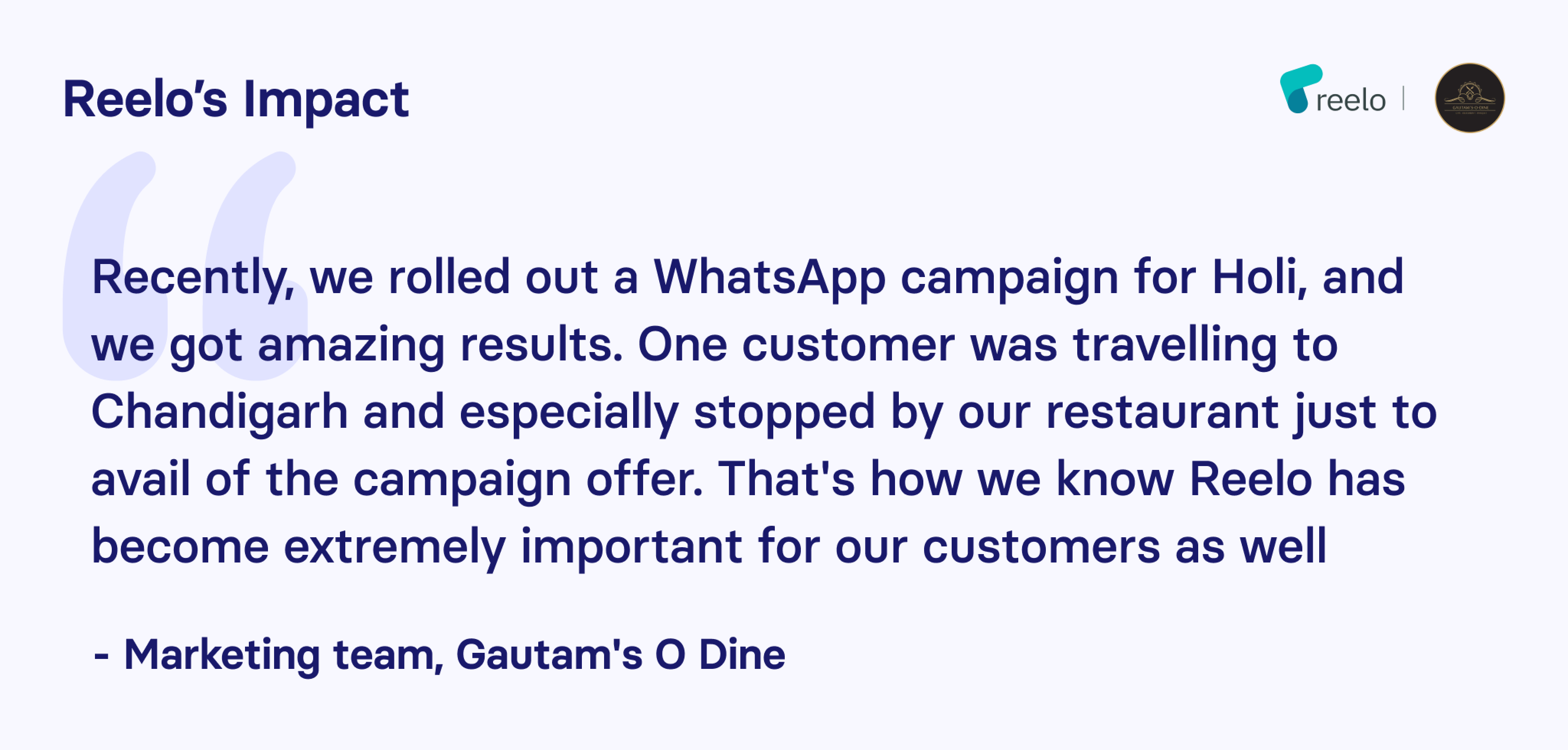 Branded loyalty program:

Gautam's O Dine also wanted to have an increase in their loyal customers which helped them boost customer retention. With Reelo's loyalty program feature, the restaurant has customised a loyalty program under its own brand name within a few steps. This has helped them get loyal customers and retain them with loyalty rewards. Here's what their loyalty program looks like:
Reelo's Impact in Numbers:
Look at this snapshot that will help you know the impact of every feature of Reelo for Gautam's O Dine!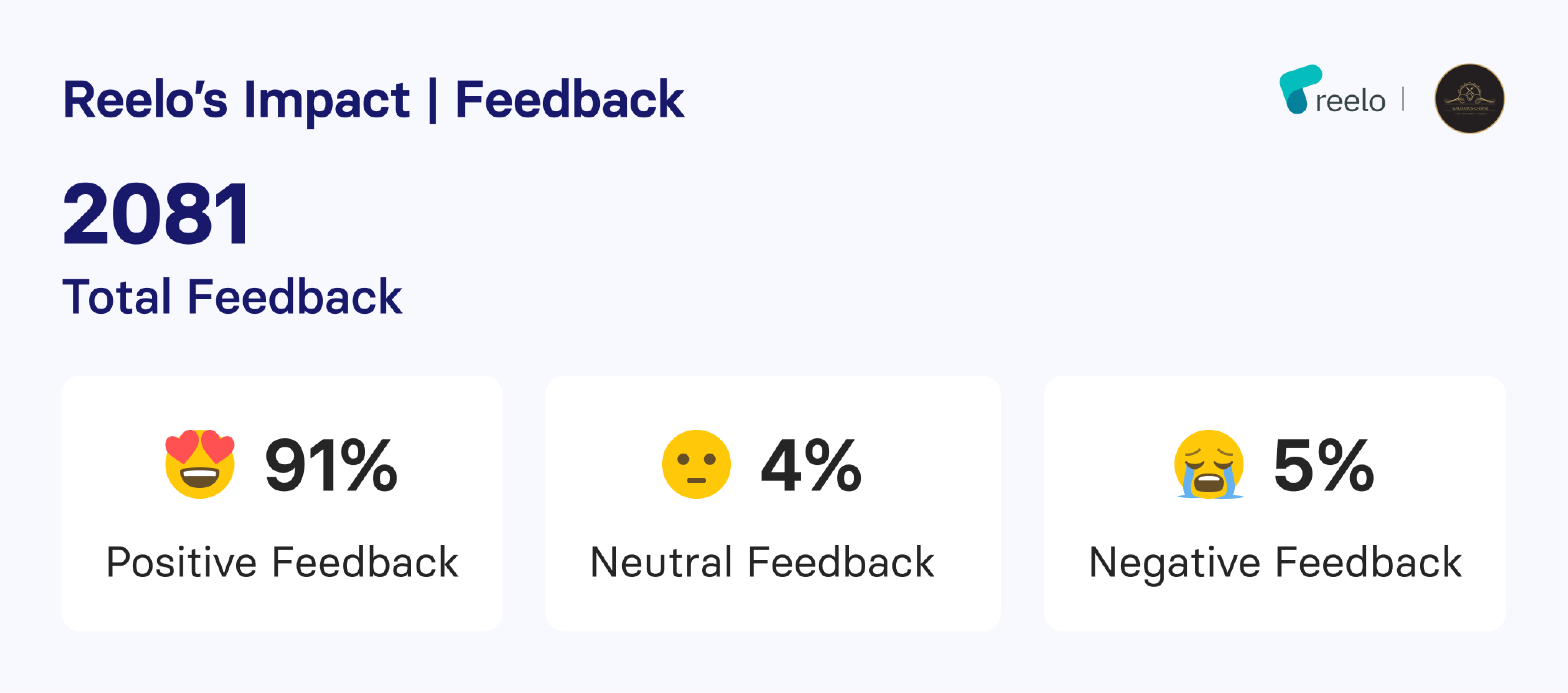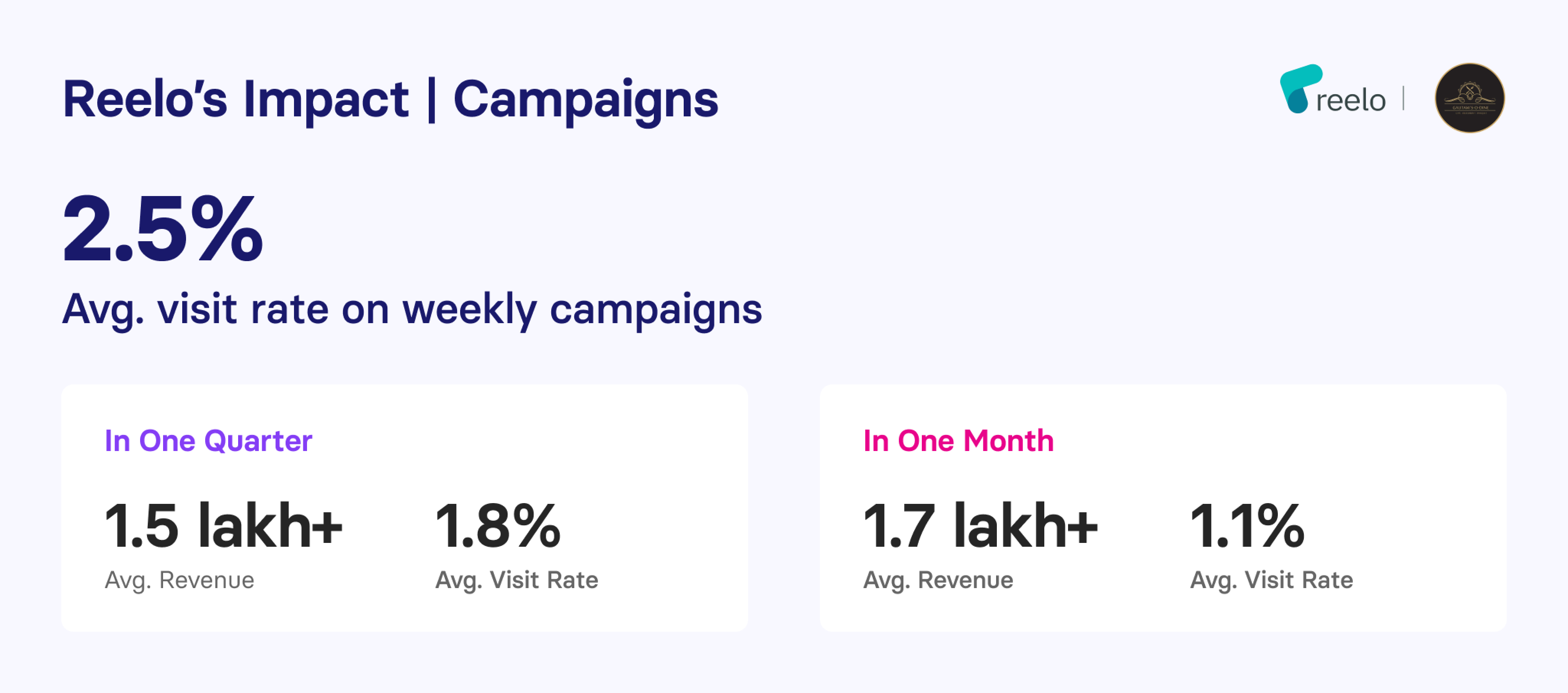 Want to see the same growth for your restaurant? Try Reelo for FREE today and trust us, you won't be disappointed!