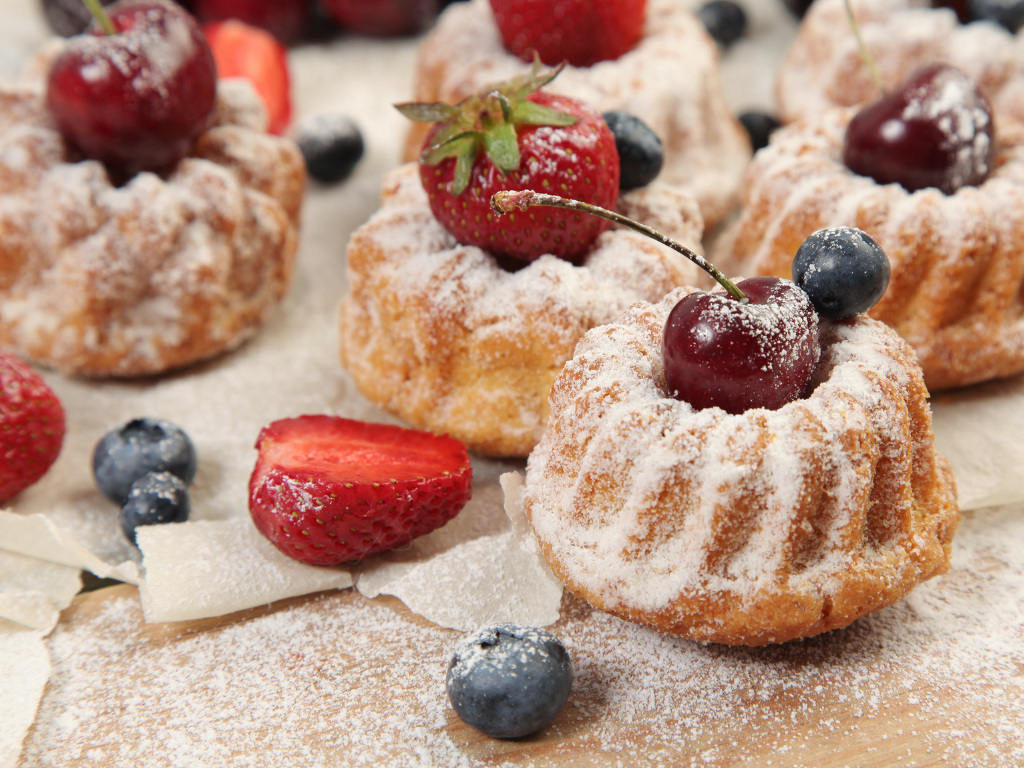 Baked by Nini's grow their business using Reelo. Want to know how? Read the success story of this bakery and know yourself!
About Baked by Nini's
"A lockdown conversation, multiple baking experiments, and finally a successful bakery spreading the love"- a phrase that can define the story of Baked by Nini's in a nutshell.
Baked by Nini's was started amidst the first wave of the coronavirus pandemic. The founders, Dr Navneet Gilll and Ankit Gupta started testing their bakery products in their first business and the parent restaurant, "Nini's Kitchen." When they saw that their audience loved the bakery products, they started an entirely new bakery meant for fresh and high-quality products. Today, Baked by Nini's has 12 stores, and each of them stays houseful every day.

Why Baked by Nini's Chose Reelo?
Every business looks for improvement. Started amidst the first wave of COVID, Baked by Nini's was also looking for improvements primarily in these segments:
Customer data: Baked by Nini's was already using a loyalty program when they realised that it was too complicated to understand the technical data and these big numbers. The interface that they were using made it difficult for them to understand the huge collection of customer data. Thus, they were unable to put that information to use and target their customers better.

Marketing campaigns: The bakery frequently introduces new recipes. Having an already established customer base, they wanted to make sure that they rolled out a marketing campaign the moment their product was ready to launch. Traditional marketing channels like newspaper advertising would not only cost more but also take longer to produce. Additionally, tracking the return you get from these ads is difficult. Thus, Baked by Nini's wanted something that saves time, tracks easily, and reaches a wider audience instantly.

Communication messages: A bakery has tons of activities going on simultaneously. And while they would love to reach more and more people through creative marketing communication messages, it was difficult for the managers of Baked by Nini's to spend time curating proper messages with aesthetic pictures to attract a wider audience.
Customer feedback: One of the biggest challenges that Nini's faced before Reelo was not getting customer feedback on time. If a customer does not like a particular dessert, the team usually finds out about it within 2–3 days. By this time, the damage was already done and couldn't be repaired. So, they were looking for a tool that could help them get customer feedback in the shortest possible time.

Customer information: While third-party delivery apps such as Zomato offer the bakery a lot of flexibility, they do not provide customer information. This poses a massive disadvantage to knowing the customers better and marketing them accordingly.
This expanding bakery chose Reelo due to a desire for better performance and improvement. Let's uncover how Reelo's solution finally helped Baked by Nini's.
The Solution Reelo Offered
Baked by Nini's firstly integrated Reelo with their billing software (Petpooja) and then used Reelo's simple yet unique features to improve their performance. From cross-channel personalised marketing to comprehensive customer insights, here's what worked for Baked by Nini's: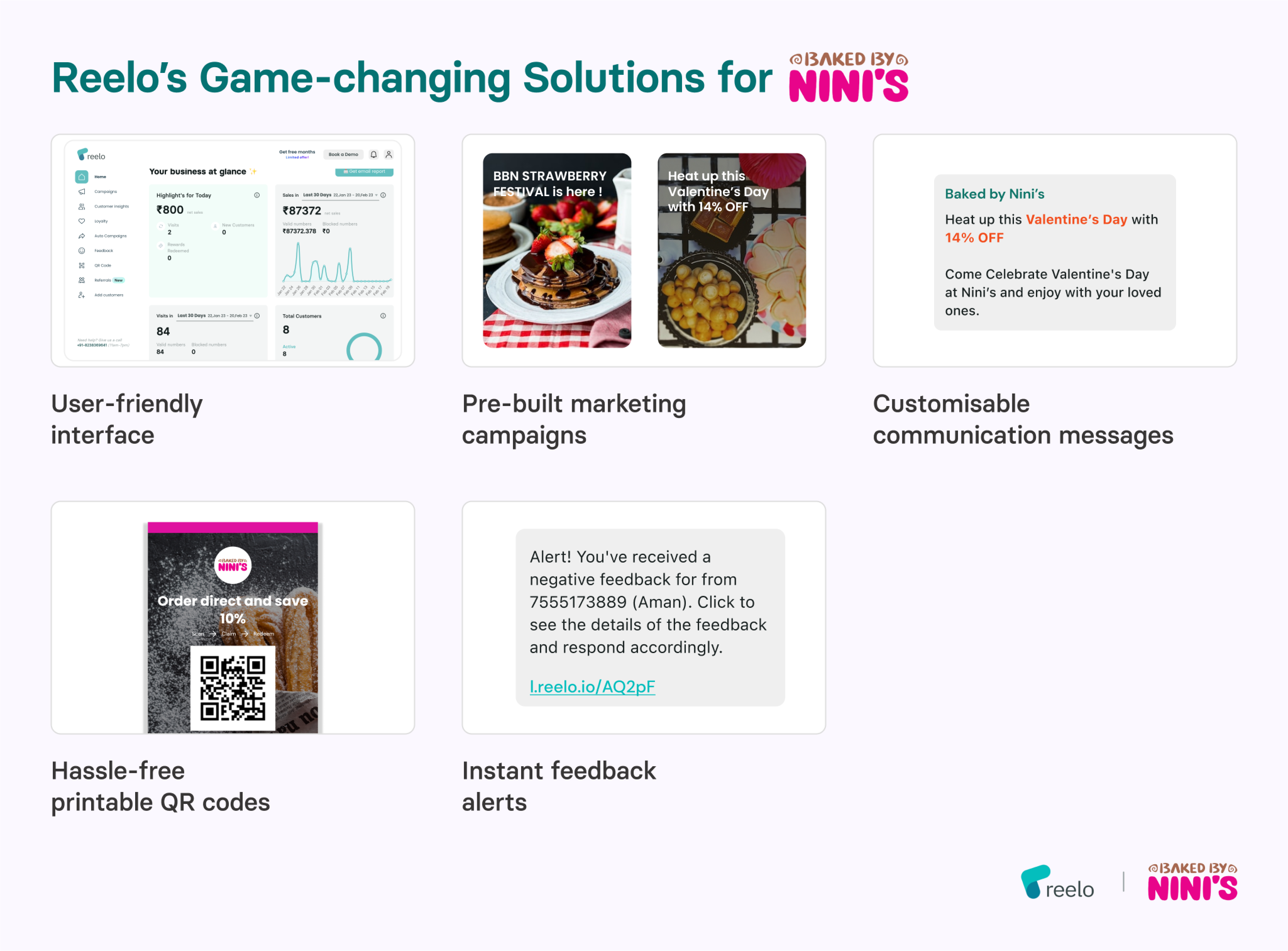 Reelo's easy-to-use interface: Dr Navneet Gill, cofounder of Baked by Nini's and manager of the bakery operations, admits that they wanted something simple. Reelo's easy-to-use interface helped them understand their data better. Due to this, they are now using their data for targeted marketing campaigns and increasing their customer engagement. Be it customer insights or monitoring loyalty insights, Reelo's jargon-free interface makes it possible for the bakery to function easily.

Customisable marketing campaigns: Reelo has an appealing campaign library with 1000+ pre-built campaign templates. Baked by Nini's has used multiple marketing campaigns to acquire a new audience, retarget their existing customers, and boost their sales. Some of the top-performing campaigns have helped the bakery with its primary challenges.

For instance, As soon as Baked by Nini's was prepared to introduce a plum cake, it wanted to send a marketing campaign instantly. With Reelo, it was possible to send a marketing communication even just an hour before the product launched. The bakery was able to avoid paying for newspaper ad columns through this feature and also reached a wider audience with a single click.

Marketing campaign templates also helped Navneet to save time curating attractive marketing messages for the customers. Nini's bakery has been able to attract customers using customisable marketing messages along with aesthetic pictures. Just a single click and a professional-looking branded campaign are pushed to the customers.


Instant alerts for customer feedback: When Baked by Nini's team opted for Reelo, they wanted a system that can help them get instant information about their customer feedback. And Reelo exactly does this! With Reelo's instant alerts for negative feedback, the bakery can pacify the customers having bad reviews. Moreover, it helps them to minimise the overall damage that can hamper the brand's reputation. Reelo has helped the bakery capture around 845 feedbacks as shown below:

So, there's this one instance where Baked by Nini's used this feature to revise the batch of strawberries that they used for garnishing strawberry cakes. With the customer feedback feature, they got to know that the strawberries they use for garnishing are sour. Following this, the team replaced the orders and was able to do it before other customers could come and buy from the lot. Thus, Reelo helped Baked by Nini's serve their customers better and pacify the ones who had bad reviews.

Gathering customer information: One of the biggest issues with third-party delivery apps is that they don't share your customer's details with you. Baked by Nini's wanted to overcome this challenge. The team wanted to know who are people ordering from them through Zomato, Swiggy, and other apps. Reelo's QR code feature helped the bakery to solve this issue. The team started putting printed QR codes in their online delivery packages to get their customer's data. This not only helps them to acquire new customers but also increases the customer database.
Reelo's Impact and Campaign Snapshots
Here's how sending Campaigns from Reelo impacted Baked by Nini's: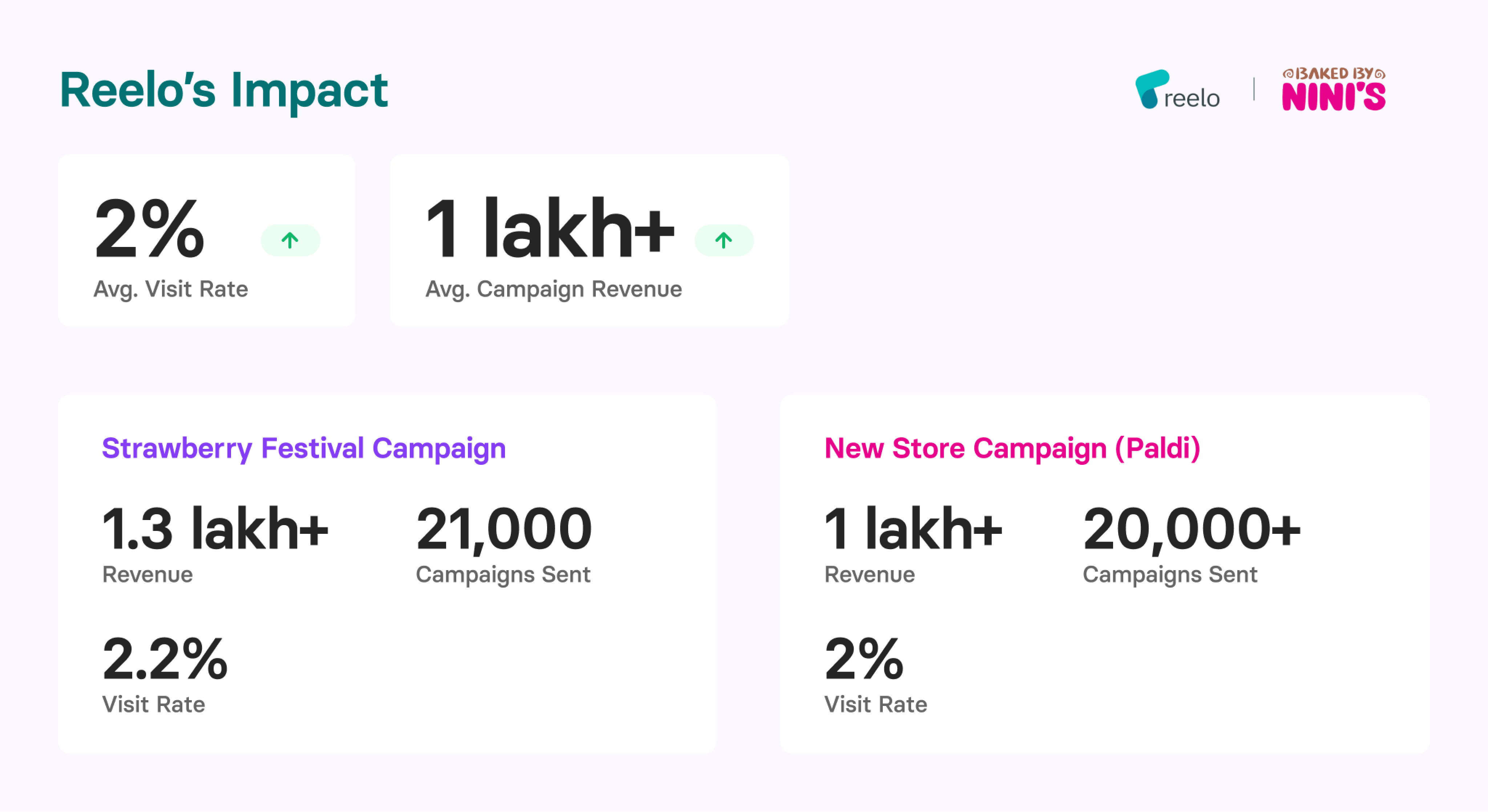 Moreover, the QR code feature has helped the bakery capture over 2000 customers.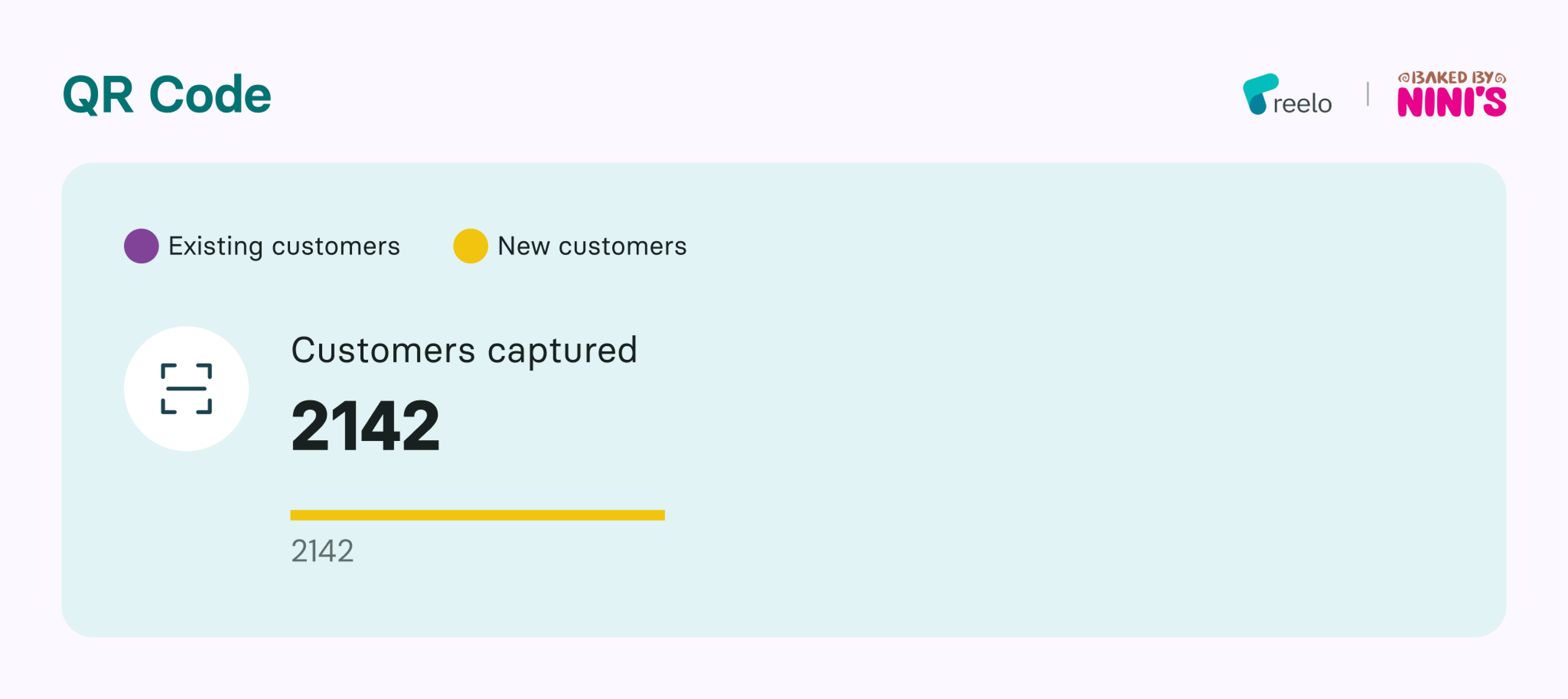 If you also want to see your business grow like Baked by Nini's, sign up for Reelo now!