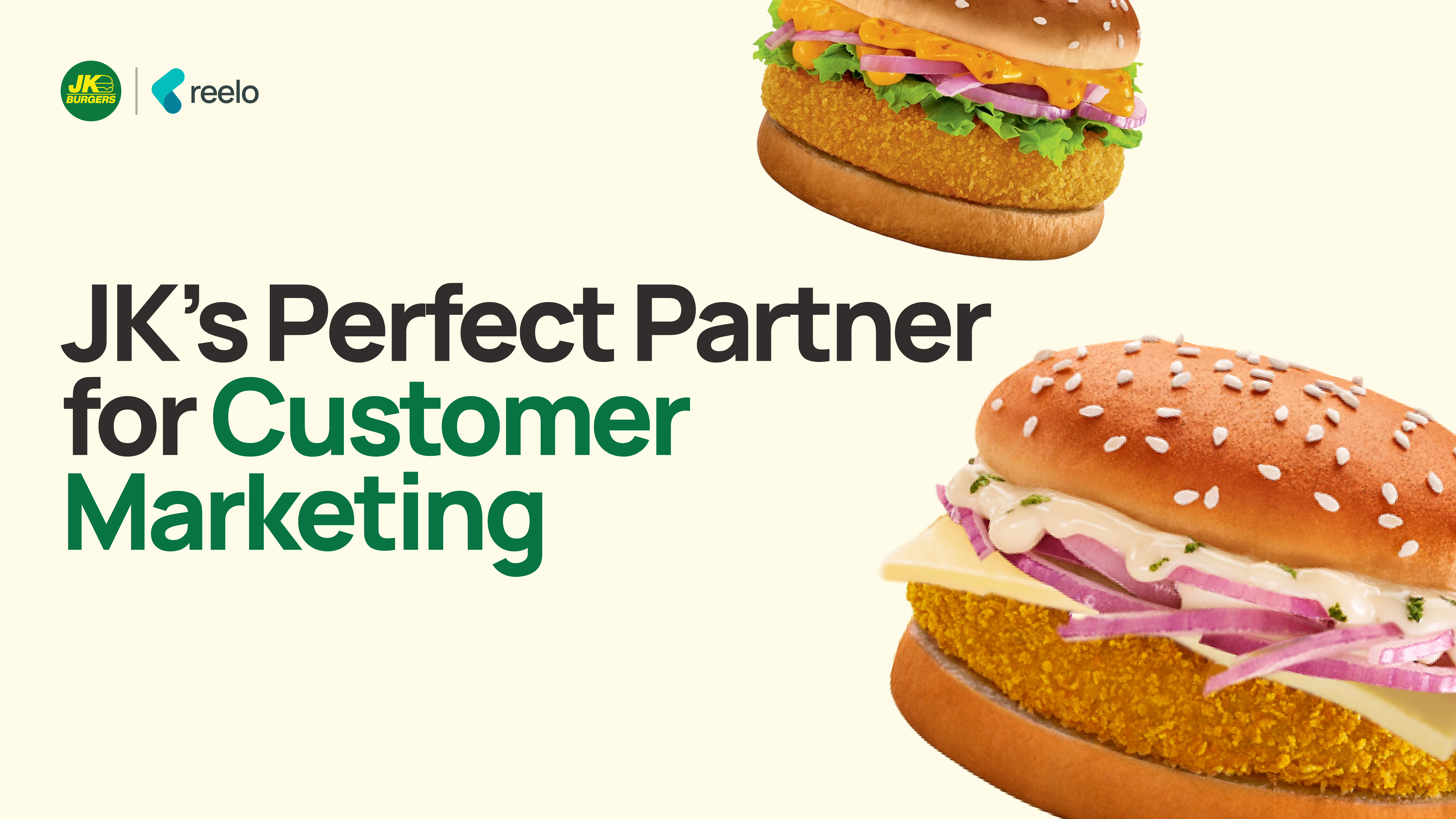 Want to know Jumboking's journey to become India's largest chain of Quick Service Restaurants (QSRs)? Read now!
About Jumboking
Jumboking is India's largest homegrown chain of quick service restaurants (QSRs). While it's a name known to every burger lover, not everyone knows the story behind it!
Inspired by Western multi-outlet food brands like McDonald's and Subway, Dheeraj Gupta started Jumboking in August 2001 with its first store in Mumbai. While there were multiple challenges, Dheeraj was determined to build a homegrown burger brand.
His belief is the force behind Jumboking, which made it India's largest vegetarian burger chain. In 2017, the company came up with a new menu, which was widely accepted by customers.
Since then, Jumboking has been on a roll to become everyone's favourite burger spot.
Jumboking: The Journey to 100+ Stores
It's not every day you find a business story as ambitious as Jumboking. The ambition of being an Indian multi-outlet brand.
Dheeraj saw McDonald's, KFC, Burger King, Starbucks, and many other multi-national brands leading the Indian markets. He thought of doing the same with an Indian-originated brand.
Jumboking has around 140+ stores across India, a feat only a few have achieved. Dheeraj Gupta, founder and MD of Jumboking, asserts that the journey to build 100+ stores was not easy. Jumboking scaled with multiple varieties of burgers and entered the franchise model very early.
By 2004, Jumboking had 6 stores. With an impeccable business model and strong decision-making, Jumboking made its way to 100+ stores. And the journey seems to go beyond numbers now!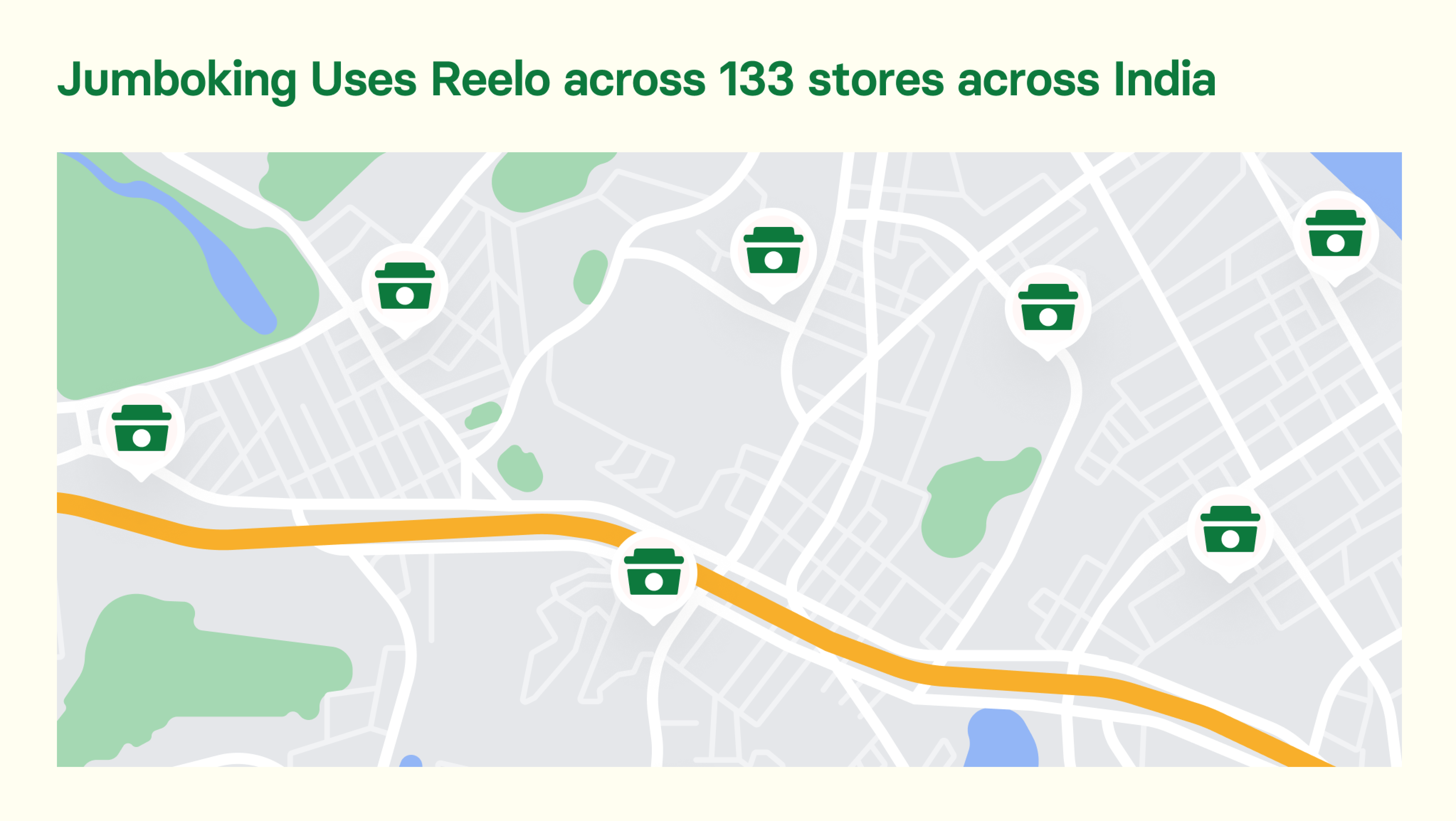 Why did Jumboking choose Reelo?
Technology and Jumboking have always moved hand-in-hand. The brand is surely one of the early adopters of technology in the Indian food industry. Founder Dheeraj Gupta admits to running a loyalty program back in 2008 when restaurant technology was not even an option in India.
From choosing punch cards for customer loyalty to transforming the traditional friers for more efficient operations, the brand has always been on the lookout for improving its performance.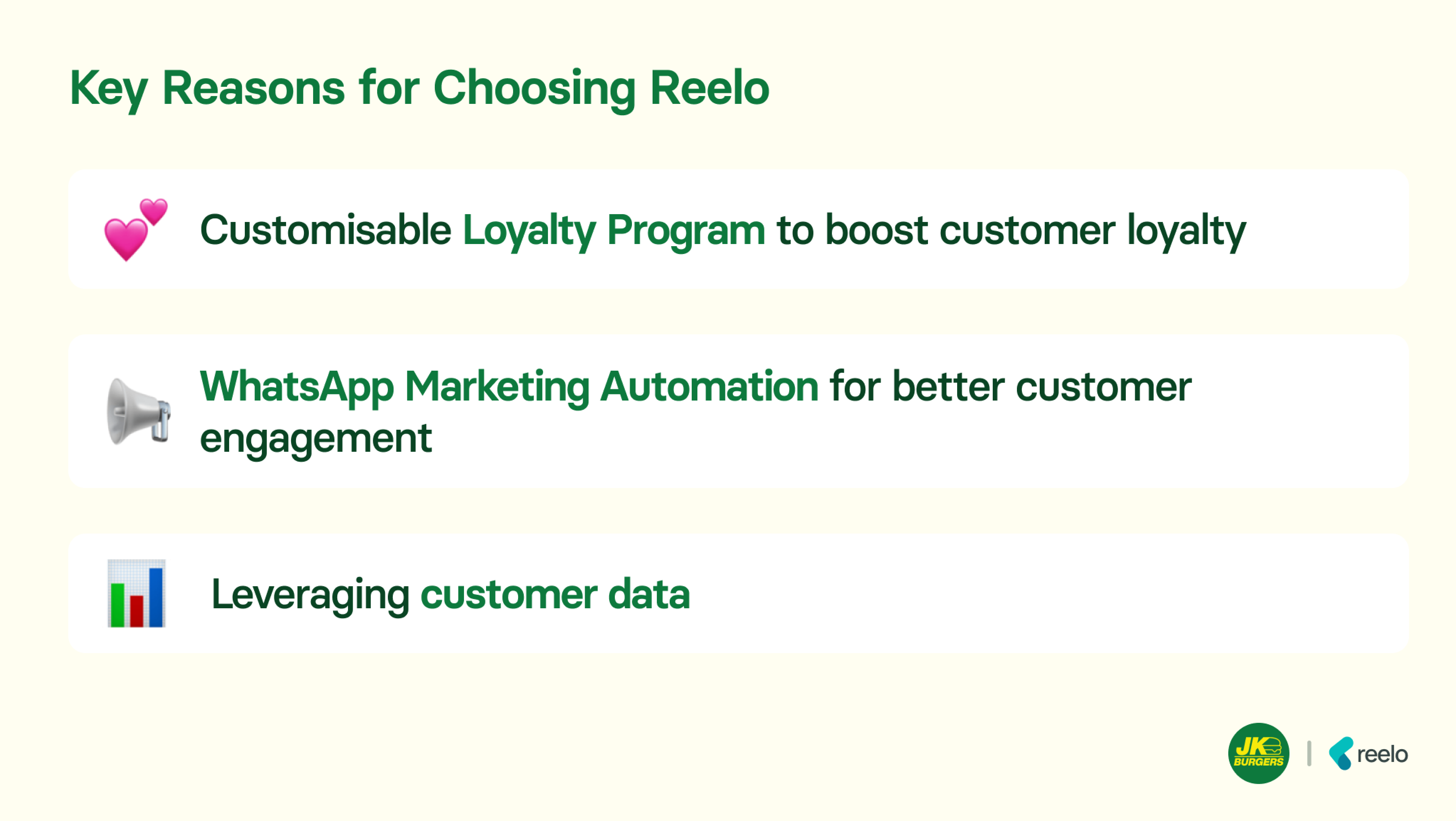 Jumboking's marketing team was on the search for a tool that not only offers them a digital loyalty program but also WhatsApp marketing automation. As narrated by Dheeraj Gupta, Jumboking has been toying with the idea of loyalty programs for the last five years.
It was during COVID-19 that the team understood the importance of customer data and its impact on boosting customer loyalty and engagement.

Here comes Reelo with its customised solutions for Jumboking.
Solutions
Reelo's tailor-made solutions for Jumboking include our customisable loyalty programs, WhatsApp marketing campaigns, and user-friendly customer data collection. Here's how these solutions work for Jumboking: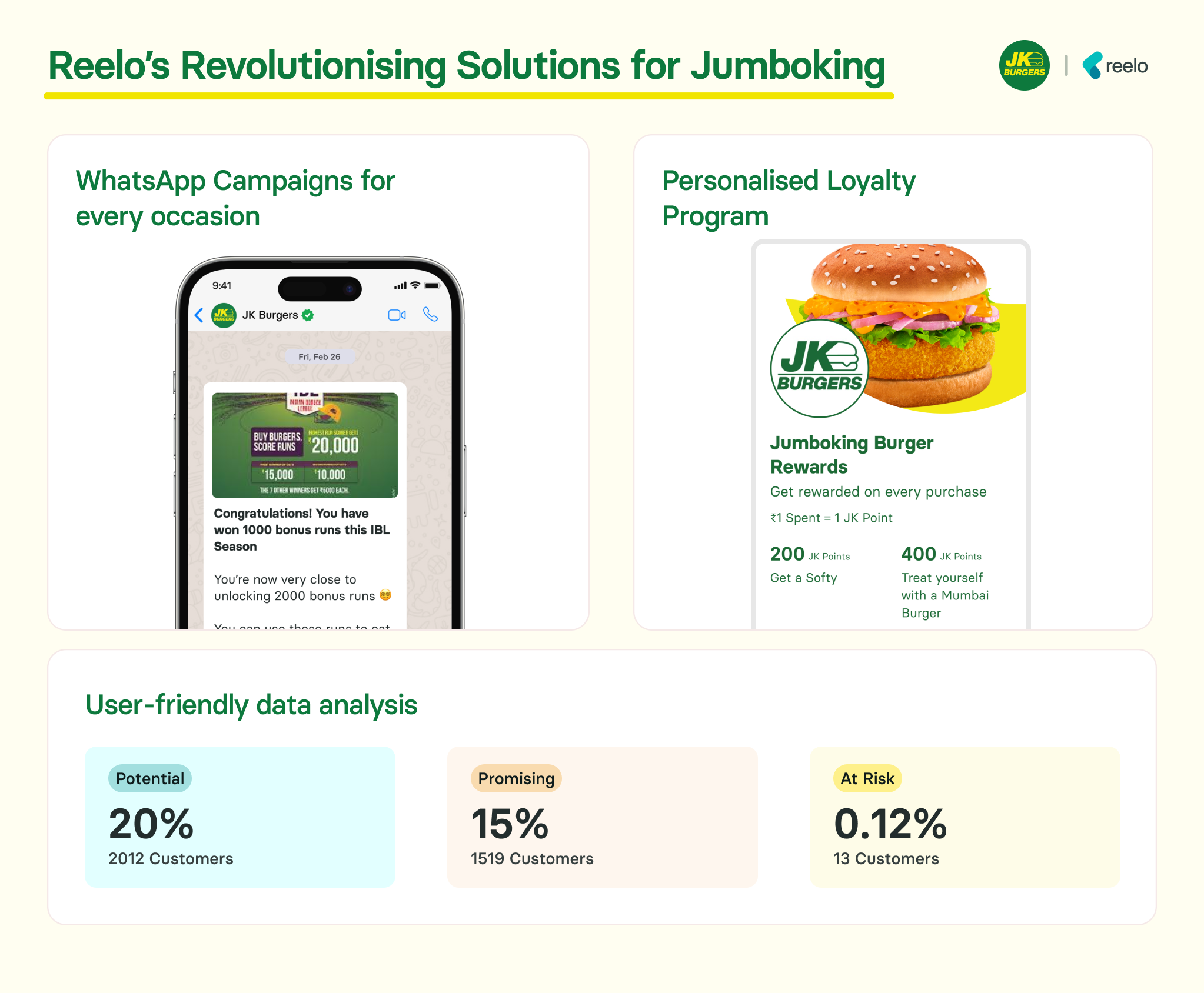 1. Customisable Loyalty Program:
Loyalty programs are a necessity for businesses these days. These programs build a loyal fanbase for your business and help boost customer engagement and retention. Jumboking wanted a loyalty program that was easy to use, automatic, and engaging enough for customers to enrol in.

Reelo's customisable and branded loyalty program feature helped it achieve all of this and more. Jumboking has been in the market for more than 20 years and, hence, has an existing brand perception. With a user-friendly interface and customisation options, Reelo's rewards program feature instilled the brand's unique elements in its loyalty program as well.

Jumboking rewards its customer for every purchase they make. Customers get one point for every rupee they spend. As and when customers gather a specific number of points, they are entitled to respective rewards. Reelo's loyalty feature allows the brand to customise loyalty details, set automatic communication, and gather insights to track performance.
2. Customer Data:
Jumboking realised the importance of customer data during the Covid lockdowns. Following this, the brand was looking for a tool that could help them collect data easily. Reelo has unlocked this need too! Reelo lets Jumboking collect customer data from almost every point of customer interaction.
From Loyalty to Customer Feedback, every feature of our platform enables the easy collection of data, helping Jumboking stay connected to its customers.
3. WhatsApp Marketing Campaigns:
The collection of customer data is not the only thing a brand needs. Of Course, every brand would require tools and systems that help leverage tons of data. Jumboking wanted the same! And Reelo made it possible with its world-class campaign library.
With over 3500+ pre-built templates, Reelo's campaign library helped Jumboking engage with its customers. The campaigns by Jumboking have been an extreme success with some even attaining a visit rate as high as 92%.
Impact
Reelo has been an excellent enabler for Jumboking to scale its business like nothing else. Here's what Reelo's impact looks like!
WhatsApp Campaigns: Jumboking's Successful Weapon at Reelo
The power of WhatsApp Marketing is huge, and brands across the globe are making the most of it. Jumboking wanted to do the same. While the brand was already a hit, WhatsApp campaigns by Reelo have helped it engage with customers like never before.
Let's take a look at Jumboking's most successful recent WhatsApp Campaign.
Jumboking's Indian Burger League (IBL)
Jumboking launched the Indian Burger League, analogously similar to the popular IPL tournament. Cricket is an altogether different community in India. People love watching cricket, and the Indian Premier League (IPL) is an event they look forward to!
Jumboking used the IPL's cricket fever to attract the masses. They launched the Indian Burger League (IBL), where customers would score runs every time they purchased a burger. The campaign promised to reward the highest scorers with cash prizes, as shown below.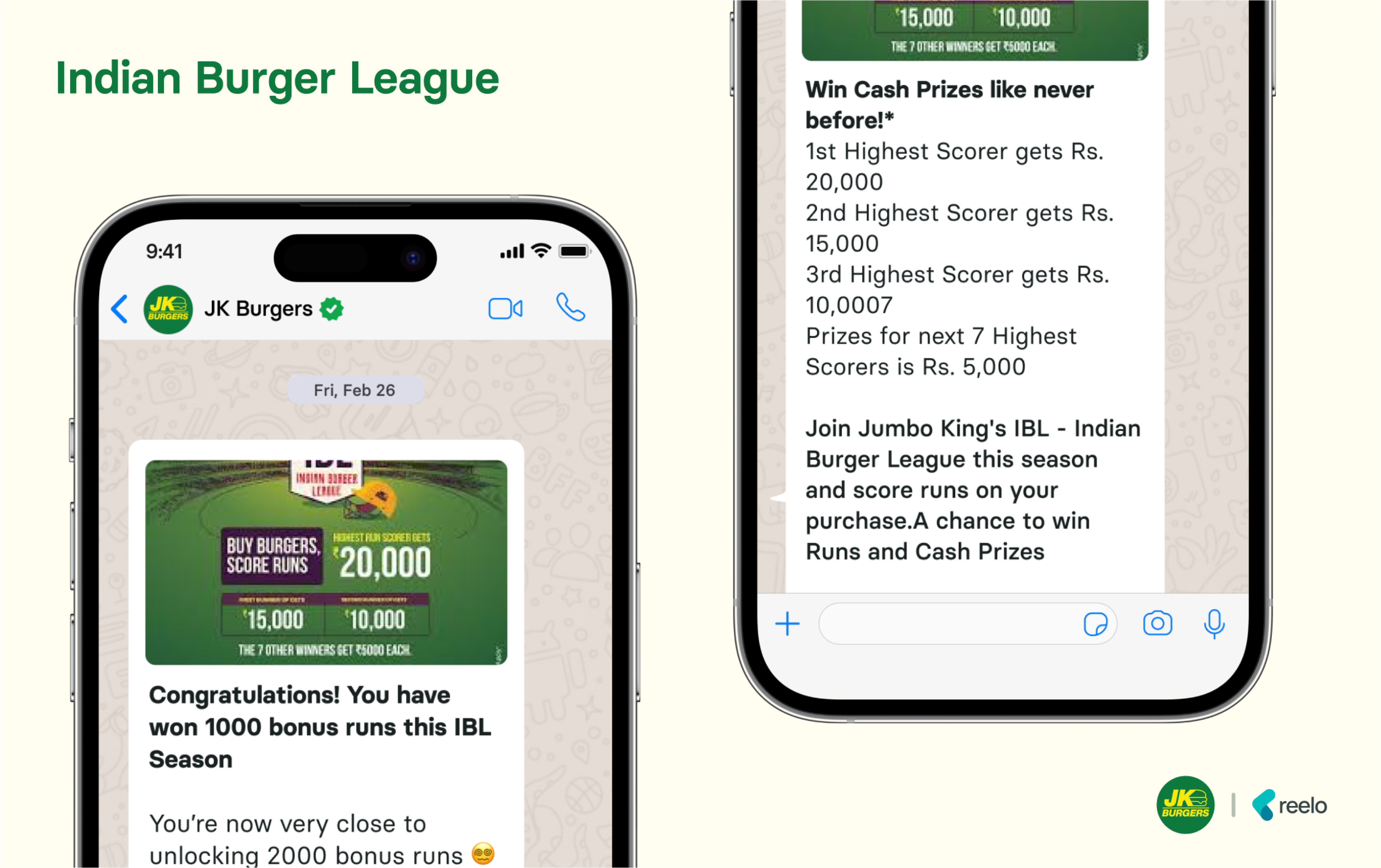 The team also created a run scoreboard where they would mention the top run-scorers (customers who purchased more got more runs) every week. Moreover, they also used Reelo to send WhatsApp communications stating the Top IBL scorers of the week.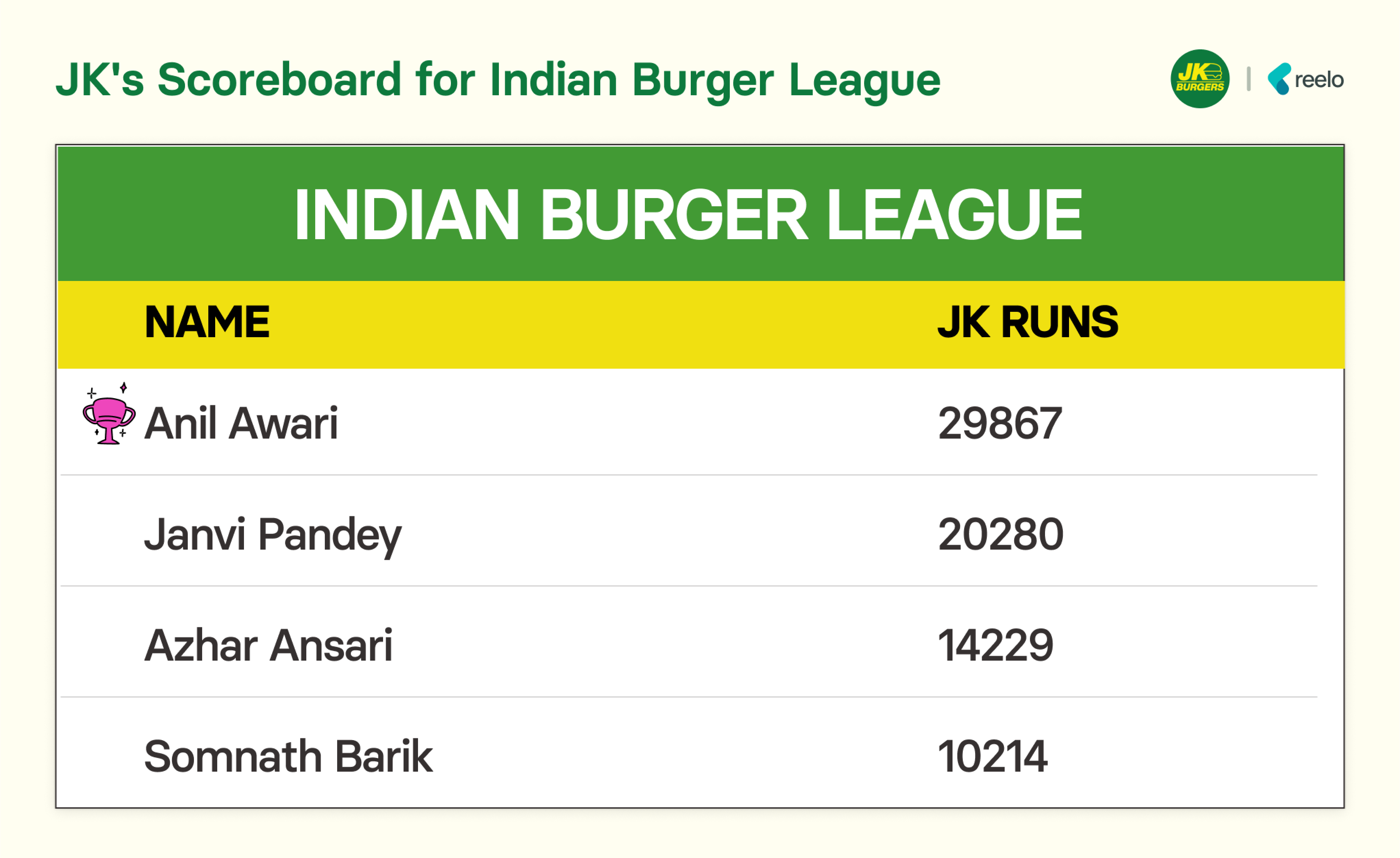 This created a sense of competition and curiosity among customers. Thus, even when Jumboking was giving weekly updates, customers didn't feel bored or frustrated seeing the same campaign communication.
Reelo's customisable campaigns helped launch this campaign seamlessly, and the impact it created screams success and nothing else:
Wrapping Up!
Jumboking is a story full of lessons. It's not easy to sustain a business for 20 years and continue doing it. Dheeraj Gupta and the entire Jumboking team are doing it seamlessly, leaving learning lessons for companies who want to scale in the F&B industry. The best part is that the brand has stayed relevant over the course of time. And that too amidst heavy competition!
We are so glad to support brands like Jumboking that are striving to be better each day and setting new standards of excellence.
Want to start Marketing like Jumboking? Get in touch with our experts today! Start with a Free Trial.