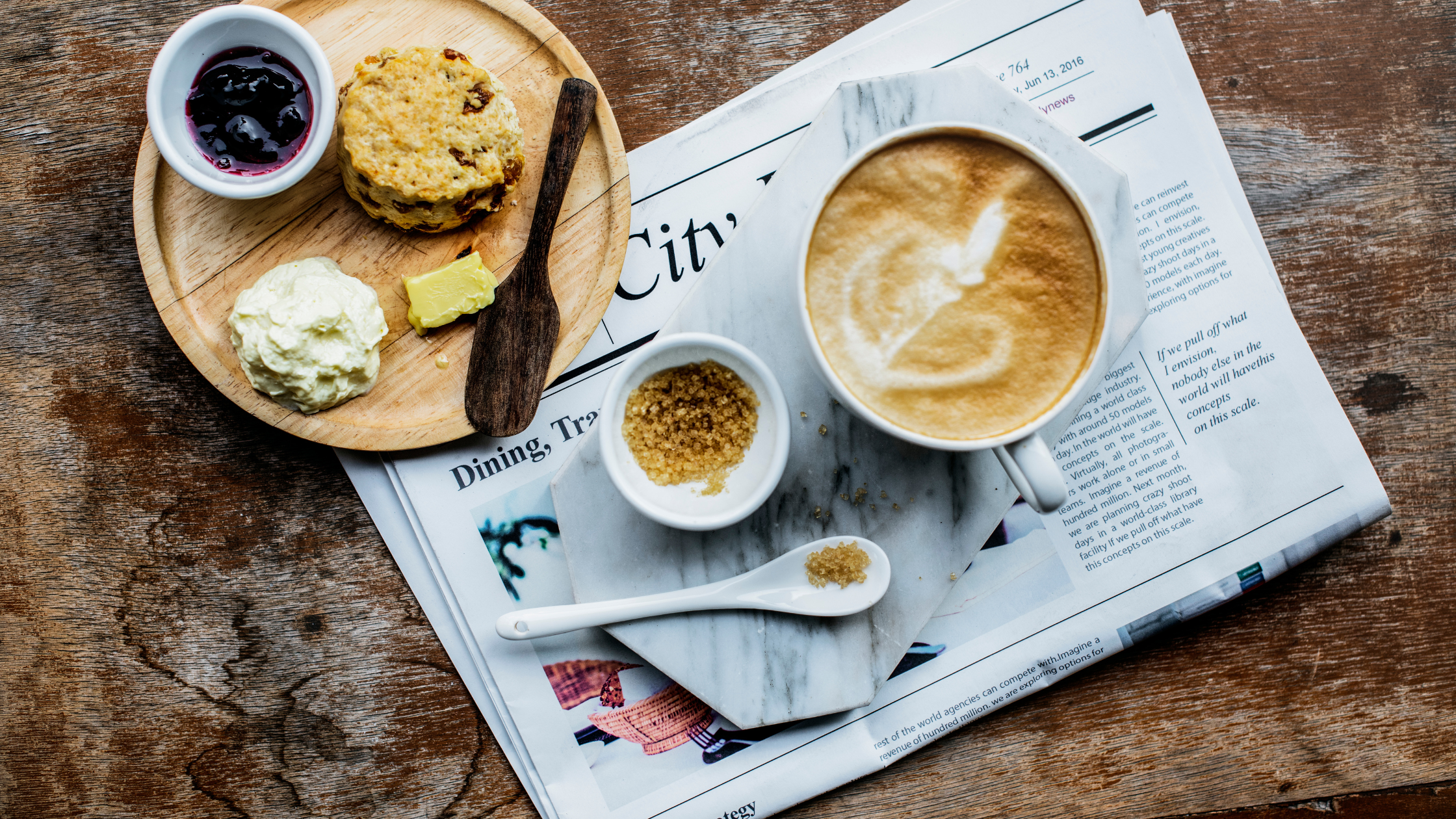 Getting the right loyalty program for any business is a crucial decision. Here's how Crush Coffee, a popular cafe, built an exemplary loyalty program using Reelo's customisable loyalty feature. Read the success story!
Every food business has a unique way of using technology in its operations. And why not! No two brands are similar. Crush Coffee is one such brand redefining coffee consumption in India, and Reelo's loyalty feature has been a valuable addition to it. Here's how Crush Coffee achieved stellar customer loyalty using Reelo!
About Crush Coffee
We have all had our childhood passions. Someone wants to be a doctor, and someone else wants to be an entrepreneur. Well, Crush Coffee was similarly founded when Shrey Patel (the founder of Crush Coffee) went on to live his childhood passion of brewing the best coffees. Taking his love for coffee to an altogether new level, Shrey founded the first Crush Coffee cafe in 2019.
Ever since then, Crush Coffee has served more than 1,50,000 happy customers and become a hotspot for coffee lovers. The brand is on the mission of building a coffee brand that stands apart in its uniqueness, authenticity, and novelty.
Crush Coffee is surely a fantastic brand and has several loyal customers who return regularly to the cafe. But how? Let's break down how Crush Coffee achieved exemplary customer loyalty!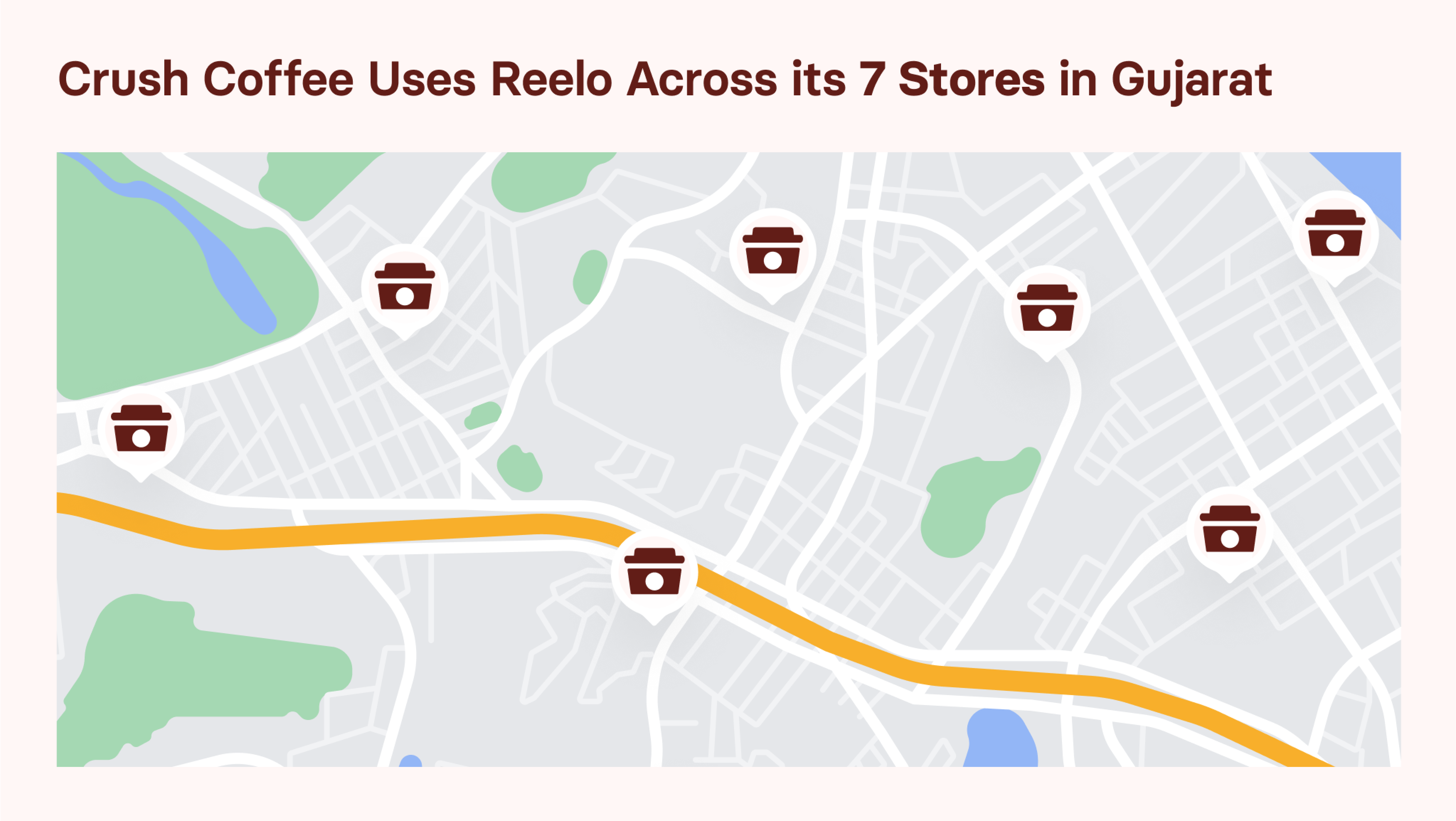 We will be considering three very crucial elements of Crush Coffee's loyalty program that has played a vital role in the overall success of the brand.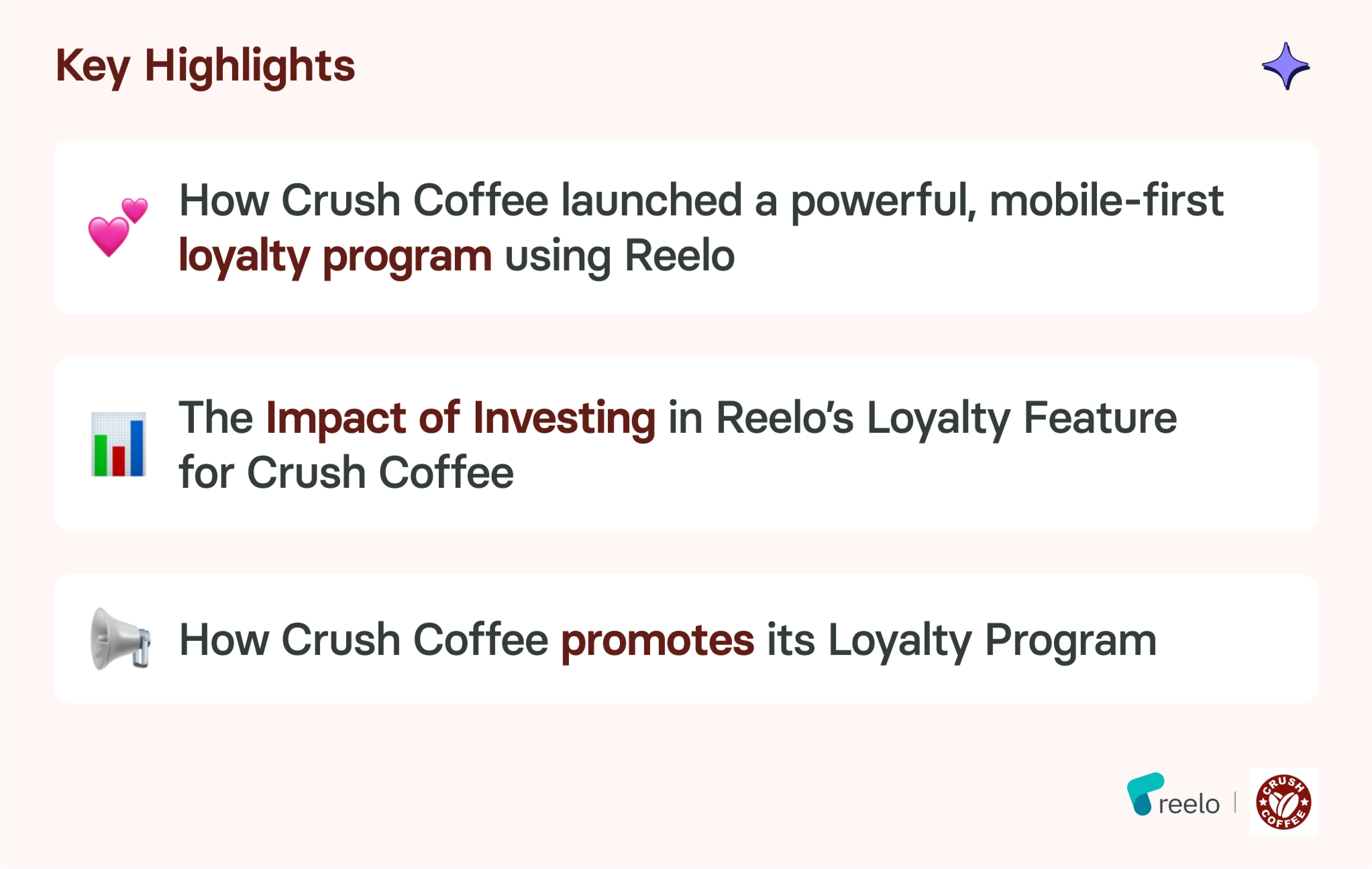 Loyalty Program Set Up
Crush Coffee is a popular coffee cafe. And Reelo's customisable Loyalty program feature made sure that the cafe's unique brand identity becomes a part of their Loyalty program too.
With the choice of choosing and customising the banner image, colours, and theme, Crush Coffee's Loyalty program reflects the brand image and is personalised to attract and reward the right customers. Here's how easy it is to set up a loyalty program via Reelo:
1. Choosing the Right Loyalty Type:
Crush Coffee customers are rewarded with loyalty points for the specific amounts they spend. The points are named "beans" in this loyalty program to make them more personalised and appealing. Customers who will spend a certain amount will get a certain number of beans. There are different rewards that a customer can avail of against a given amount of beans.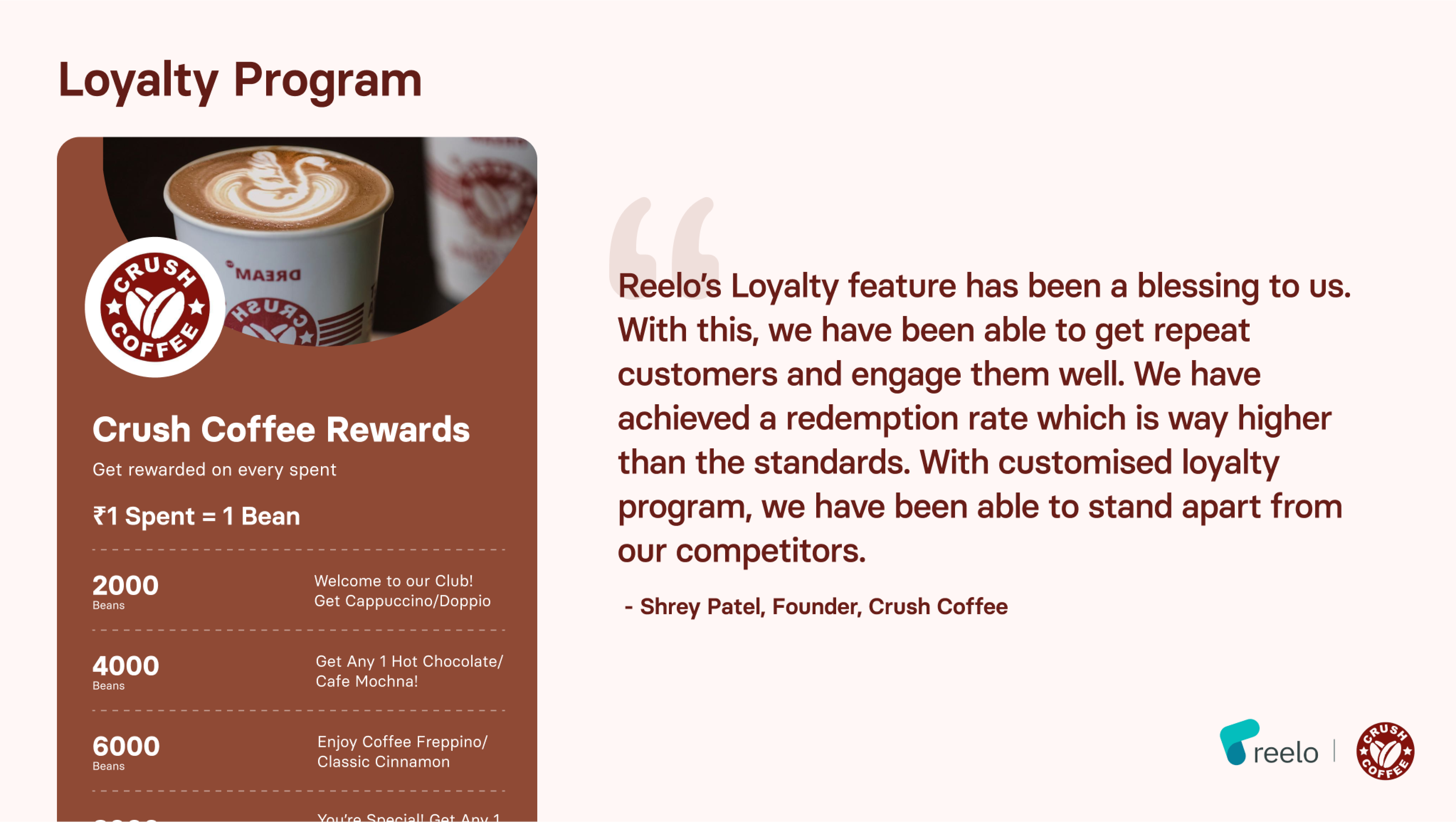 2. Customising the Loyalty Details:
Elements like banner image, header, colour, and logo are brand identities and have been placed accordingly. Moreover, Reelo provided a choice for choosing the right communication channel for the cafe.
3. Automatic Communication:
The best part about the loyalty program is the ease of setting automatic messages. One can automate when the loyalty rewards will be expired and when the customers will receive reminders. Additionally, customers also get automatic reminders on the expiry of points and the balance of points remaining. Thus, there is no hassle in sending any communication to the customers. Just a one-time automation setup and everything is done by itself! Here's what Crush Coffee's automatic messages look like: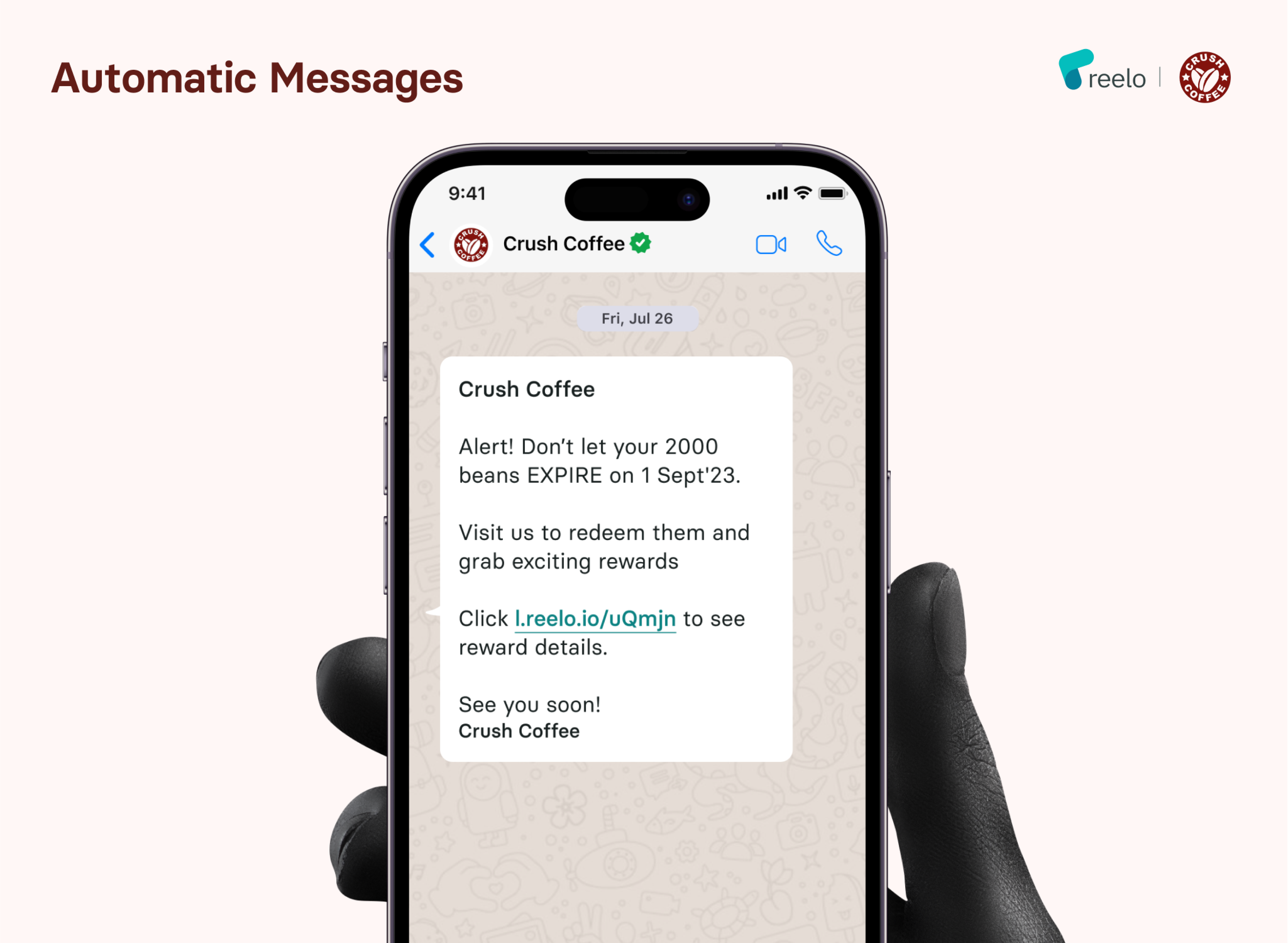 4. Tracking Analytics:
Reelo's easy-to-understand analytics and unique metrics are a complete value package to Crush Coffee. With key performance indicators like revenue generated, points redeemed, redemption rate, and total visits, the cafe has been able to take charge of what's working and what's not working for its loyalty program.
Here's a recap of the step-wise setup of Reelo's loyalty feature: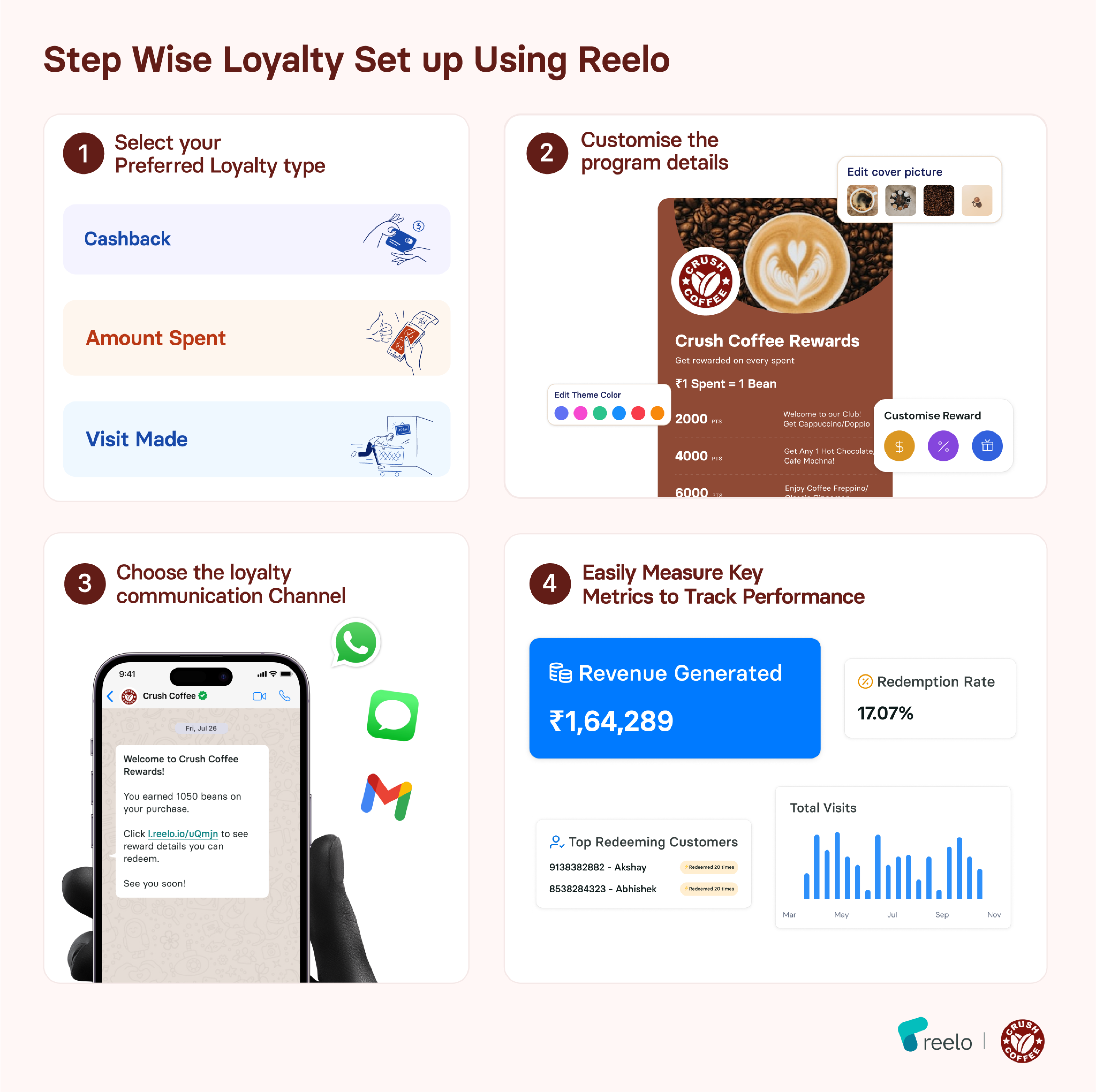 Impact of Reelo-Powered Loyalty Program for Crush Coffee
A loyalty program has numerous advantages for any brand, especially those in the food and beverage industry. Reelo's loyalty program is customisable and easy to use for any brand. Here's a snapshot of how the program helped Crush Coffee beat industry standards for loyalty redemption rates:
Loyalty Revenue and Redemptions:
Crush Coffee's loyalty programs showcased a stellar performance and the following numbers prove the same. With an average redemption rate of 21.37%, the cafe has beaten industry standards.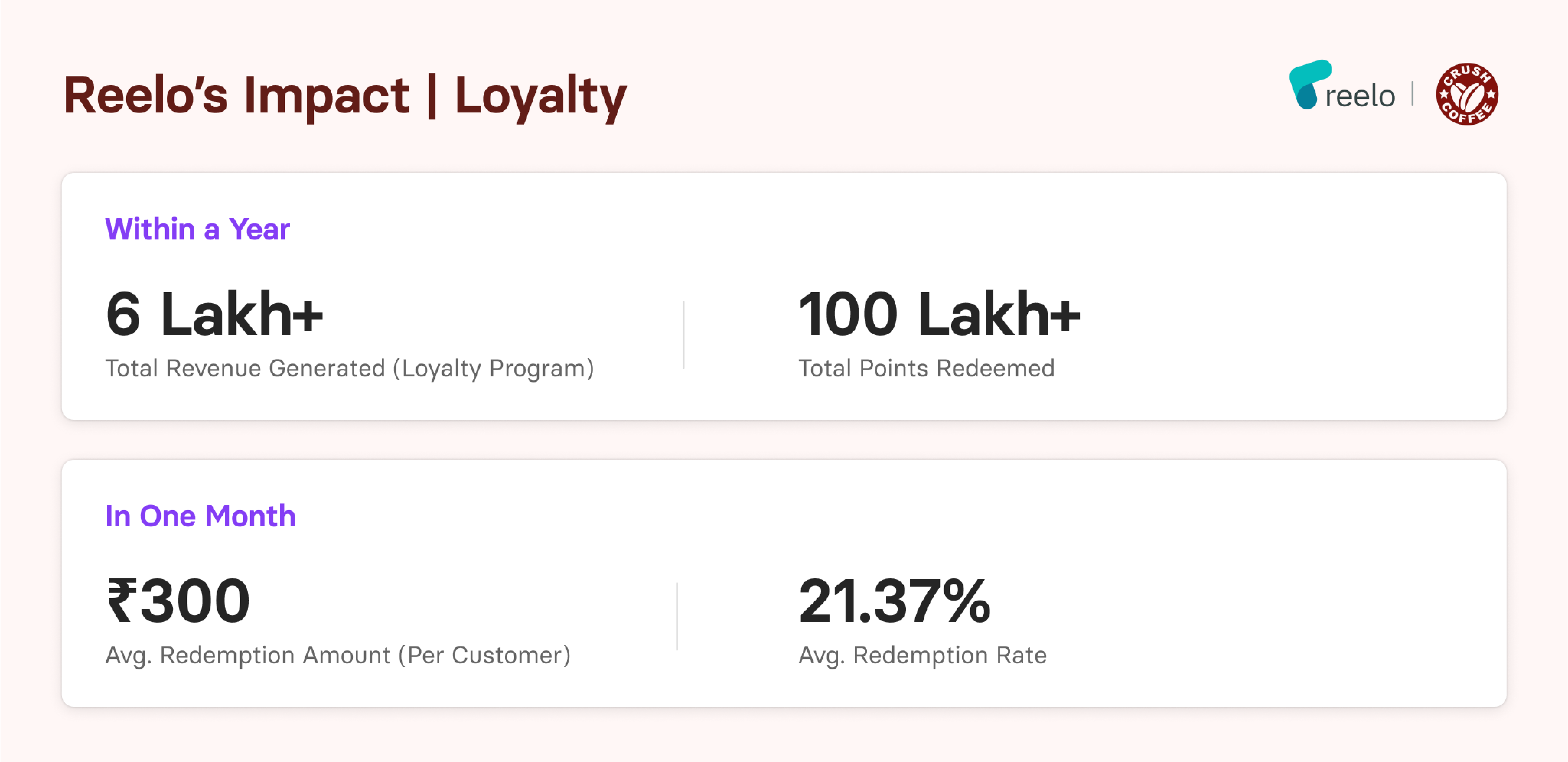 Real-Time Analytics:
Reelo's loyalty feature provides the functionality of checking real-time analytics of the loyalty program's performance. Here's a snapshot of how Crush Coffee got real-time analytics of their loyalty program: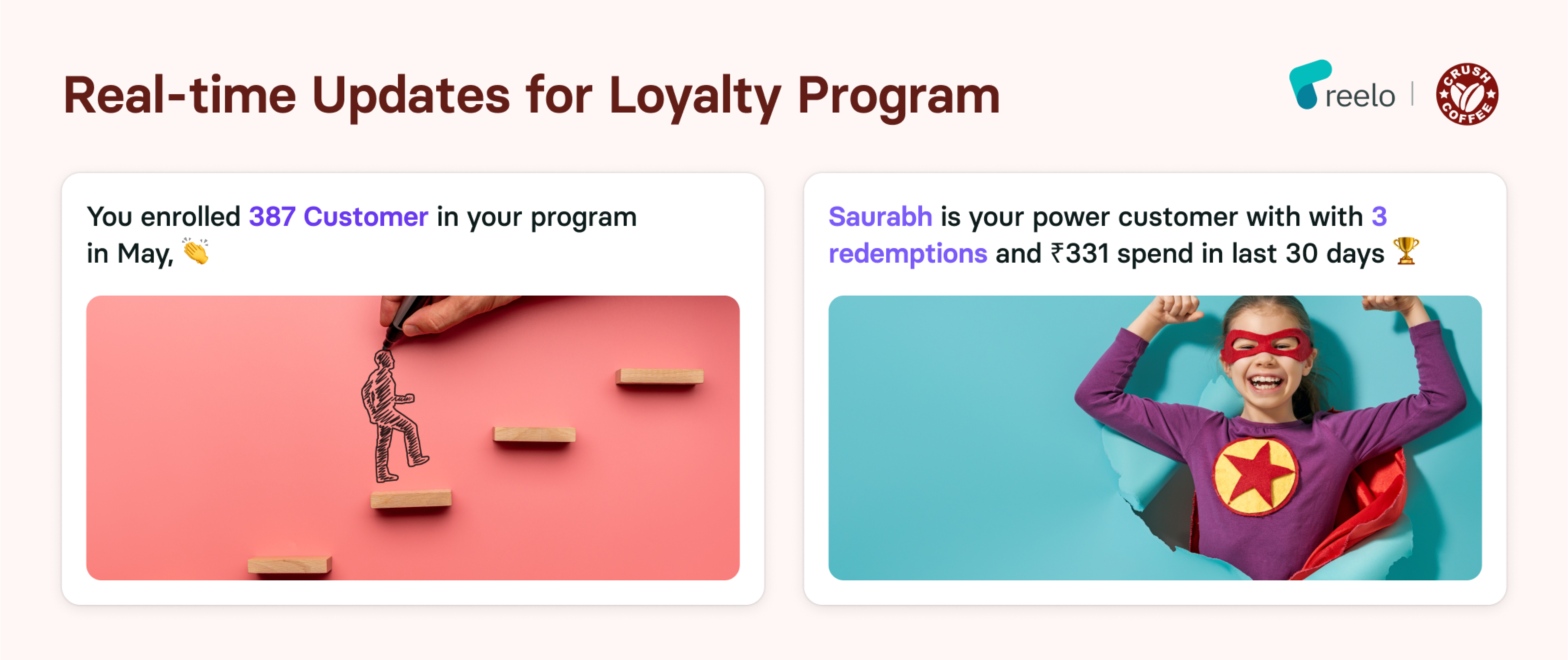 Customer Data Collection:
Crush Coffee has collected tons of customer data using a Reelo-powered loyalty program. All of this data has helped the cafe make important and valuable decisions. Here's how Reelo's unique data collection can help any business: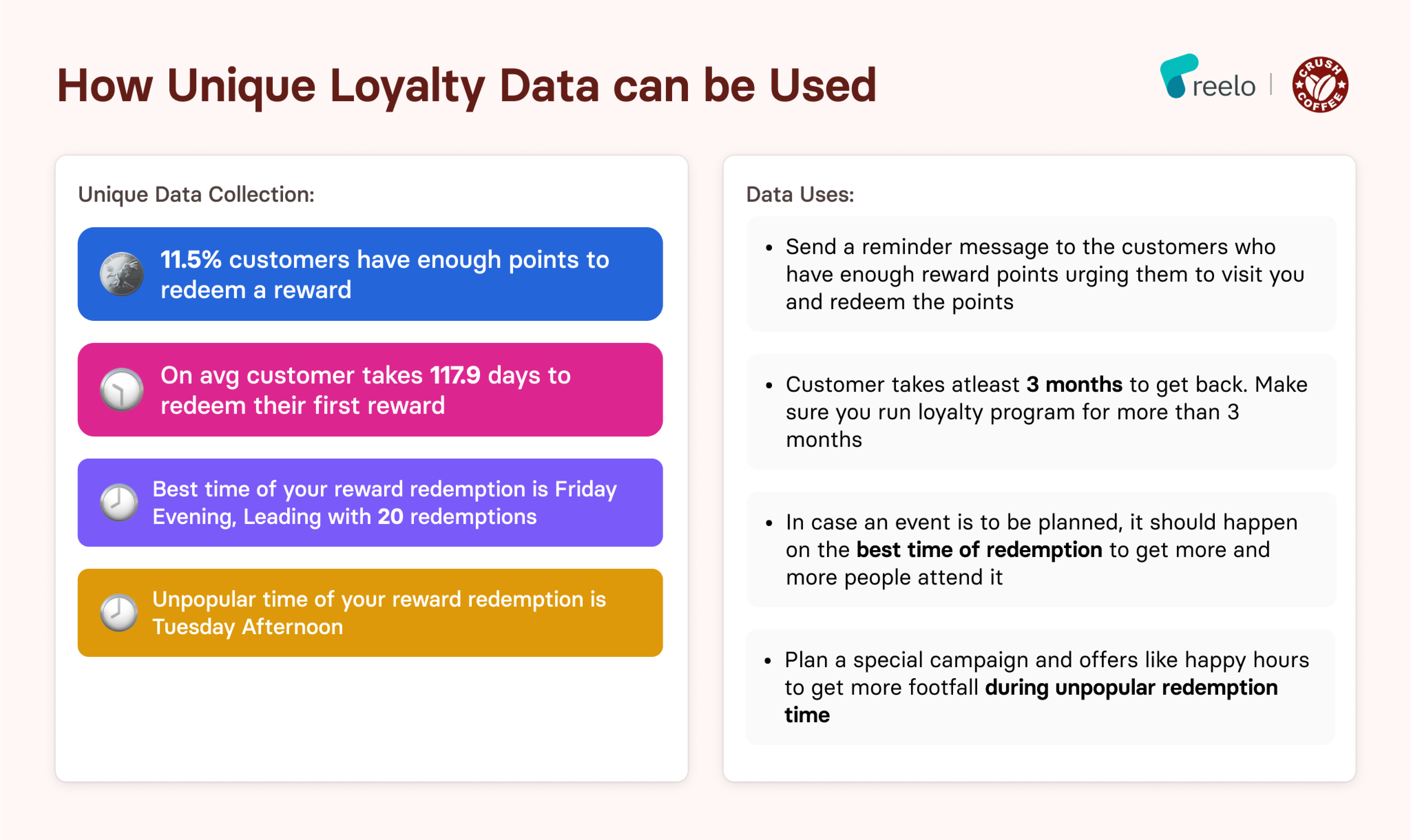 How Crush Coffee Convinced Customers to Join Their Loyalty Program
While building a Loyalty program is important, promoting it is equally crucial. You cannot create a reward program and then sit and wait. You have to promote it, tell your customers about it, and encourage them to enrol.
Reelo can help you create a Loyalty program and you have to make sure that you make the most of it by educating your customers about it and promoting it well.
Crush Coffee took this opportunity and made sure that their customers and staff members are aware of their Loyalty Program. Here's what Crush Coffee did and you can do too!
Table Tent Cards:
Restaurant tabletops are probably the best place to pitch any promotions. Your customers wait for their orders sitting on those tables and constantly face them. Hence, using the table tops as a part of promotions is a big win. Crush Coffee did the same thing.
They installed tent cards printed with the loyalty program details on their table tops. Any customer sitting at the table would see the card immediately and check out the loyalty program. In this way, they made sure that the maximum number of customers enrolled in their loyalty program.
Standees:
Crush Coffee has used unique standees to promote its loyalty program. They have put a standee printed with their loyalty program details on their reception counter. This unique way of promoting its loyalty program has helped the brand in stealing the attention of its customers and visitors. This way, people just stand in the reception, look at the standee and get to know about how they can enjoy certain rewards for spending.
Educating staff members:
Your staff members are the representatives of your restaurant. You have to ensure that they are up to date with all the information and updates. Crush Coffee did exactly that.
They made mobile numbers mandatory for bill generation and ensured that their staff members are completely aware of all the terms and conditions of their loyalty program. Educating the staff with all the details of the loyalty program helped crush coffee set the right expectations for all its customers.
Stories like that of Crush Coffee make us think about why loyalty programs are a matter of utmost importance for any business. If you want to get a customised loyalty program created for your cafe, or restaurant, then visit us here.
Our team of experts will help you create the best loyalty program and bring repeat customers to your business.