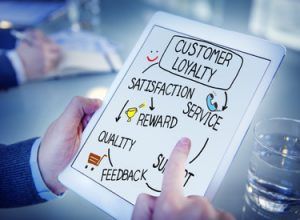 Are you a restaurant owner? Follow these 6 tips & tricks to design engaging customer loyalty programs for restaurants.
Over the years, you may have noticed that businesses have shifted their focus to customer retention and engagement along with selling products or services. Even the HORECA industry has started understanding the importance of customer retention.
Why — It has become more about creating a memorable customer experience than selling delicious cuisine. The pandemic is a huge reason behind this change. We all know that people stopped visiting restaurants because of safety concerns; however, they opted for dine-in again, especially with their favorite restaurants. Because these restaurants have already established trust with the best loyalty programs.
Restaurants indeed have a lot of customers. But, it is important to turn them into loyal ones because they will bring more business than acquired customers.
Retaining existing customers can be difficult. That's when loyalty programs come into the picture. Restaurant loyalty programs can help in increasing customer retention rate, profit margins, and customer lifetime value.
What is a Restaurant Loyalty Program?
Before we learn about tips and tricks for designing relevant restaurant loyalty programs, let's understand it briefly.
It is designed to make diners happy and satisfied by offering them rewards, loyalty points, discounts, and other incentives for regularly visiting a particular restaurant. These programs help restaurants with customer retention and build a long-lasting relationship with them.
Today, as per insiderintelligence, 57% of restaurants are offering rewards and loyalty programs to their customers. Because most of the customers are encouraged to dine in with restaurants that have built a loyalty program.
5 Loyalty Program Ideas for Restaurants to Leverage Today
Like restaurant businesses, loyalty programs need to steal the spotlight too. Every business is leveraging customer loyalty programs, so it is no surprise that the competition is intense.
Here are 5 excellent tips to build the best loyalty programs for restaurants.
1. Simplify the sign-up process
Did you know that, according to home.kpmg, 69% of millennials say that loyalty programs are difficult to join?
Today, the majority of the crowd that frequently visits restaurants or cafes are millennials and Gen Z. Making a complicated program will make them go away and leave them dissatisfied. It means losing your core audience.
Customers are aware of the concept of earning reward points and are always willing to earn them from their favorite restaurants. Designing a simple and engaging loyalty program can create a better user experience and increase customer engagement.
Building a user-friendly program can leave a positive impression and encourage customers to sign up without giving second thoughts.
Subway replaced its old SubCard loyalty program with MyWay Rewards. It is designed to offer personalized discounts and rewards to its customers, and is simple to use.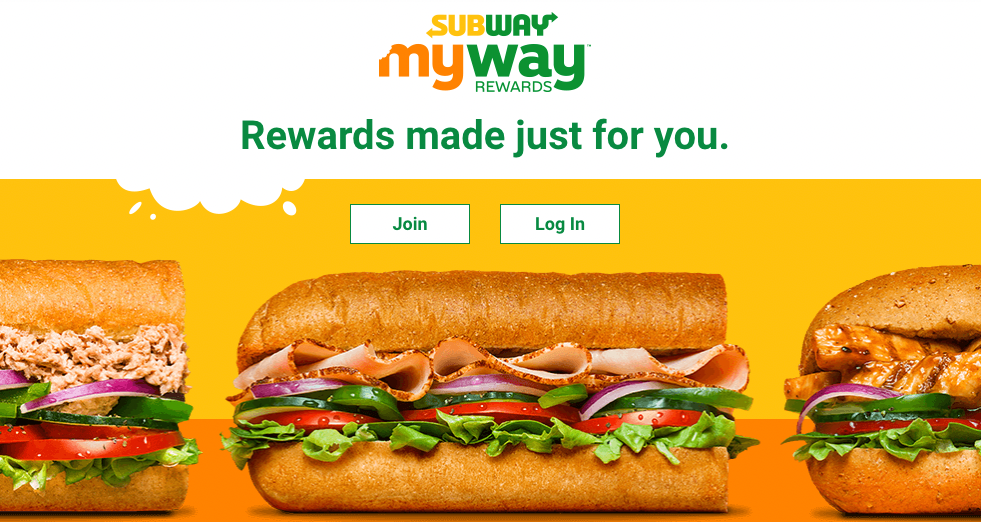 Their program is designed based on customer feedback. They conducted a survey to understand the customers' needs and wants from a loyalty program. And that's how the MyWay Rewards Program was developed.
For every dollar spent, customers earn 4 tokens. Apart from that, they even receive surprise rewards like sandwiches, drinks, and more.
It's an easy-to-use program as customers can track everything on their mobile and don't have to worry about losing their physical loyalty cards.
2. Reward them for different occasions
Customers are happy when they frequently receive rewards from restaurants. Don't make the mistake of forgetting them after their first visit.
Discounts, gifts, and rewards are the easiest ways to win customers; however, a customized approach will always let you be one step ahead of your customers.
For example, say ''Hey Varun, you have earned 100 points for your visit today. Redeem these points on your other visit.'' Or ''It's been so long since you visited us. We miss you and have a surprise waiting for you.''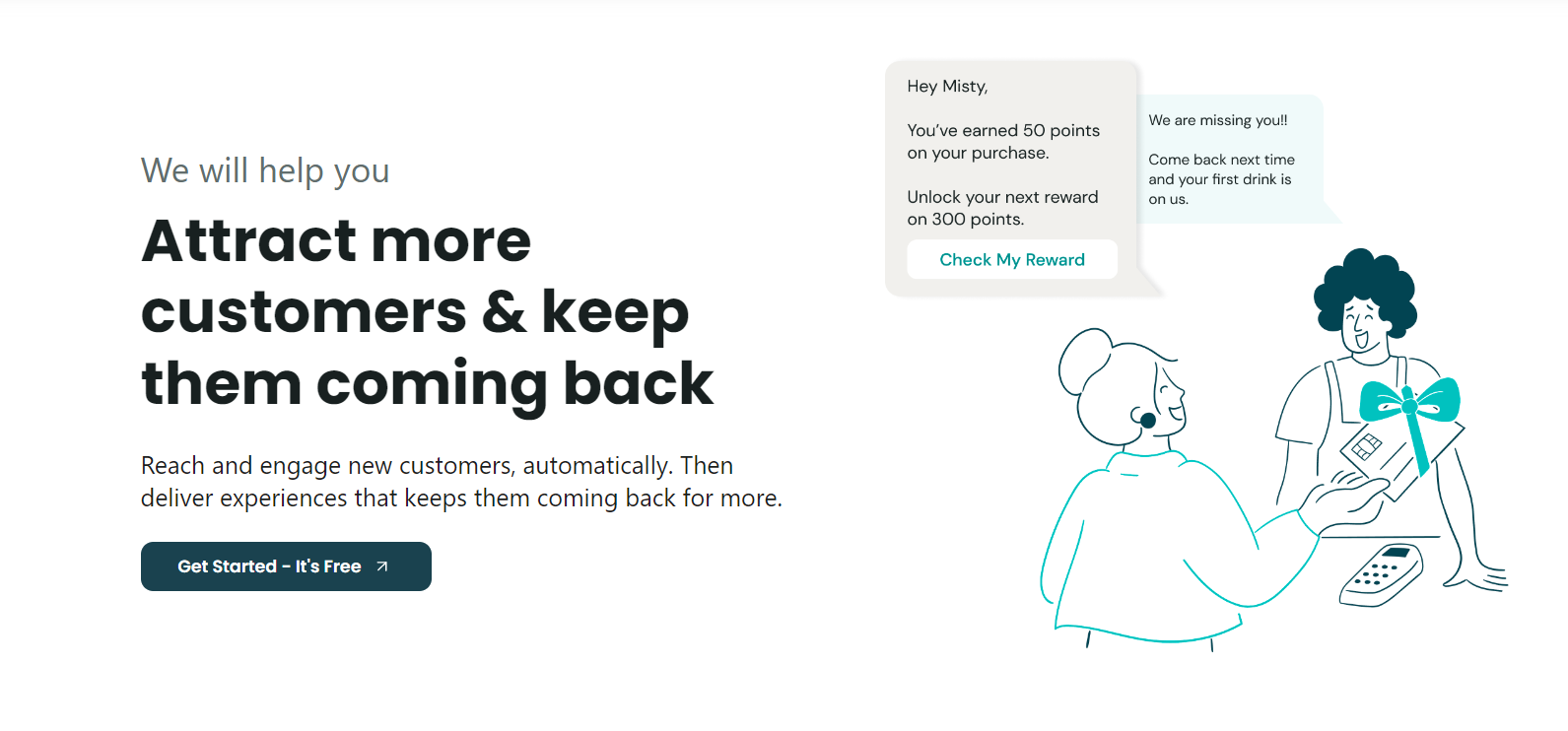 Automate your loyalty program. It can help in improving customer engagement and deliver memorable experiences. A value-focused and automated loyalty program will best suit your customers and appeal to them.
Through Reelo, you can explore thousands of in-build templates and send automated messages via WhatsApp, SMS, and Email quickly.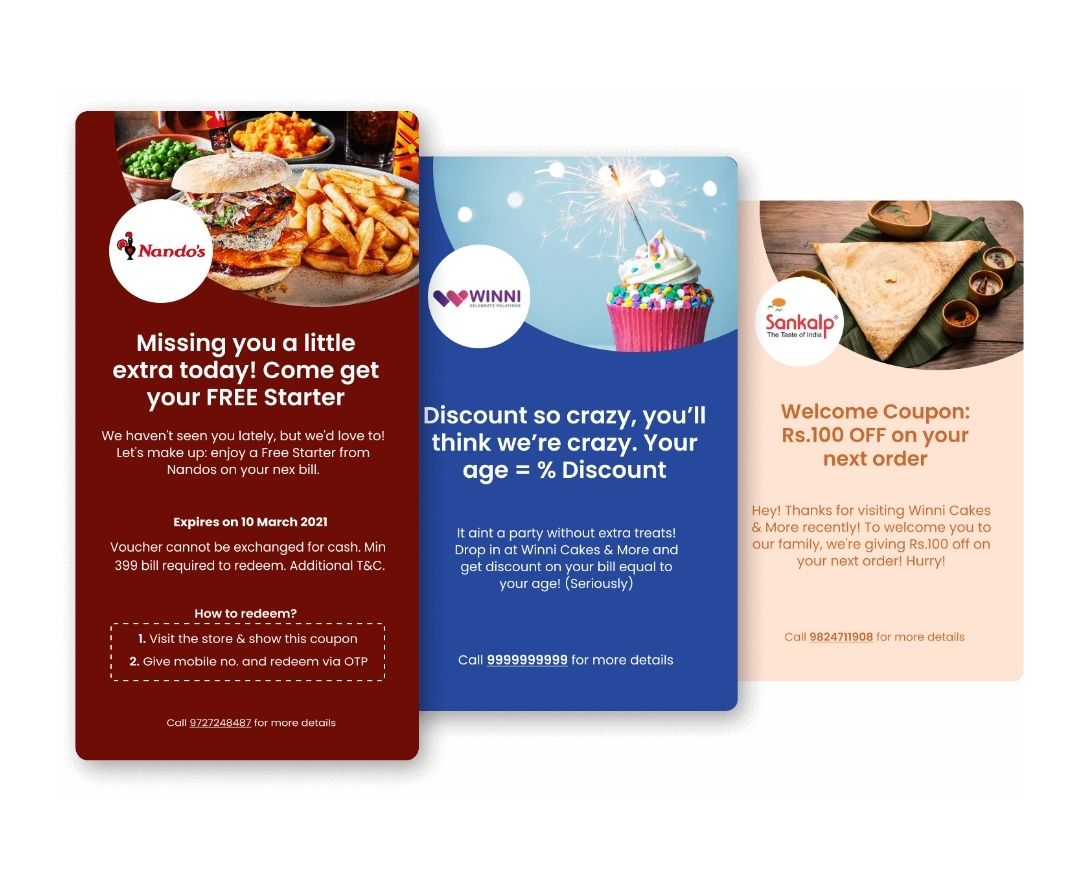 Personalized rewards and experiences are more valuable. Studies say that customers who enrolled in loyalty programs with personalization are 7.5 times more likely to recommend these brands.
3. Collect Feedback
Loyalty programs are great. But what if your customers are not enjoying it or your services? It can lead to customer loss if that's the case.
Loyalty programs are a great way to seek feedback from customers and learn about their preferences. While offering rewards may entice them; seeking feedback will increase your restaurant's value. It shows that you are interested in knowing their opinion.
Customers want to feel valued and appreciated every time. Collecting feedback is an effective way to do it.
However, stop sticking to old feedback forms. You can use an effective feedback tool to create engaging survey forms that enable your customers to give feedback easily.
You can collect feedback via email, SMS, or WhatsApp, and understand their behavior to improve customer experience.
Pro Tip: Integrate a restaurant loyalty program to make it more enticing. For example, every time someone gives feedback, you can reward them with loyalty points, discounts, or other incentives. It will increase feedback and help in improving restaurant services quickly and effectively.
For example, send them a message saying — ''Hey, tell us about your experience with us and you will get a free dessert on your next visit.'' It not only encourages them to give feedback, but make a visit to your restaurant sooner.
Look at how Sun of a Beach incentivized rewards to get feedback from their customers.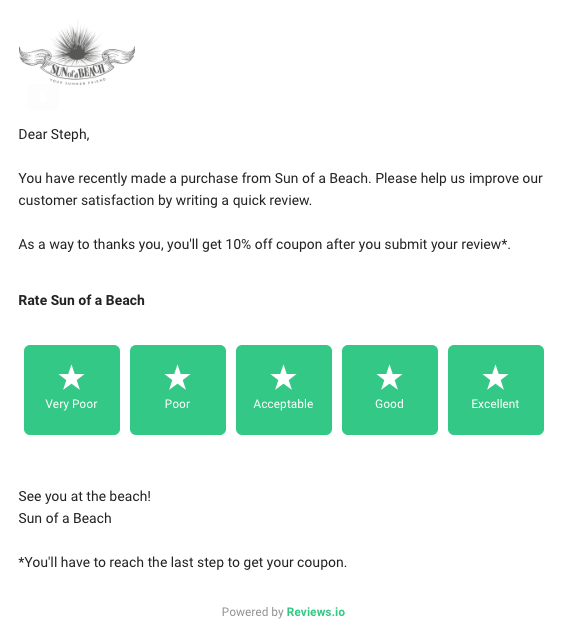 4. Create a killer social media strategy
Customer loyalty programs for restaurants have indeed gained immense popularity over the years. Many restaurants are seen to be leveraging the same.
But one of the reasons why food chains have successfully built such programs is also by developing an excellent social media strategy. Brands like Pizza Hut, Subway, etc., have seen success with their loyalty programs because of great marketing.
Simply put, you need to put a word out about your restaurant loyalty program. Or else, your customers won't be aware of the same. Therefore, marketing plays a crucial role to get initial customers to sign up.
On the other hand, people breathe social media. Every one of them wants to engage and interact with their favorite brands. It is a great way to understand their opinions and act on them accordingly.
Bonus: Don't forget to incentivize it as well. People may come to your social media account because they love your food and services; however, give them exciting reasons as well.
Say ''You will get a 15% discount on your next visit if you share your experience with us on social media''. Or, ''you will earn 50 loyalty points if you follow us on social media.''
5. Educate your employees on the loyalty program
Explaining to customers about restaurant loyalty programs is crucial; however, your employees need to be educated on the same too. After all, they are the ones who interact the most with your customers.
If your employees are well-trained and educated on the loyalty program, they will be able to explain it to your customers perfectly. Moreover, It will be easier for them to help customers with how to redeem their points or offers at the time of billing.
At the time of billing, encourage your employees to seek feedback for your loyalty program from your customers. It helps in highlighting the areas of improvement and taking measures accordingly.
When you implement those feedback, these customers will be delighted to see their feedback being worked upon.
While you plan to design a customized loyalty program, make sure your entire staff is educated on the same as well.
Do Restaurant Loyalty Programs Really Work?
Yes.
How — Given the popularity of loyalty programs, they work effectively by enhancing the overall value of the restaurant and motivating loyal customers to make frequent visits.
It's true that every restaurant is leveraging customer loyalty programs to increase their customer retention rate, build customer loyalty, and improve their revenue. So, the competition is intense in this industry.
Sometimes, their loyalty programs fail too. But that's when they fail to develop and execute the right strategies for building successful customer loyalty programs for restaurants. The right strategy can help in turning customers into regulars and establish trust.
As a restaurant owner, you need to be consistent with your efforts and automate your loyalty programs. Automation can ease down the process and help you reach your customers at the right time. Moreover, it allows you to focus more on the other core tasks.
Having a loyalty program can help spread positive word-of-mouth and lead to better relationships with your customers in the long run.
Summing Up
Loyalty programs have started gaining traction and have become a key marketing tactic to drive revenue and customer loyalty.
It is always a great idea to make your customers feel special. You can't do it without aligning loyalty programs with your overall marketing efforts. Rewards, offers, and exciting incentives tend to win customers more than creative marketing tactics.
But make sure these rewards are relevant and exciting enough to attract customers and retain them. Reward them with high-selling and most loved dishes like desserts.
As we discussed, brands like Subway are doing excellent by having built a successful loyalty program. It's simple, easy-to-use, and filled with exciting offers & rewards.
Do you want to create a killer restaurant program too? If yes, sign up for Reelo and start designing a customized loyalty program as per your needs & preferences.
Added advantage: Through Reelo, you can even get detailed insights into your loyalty program performance. These insights can help in improving your performance and increase conversions.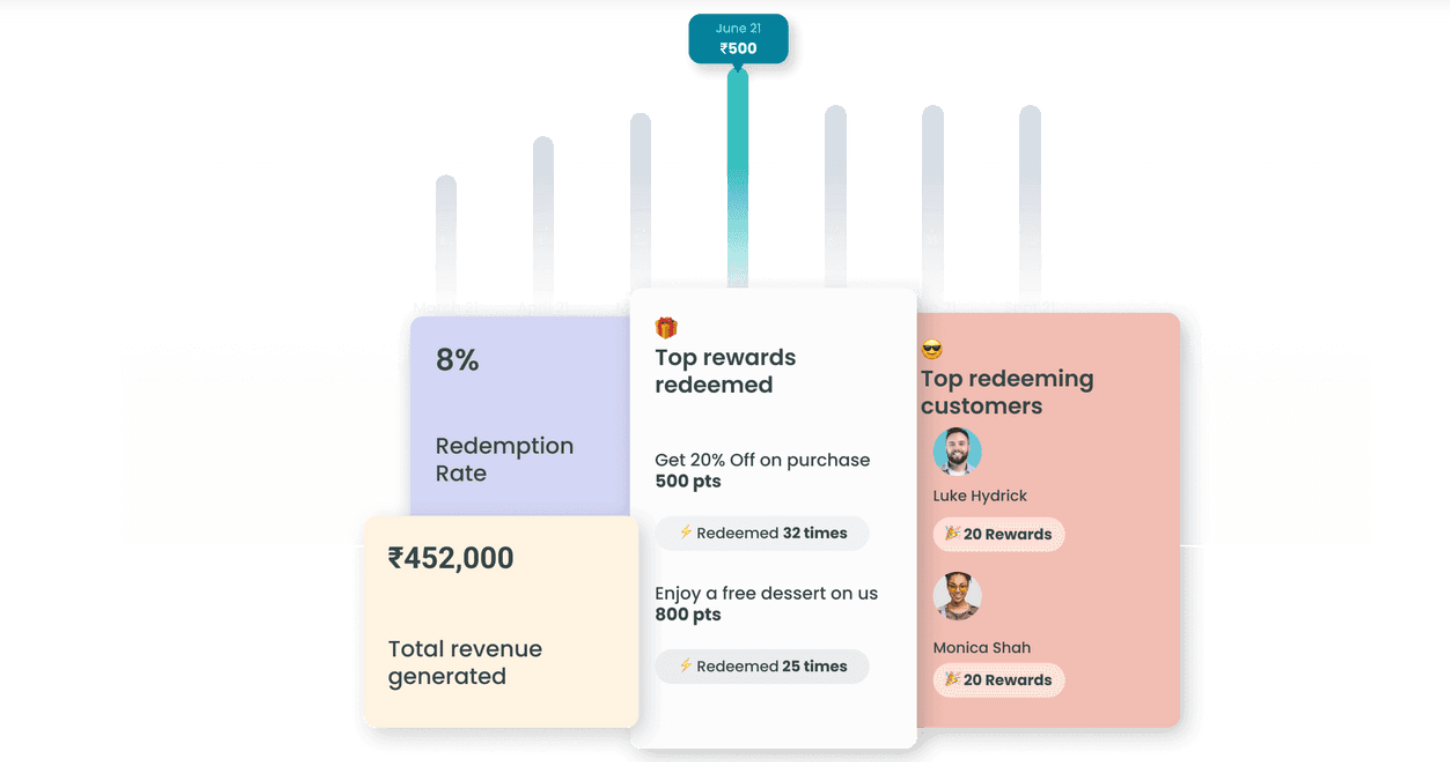 And if you need help with creating the same, here's an ultimate guide to building a loyalty program to make the process easier.