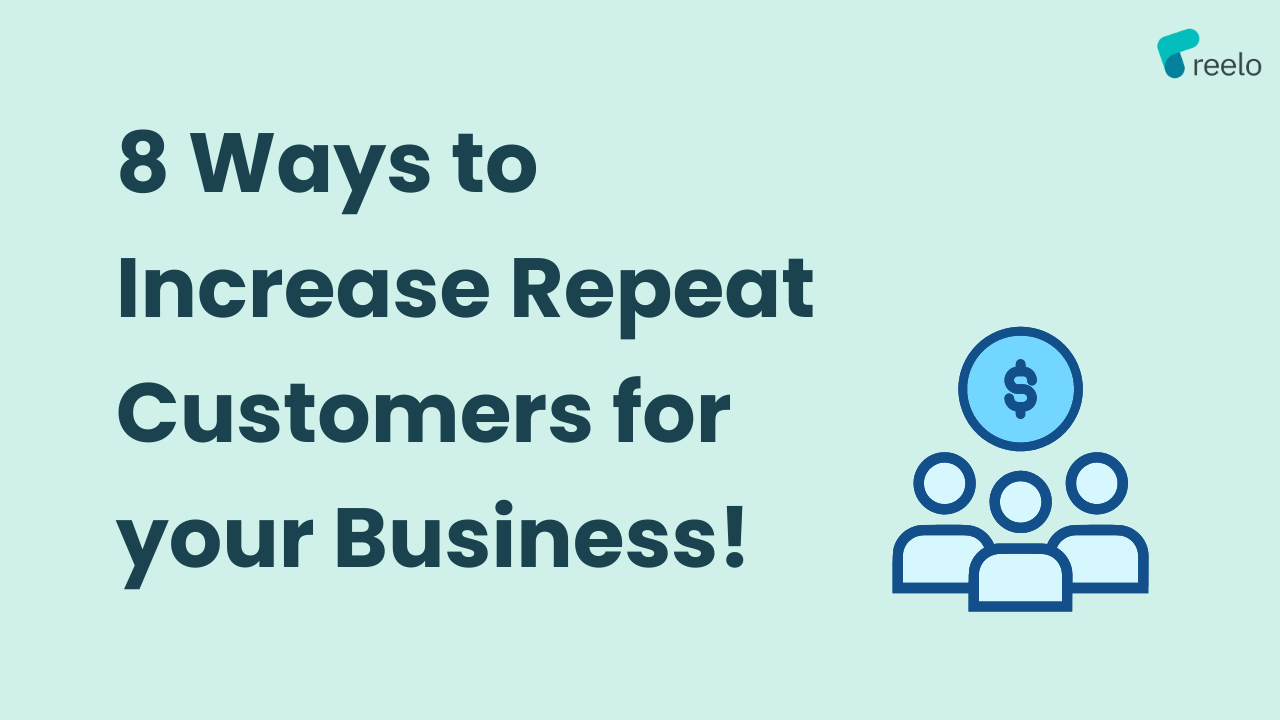 Wondering how to get repeat customers for your business? Read this quick guide as we spill 8 secret ways to boost repeat business!
What is the biggest challenge to growing a business? We have been asked this question a lot of times. Every business owner wants to see constant business growth. But do all of them use their resources effectively to reach that stage? Most businesses spend their resources on acquiring new customers, but the secret to business growth is increasing repeat customers.
Repeat customers provide more value to a business than a new customer. According to a recent study, almost 80% of future profits will come from 20% of your repeat customers. These customers buy repeatedly and spend 67% more than new customers. Hence, businesses must invest resources in retaining their existing customers.
If you also want to know how to increase repeat business, then you are at the right place! We have gathered these top 8 ideas to help you boost your repeat business:
Provide exceptional customer service
Build customer loyalty programs
Personalise the customer experience
Give value-added services
Implement a referral program
Stay connected to your customers
Improve your service or product
Offer discounts and incentives
Let's discuss these customer retention strategies in detail!
8 Ways to Boost Repeat Customers
Having repeat business is the dream of every business owner. But it requires a plan. You cannot expect your customers to come back to you automatically. Here are some strategies that will help you bring back your customers:
1. Provide exceptional customer service
Customer service is possibly the most crucial element in increasing repeat customers. No matter how many rewards you offer, if your service is not good, no customer will visit you frequently. Hence, one must ensure going above and beyond to meet the needs of customers, which will make a good impression and build long-lasting relationships. Take a look at these ideas that will help you improve customer service:
Quick customer support response:
According to a report, around 60% of customers admit that quick responses are the number 1 factor that drives them to make repeat purchases. It lets your customers know that you are there for them when they need you. Moreover, people love immediate responses when they are struggling to solve any problem. Thus, support teams should focus on improving customer service by responding as quickly as possible.
Enthusiastic customer representative:
No one wants to get a problem solved by someone who sounds depressed and stressed. Customers don't want to feel like they are bothering someone on a call. Thus, your customer support representatives should show interest and enthusiasm in solving the issues of your customers. You can also provide the required training to your staff members so that they know how to present themselves in front of customers.
2. Build customer loyalty programs
Customer loyalty is the building block of repeat business. You need an engaging and attractive customer loyalty program to build customer loyalty. An attractive loyalty program motivates customers to visit you frequently. Moreover, the data you collect through loyalty enrollment helps you know your customers well and personalise their interactions.
Thus, building a loyalty program is truly one of the best customer retention strategies for any business. A pro tip here is that you should use technology to track the performance of your loyalty program, ensuring a seamless customer experience.
ALSO READ: 10 Restaurant Marketing Strategies that Actually Work in 2023
3. Personalise the customer experience
Personalisation is the key to winning customers' hearts. 75% of customers also admit that they prefer brands that offer personalised services. So, you should also ensure that you personalise your customer interactions to give them the best experience. Some of the things that you can do to personalise customer experiences are:
Analysing customer data to understand preferences and tastes
Sending customised messages to customers on special occasions
Greeting them with their names to build a personal connection
Sharing personalised product recommendations
4. Give value-added services
Value-added services are complementary services or products that one can offer for more personalised customer interactions. A business should identify the additional services that make sense for its customers. By doing this, you can stand apart from your competitors and increase customer loyalty. Additionally, one can provide free resources, guides, or tutorials that add value and improve the overall customer experience.
5. Implement a Referral Program
A referral program is not only effective at acquiring new customers but also at getting repeat customers. When you reward your customers for referring new customers, they will feel special and will be motivated enough to participate in your referral program. A well-executed referral program is a perfect way to boost customer loyalty and encourage repeat customers.
6. Stay connected to your customers
Making real connections with customers is a hard job. But once done, it can give you benefits forever! Nowadays, one can opt for different communication channels to stay connected with their customers. Here's how:
Message marketing:
WhatsApp and SMS are the most popular platforms to carry out message marketing. You can send customised messages, including promotional texts, offers, discounts, feedback communications, and a lot more, through WhatsApp and SMS. The best part of connecting through message marketing is that you stay connected on the go!
Email marketing:
Emails are a great way to build a loyal community. Such a community can be a crucial part of your repeat business. One can start by creating an email list of customers and prospects and sending regular newsletters with valuable content and exclusive offers. Besides, personalise your email campaigns based on customer interests and use automated sequences to engage and nurture your customers over time. In this way, you boost your connections with repeat customers using email marketing.
7. Improve your service or product
Nothing beats an excellent product! No matter what service you provide or what rewards you give, if you have an excellent product or a unique service, customers are bound to visit you repeatedly. Thus, you should try and make improvements in product/service to provide top-notch customer satisfaction.
Talk with the customers, take their honest feedback, ask about their needs, take suggestions from experts, and work on improving your business. You can also implement quality control procedures to ensure customer satisfaction and keep them happy with your brand.
8. Offer discounts and incentives
You can also promote repeat business through discounts and incentives. Discounts and incentives provide a sense of exclusivity for your loyal customers. This exclusivity can enhance their loyalty and make them more likely to continue choosing your business over others. It creates a sense of belonging and strengthens the relationship between your customers and your brand. Thus, one should offer discounts to boost repeat customers.
Conclusion
At last, we can undoubtedly confirm that repeat customers are the keys to a consistent and growing business. And increasing repeat business is a fundamental aspect of business growth. You can increase your business's revenue and profits by directing the majority of your resources toward customer retention strategies. And these strategies mentioned in the blog post will help you do that easily.
So, do try these strategies, and we are sure they will work wonders for your business.
Try Reelo for Free to get more and more repeat customers!