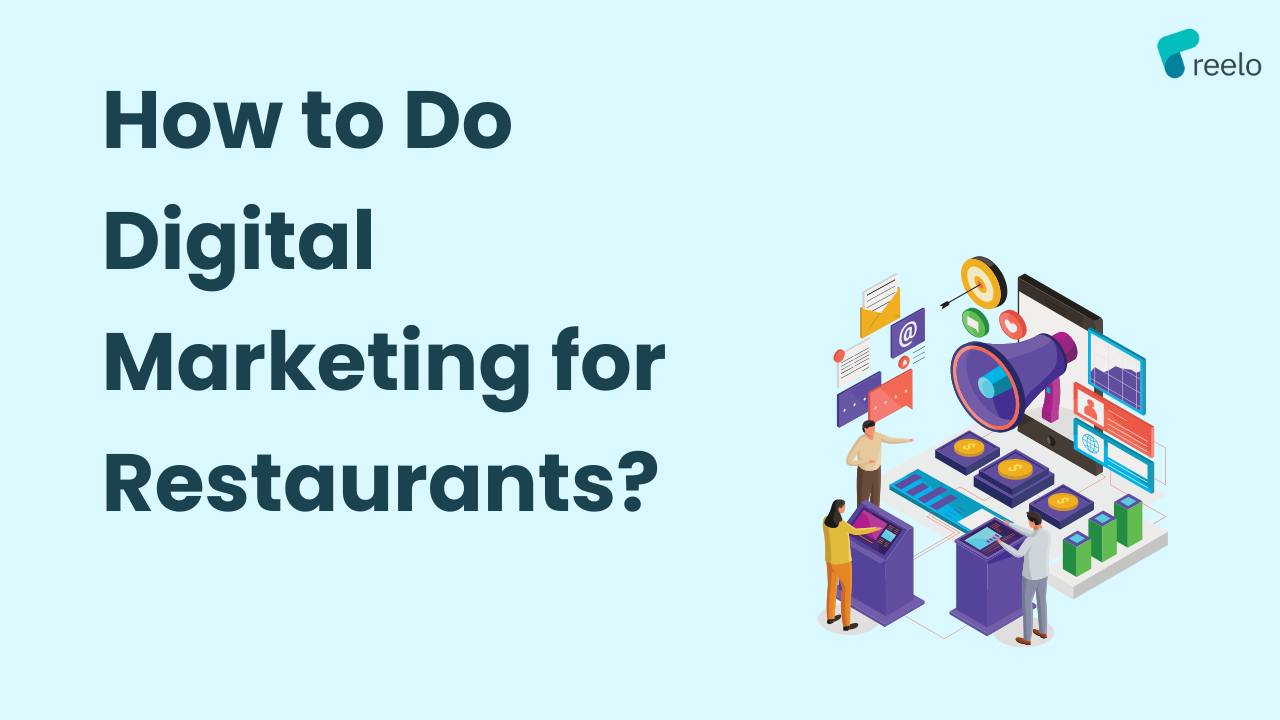 Tired of using old marketing techniques for your restaurant? You are not the only one. There are thousands of restaurants facing the same issue. They use the same old-fashioned ways of marketing and end up wasting their resources. But here's a solution! Read this guide on how to do digital marketing for restaurants.
A successful restaurant is a collaboration of many elements. From food and ambience to prices and promotions, every factor should be considered for a restaurant to be successful. In today's competitive market, restaurant owners need to ensure that they reach their customers using every possible marketing strategy. While offline marketing is still effective, restaurants should consider digital marketing in light of the growing online audience. Online marketing, also known as digital marketing for restaurants, helps increase reach, visibility, and brand awareness.
We have got you covered with some of the best restaurant marketing strategies that will help you market your restaurant better and build a strong online presence.
Here's how to do digital marketing for restaurants with these 12 restaurant marketing strategies:
Create a user-friendly website
Improve the local SEO
Leverage social media
Build a loyalty program
Use influencer marketing
Offer online ordering options
Implement email marketing
Optimise your Google My Business account
Track online restaurant reviews
Posting engaging online content
Invest in paid advertising
Keep a check on marketing performance
All these restaurant marketing strategies will help you in your marketing plans. Do you know that around 75% of customers prefer brands that offer personalised marketing? Using a certain level of restaurant marketing can help you be a part of your customers' favourite restaurants.
We have often seen how restaurants struggle with their marketing plans. Vague marketing plans lead to a loss of effort and resources.
Following this, we created a free marketing playbook for restaurants. This free restaurant marketing plan will help restaurants like yours set the right marketing goals and boost revenue.
Download this free marketing playbook here:

Without any further ado, let's jump in to learn how to do digital marketing for restaurants!
12 Digital Marketing Strategies for Restaurants in 2023
1. Create a User-friendly Website
Restaurants always ensure that their storefronts are attractive. Why? because this is the first thing that customers see. Similarly, your website is the first thing that a customer sees when he searches for you online. With increasing digitalisation, customers now first search for restaurants online. Hence, every restaurant should invest in creating an attractive website.
The website will be your first step towards building an online presence for your restaurant. You need to invest some money in getting some professional photos clicked. In this way, your website appears more professional, appealing, and reliable.
2. Improve Local SEO
Search Engine Optimisation (SEO) is one of the most important components of digital marketing for restaurants. SEO will help your potential customers reach you organically. Some of the things that you can do to improve local SEO are:
Updating your restaurant's name, address, and contact details on the website.
Optimising for mobile.
Add a clear call to action.
Put professional images of food and ambience.
Add local keywords to the website.
Create a blog page.
All these suggestions will help your restaurant's website improve local SEO. With a well-optimised website, your restaurant will be visible in local search engine results and find potential customers easily.
3. Leverage Social Media
Social media is one of the most essential tools for any restaurant. People use social media to connect and stay informed on the latest trends in every industry. With over 4 billion users spread across different platforms, social media is the leading tool used for digital marketing for restaurants.
Surprisingly, 45% of customers admit that they visit a restaurant for the first time after seeing it on social media. Hence, if you are not using social media in your restaurant marketing strategy, then you are losing out on a lot of quality potential customers. You can run ads, post pictures of your restaurant and food, and connect with followers online.
4. Build a Loyalty Program
Nowadays, restaurants are incomplete without a customer loyalty program. Partnering with a platform that can help you customise a loyalty program for your restaurant is an ideal choice.
Building a customised loyalty program will help you get more loyal customers, reward them, and boost customer engagement. With virtual loyalty cards available, restaurants can promote their loyalty program on various online channels. Hence, customer loyalty programs become a crucial part of the digital marketing strategy for restaurants.
ALSO READ: How to do WhatsApp Marketing: An Ultimate Guide for Restaurants
5. Use Influencer Marketing
Influencers and vloggers are quite in fashion these days. People love to check out the reviews of their favourite influencers. Restaurants can also use this as a marketing tactic.
You can start by identifying local influencers who align with your brand values and target audience and partnering with them to promote your restaurant. YouTube food vloggers can be a great choice for food promotions at your restaurant. In this way, you increase your reach on digital platforms.
6. Offer Online Ordering
Online delivery has become fairly popular, all thanks to increasing digitalisation and a lack of time. Customers now feel it easy to order their food anytime and anywhere they want.
Hence, every restaurant must give its customers the option to order food online. A restaurant can integrate online ordering into its website and social media profiles.
Moreover, one can also partner with third-party delivery apps like Zomato and Swiggy. Using online as a strategy for digital marketing for restaurants can help you create and capture raving fans online.
7. Implement Email Marketing
As per a recent study, around 77% of customers prefer promotional emails as opposed to text, phone, or social media. And this is why email marketing can be a great strategy for your restaurant's marketing plan.
Build an email list of subscribers who have opted in to receive updates from you, and send out regular newsletters or promotional emails. Make your emails more unique and include special offers or discounts to promote repeat business.
8. Optimise your Google My Business Account
Google My Business is a free listing service that allows you to manage your business information across all Google platforms. It helps add credibility to your digital presence.
Having a complete GMB profile will help your customers discover your restaurant business online. You can also encourage your customers to leave reviews on your Google My Business page, which becomes social proof of your services.
9. Track Online Restaurant Reviews
Tracking online reviews is a must for the success of digital marketing for restaurants. Online reviews on platforms like Google and Zomato determine your online reputation.
A restaurant must appreciate all the positive reviews and resolve any negative ones. Reports suggest that 44% of customers don't visit a restaurant after reading bad online reviews about it.
Given their huge importance, online reviews must be tracked and monitored closely.
10. Posting Engaging Online Content
Engaging content acts as fuel for the success of online marketing strategies. Whether you publish something on social media or your website, you have to engage your customers through it.
Engaging content on online channels will attract people to your business and increase brand awareness. With platforms like Instagram Reels and YouTube Shorts, posting engaging content has become a necessity for every business.
11. Invest in Paid Advertising
Although you can start digital marketing for restaurants for free, investing in paid ads might give you quick and relevant results.
Platforms like Google Ads and Facebook Ads allow you to target specific demographics, locations, and interests, ensuring that your ads are seen by people who are more likely to visit your restaurant.
Using this, you can get the right customers for your restaurant.
12. Monitor Marketing Performance
Monitoring your marketing performance is as important as doing the marketing activities. It might not be outrightly a marketing strategy but has a huge impact on your future marketing efforts.
You should check key metrics that help you see if your marketing is going in the right direction or not. By doing this, you will save yourself from tons of money wastage.
Moreover, monitoring your marketing performance will also help you know if you should resume doing things you are doing currently or not!
Conclusion
You can now understand how important is digital marketing for restaurants! Be it social media, paid ads, or a simple positive review, marketing for restaurants is a holistic approach that takes time to build. You need to invest time and money and understand your customers well to start with digital marketing.
By implementing the proven strategies outlined in this blog post, restaurant owners can optimize their online presence, connect with their target audience, and increase customer loyalty. Following these strategies, restaurant owners can ensure their digital marketing efforts are effective and efficient.
If you are looking to do restaurant marketing, try Reelo for Free and our experts will guide you with easy solutions!