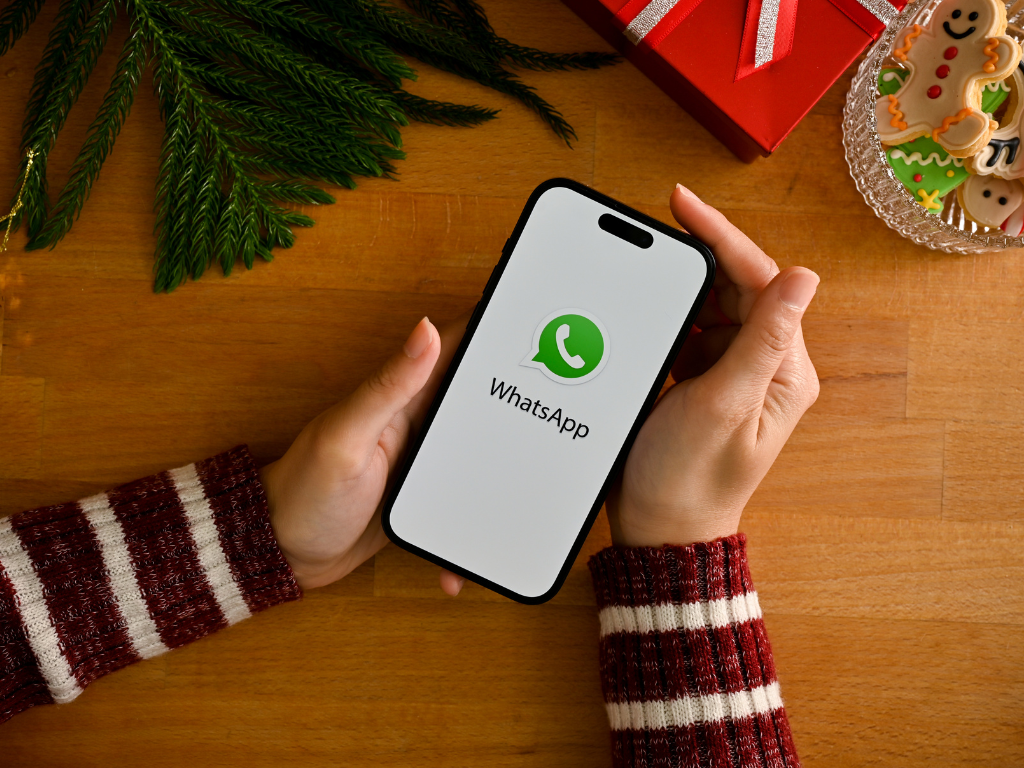 Do you also want to learn how to do WhatsApp Marketing for Restaurants? If yes, then you are at the right place. Read on to know everything about WhatsApp marketing!
Do you know communication is one of the most important aspects of any business marketing strategy? Communication is the connecting bridge between two parties. Proper communication helps in the smooth functioning of your business operations. While internal communication helps you collaborate with your colleagues, external communication helps you provide better customer and client service.
According to a report published by Project Company, 70% of customers have shifted to another company because of a lack of proper communication channels. Nowadays, WhatsApp is shining as the best communication channel, especially between businesses and customers. With this, businesses now want answers for—How to do WhatsApp marketing.
WhatsApp is the most popular messaging app in India. Restaurants have been extensively using the app for various kinds of communication messages. The open rate of WhatsApp is 98% which means 98 out of 100 messages are read by WhatsApp users. Not just this, but the app has over 1 billion users in India. Well, this shows the potential of WhatsApp as a marketing tool for increasing restaurant sales and revenue.
Today we will be covering everything that you need to know to market your business through WhatsApp. Let's dive into your ultimate guide to learn how to do marketing using WhatsApp for restaurants!
What is WhatsApp Marketing for Restaurants?
Marketing through WhatsApp is the modern way of marketing your business where marketers use WhatsApp as a channel to reach their potential clients. Restaurants can send promotional, transactional, and informational messages over WhatsApp to reach wider audiences and scale up restaurant sales.
Moreover, a restaurant business can create brand awareness, engage with its customers, and drive relevant leads with WhatsApp. The messages sent over the app have negligible chances of being unseen. Customers are more likely to open and see messages on WhatsApp than on SMS or emails. Thus, it is a brilliant tool for marketing and connecting with customers.
WhatsApp is available in different forms to fulfil the needs of different types of users. Here is a breakdown of all the types of WhatsApp accounts users can have.
WhatsApp Messenger Vs WhatsApp Business Vs WhatsApp API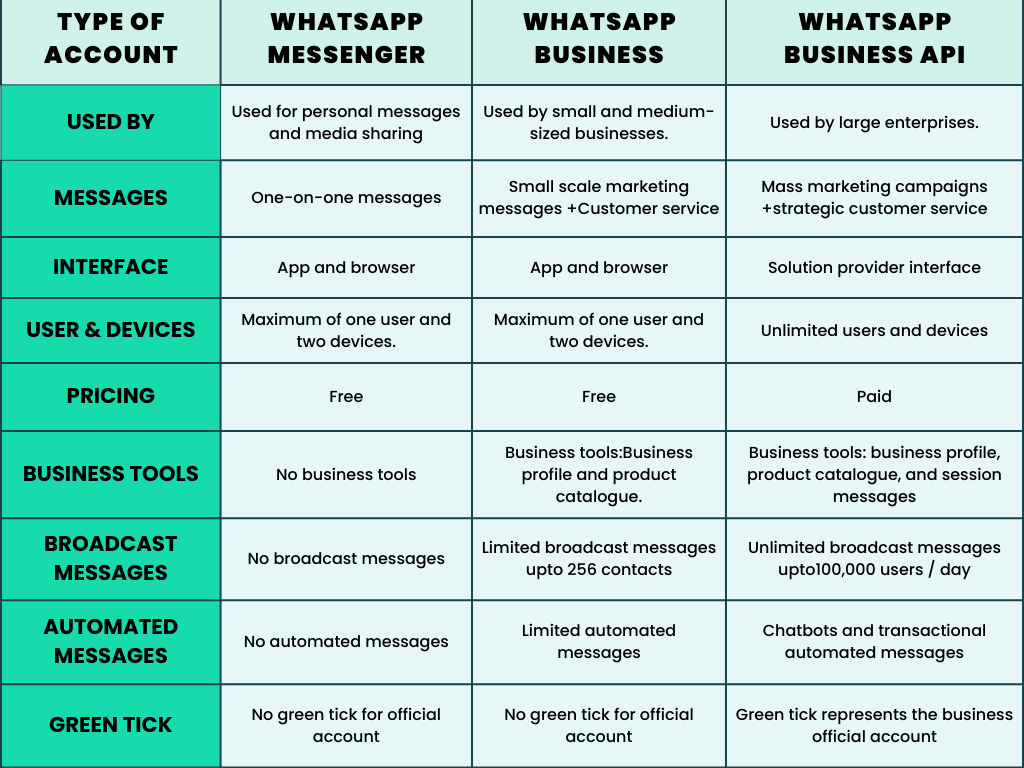 In this blog, we will be discussing marketing ideas for WhatsApp Business and WhatsApp Business API and see how they help small businesses and enterprises with their marketing needs. Before we move on, let's see why WhatsApp is the best marketing channel in 2023!
Why Does Your Restaurant Need WhatsApp Marketing?
WhatsApp is a powerful tool for restaurants to connect with customers and promote their business. They can also use WhatsApp to communicate directly with customers, answering questions and addressing concerns in real time. Here are some reasons why a restaurant should consider marketing through WhatsApp as a part of their overall marketing strategy:
Direct Communication: The app helps you stay in touch with your customers directly. Restaurants communicate directly and understand the customers well.
Mass Reach: WhatsApp has over 2 billion active users globally. The app is quite popular in India and any restaurant can reach a large audience through marketing using this app.
Lead Generation: Conversion cycles in restaurants are short. That's why quick communication channels are a plus. With WhatsApp Business, restaurants can collect customer data quickly and can use it for offering better customer experiences.
Easy Integration: WhatsApp is a cross-platform communication app. It can be easily integrated with almost every possible app out there.
Apart from the advantages mentioned above, WhatsApp Business can help you provide better customer engagement, shopping experience, customer service, and personalisation to the customers. Here's a fun fact: The average conversion rate of a WhatsApp message is 45-60% whereas that of an email is 2-5%.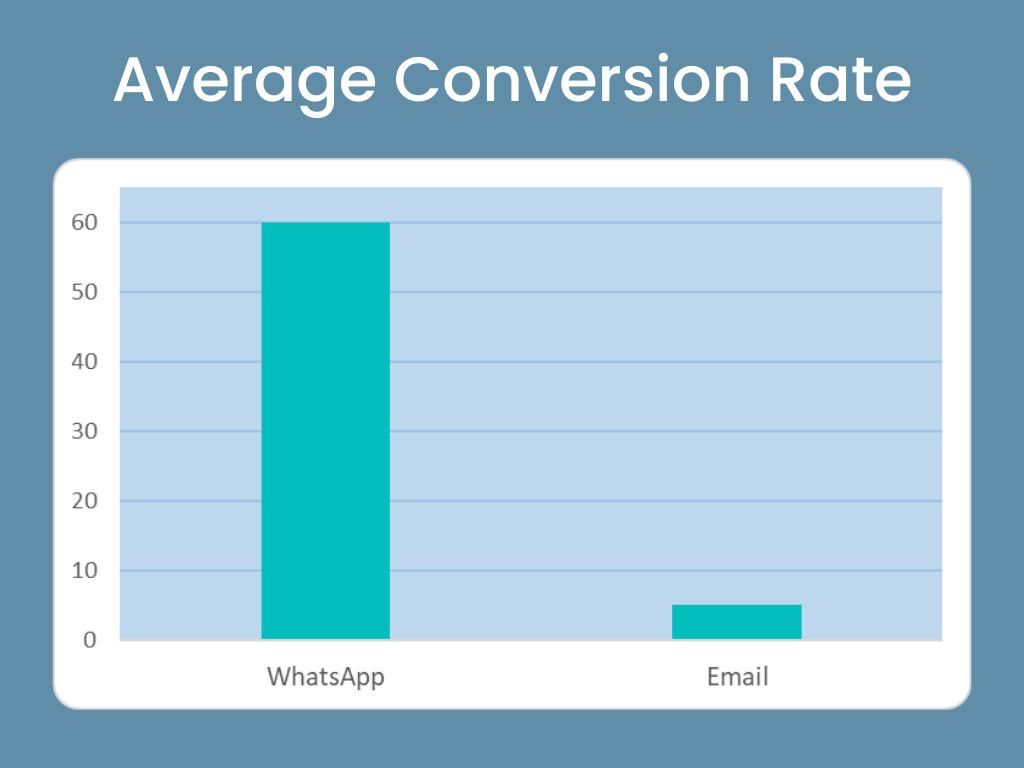 WhatsApp Marketing Ideas for Restaurants
"If you are not using WhatsApp, you are not doing any marketing at all." This saying describes the importance of WhatsApp marketing strategies nowadays.
The restaurant industry is growing rapidly and it's important to go above and beyond and use WhatsApp not merely as a communication channel but as a marketing strategy. Let's see some ideas that can help you know how to do WhatsApp Marketing:
1. Promote menu on WhatsApp:
Promotions form an important part of any restaurant business. Restaurants send promotional messages to their customers through WhatsApp Business. The simplest example is the QR code that redirects customers to the menu link on WhatsApp.
Promoting your menu using WhatsApp help you take your restaurant to mass users. Moreover, it helps your customers to check your menu on the go and avail any menu changes wherever they want. As per AiSensy Statistics around 23% of users prefer WhatsApp to receive promotional messages.
Restaurants can use WhatsApp business to send promotional offers, event invites, new menus, etc. to customers. Do you know that around 100 billion messages are sent in a day through WhatsApp?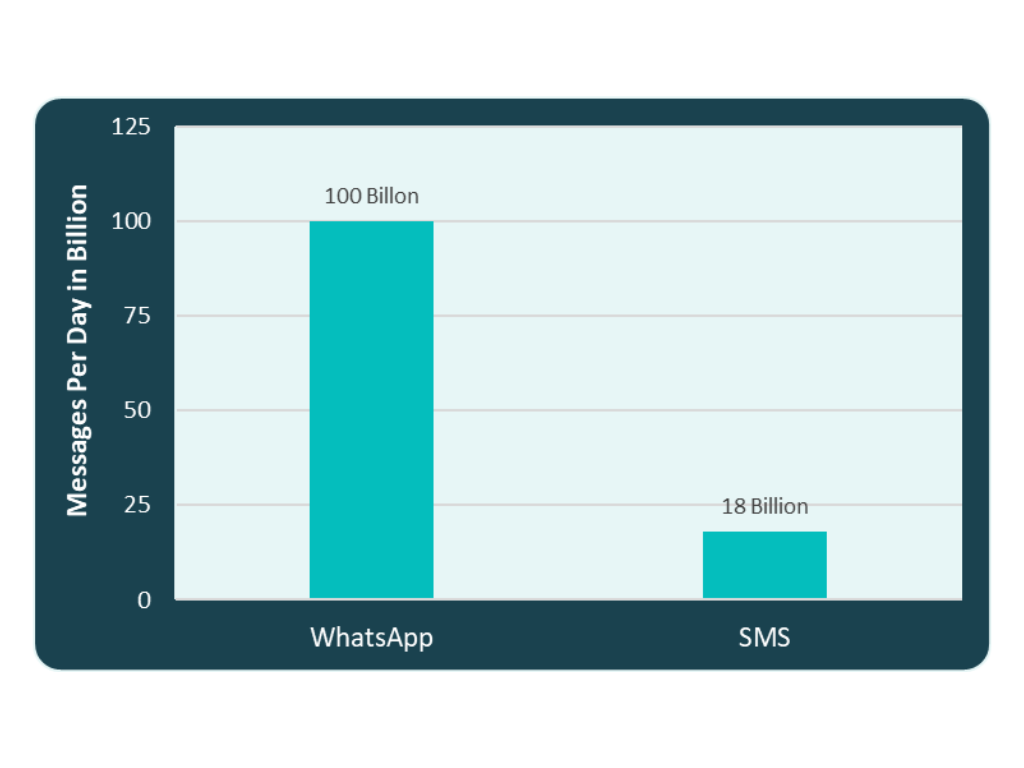 2. WhatsApp Ordering System:
WhatsApp ordering system is a feature that allows customers to place orders for goods and services directly through the WhatsApp messaging platform. Businesses can set up a WhatsApp Business account, and customers can initiate a conversation with the business to place an order.
The customer can browse the business's catalogue, select items, and provide shipping information all through the app's interface. This system offers a convenient and efficient way for businesses to connect with customers and manage orders, while also providing customers with a familiar and easy-to-use interface.
Restaurants use this to cater for their online customers. WhatsApp is one of the simple tools that makes it easy for businesses to receive orders from clients. The ordering system by WhatsApp helps restaurants take orders, show menu changes, share QR codes, send delivery updates, and more using WhatsApp business.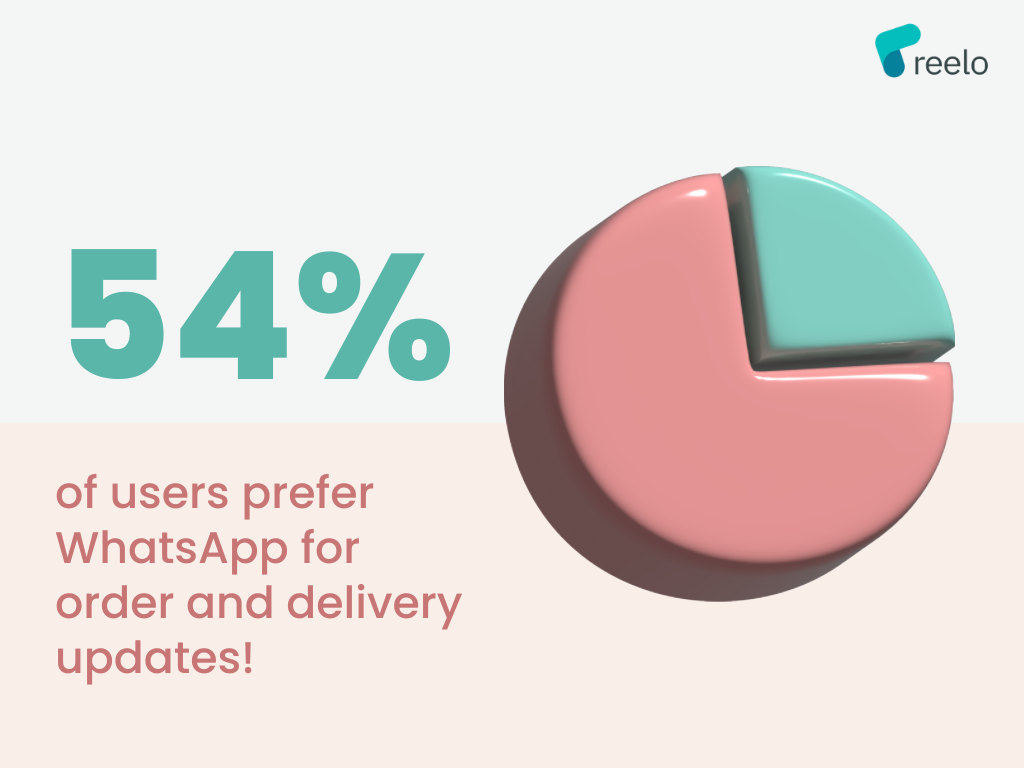 3. Share Loyalty Program Updates:
Customer loyalty is the foundation of a great business. It is always great to find customers who stay loyal to your restaurant. Restaurants enrol their loyal customers in various types of loyalty programs and reward them for their consistent purchases. WhatsApp is a great channel to share and promote your loyalty program rewards.
Reelo helps restaurants to send eye-catching and effective marketing campaigns to get more conversions. Creating your loyalty program with Reelo will help you get attractive design templates and track real-time metrics. Altogether, promoting your restaurant loyalty program through WhatsApp will help you boost restaurant sales like nothing else!
4. Share Offers and Discounts:
Restaurants can also make the most out of their discount offers through marketing on WhatsApp. Discounts and offers help you get more visitors and increase the average order size.
With Reelo, retail and restaurant owners can send automated campaigns that can help you market your discounts and cashback offers. Reelo's campaign library helps you choose from hundreds of beautiful designs with information relevant to your business.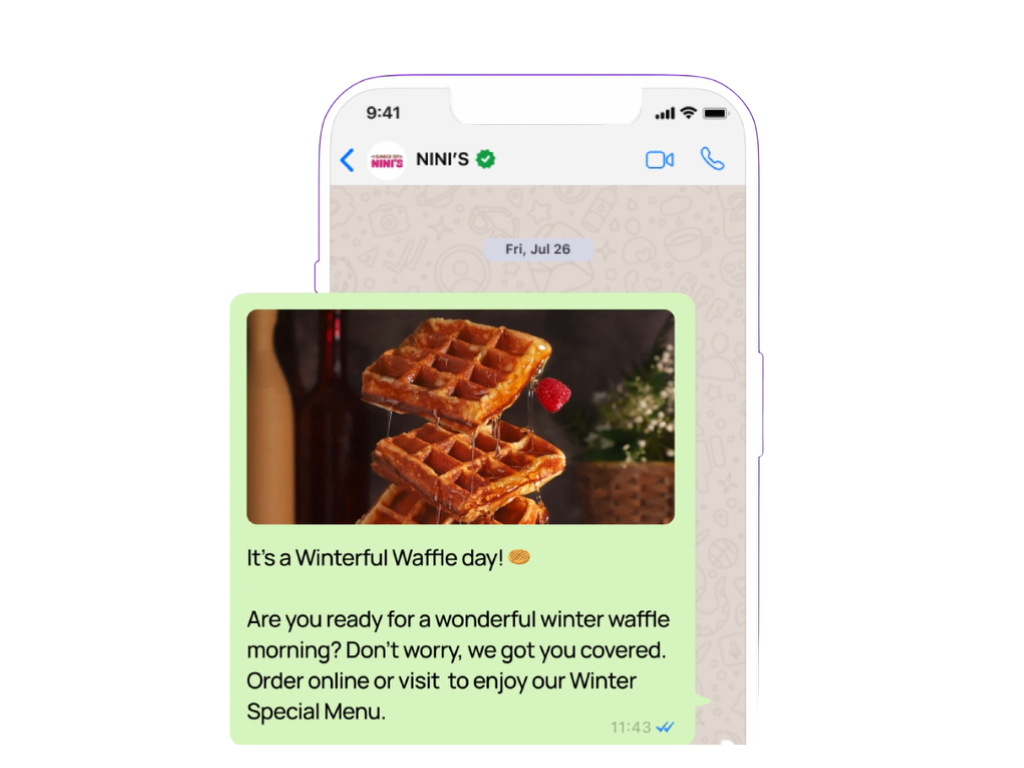 5. Send Business Updates:
Every business information should be communicated properly to the customers. And WhatsApp is probably the best platform for doing that. With an easy user interface and its popularity, you can update your customers about important stuff like delivery updates, new campaigns, new menu changes, order status, promotional offers, and more!
Recent reports suggest that more than 50% of users prefer WhatsApp for delivery updates, event notifications, and appointments.
6. Collect Customer Feedback:
WhatsApp Business is a powerful tool for collecting customer feedback. Customers can easily share their thoughts, experiences, grievances, and happy moments with the business in real-time, which can help identify areas for improvement.
You can take surveys on WhatsApp to know the preferences of your customers and can personalise their customer experience. Having a strong and quick responsive customer feedback system can help your restaurant instil the faith of the customers. It also helps in improving customer relations.
Positive customer feedback will motivate your staff to do well and negative feedback will help you improve your services. You can retarget the negative feedback and win back your customers with improved efforts. In both cases, collecting feedback through WhatsApp will help your business to stand apart.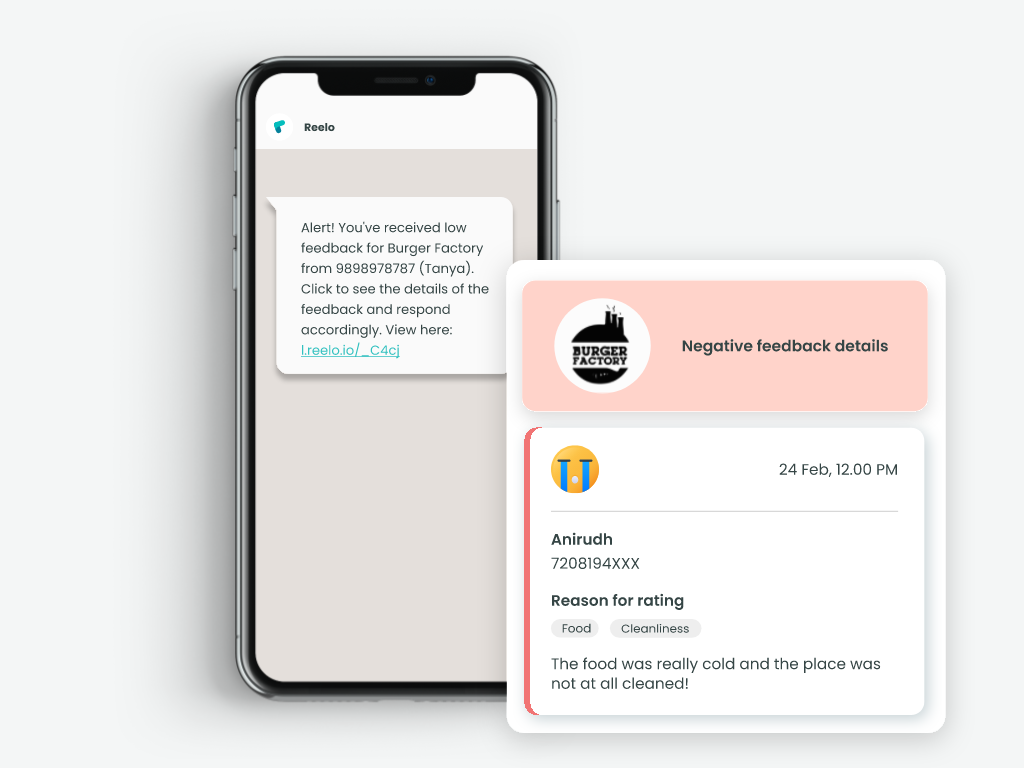 Future of WhatsApp Marketing
Altogether, WhatsApp marketing is the best and the most trusted channel for any modern business:
With the addition of more improved features and the popularity of WhatsApp marketing growing, WhatsApp will revolutionise the way business is conducted. Some of the upcoming WhatsApp developments include:
Increased integration with other platforms and tools, such as e-commerce platforms and CRM systems.
Greater focus on privacy and security, as businesses look to protect customer data.
Restaurants will be investing in marketing strategies over the app.
New features like WhatsApp Payment will be used extensively.
Check out our recent webinar on WhatsApp vs WhatsApp Business vs WhatsApp API
If you are looking to build a WhatsApp marketing program for your restaurant, Start with Reelo and boost your restaurant sales. Get started for free now!