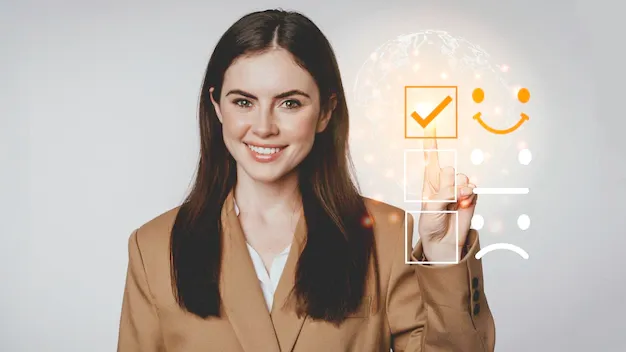 Do you want to know how a good restaurant feedback system can benefit you? Make sure to read the entire guide as we reveal minutest details about the same!
The food & beverage industry has been flooded with thousands of restaurants and cafes. It's a no-brainer that this industry has become highly competitive. With new restaurants being set up every day, they are more likely to steal your spotlight and rule the market. Be it any industry, it is advised to constantly evolve your marketing strategies and find ways to retain your existing customer for a longer time.
''But how will I keep my customers glued to my business amidst higher competition?''
Simple — through a compelling customer feedback software. Getting feedback is an excellent way to understand your customers' perceptions and act on them instantly. By asking for customer feedback, you can remove all the guesswork and rectify all your business's shortcomings.
Over the years, technology has advanced and has changed the working of the restaurant industry for the better. Well, rewind a few years and remember how restaurant owners used to get feedback from customers on plain paper (Surprisingly, some of them still follow the same practice). Skip to the present and you will realise that customer feedback management has become comparatively easy with the help of customer feedback systems.
So, why should you seek customer feedback? Feedbacks help restaurant businesses like yours to make informed and wise decisions. Moreover, it even gives you an overview about what a customer thinks about your restaurant.
While brands are aware of the importance of getting feedback from customers, they are clueless about how a restaurant feedback software can help their business grow. Are you one of them too? If yes, keep reading further as we spill all the secrets ahead!
How Can a Good Customer Feedback Management System Benefit You?
1. Capturing customer feedback in one click
Statistics on upserve say that 33% of consumers would never eat at a restaurant with less than 4 stars. Hence, you cannot just skip the step of taking feedback and improving your services.
Customers today want things to be quick and easy. It's no surprise that this behaviour is the same when it comes to filling feedback for restaurants. They are always looking forward to having a great dining experience, and making the process of giving feedback easier makes the experience wholesome for them. Yes, you need a restaurant feedback system to make the process seamless for your customers. Guess what? Reelo can help you capture your customers' feedback in seconds with a feedback collection template that you can customize accordingly.
2. Customised and engaging feedback surveys
No one loves filling those old and boring survey forms, duh! If you want to be in the limelight, it's better to switch to personalised and engaging digital feedback forms. Remember, these surveys should be relevant to your restaurant. A good customer feedback software not only allows customers to give feedback easily but even lets them enjoy the process. All you need is a delightful interface like Reelo to make it fun and engaging for your customers.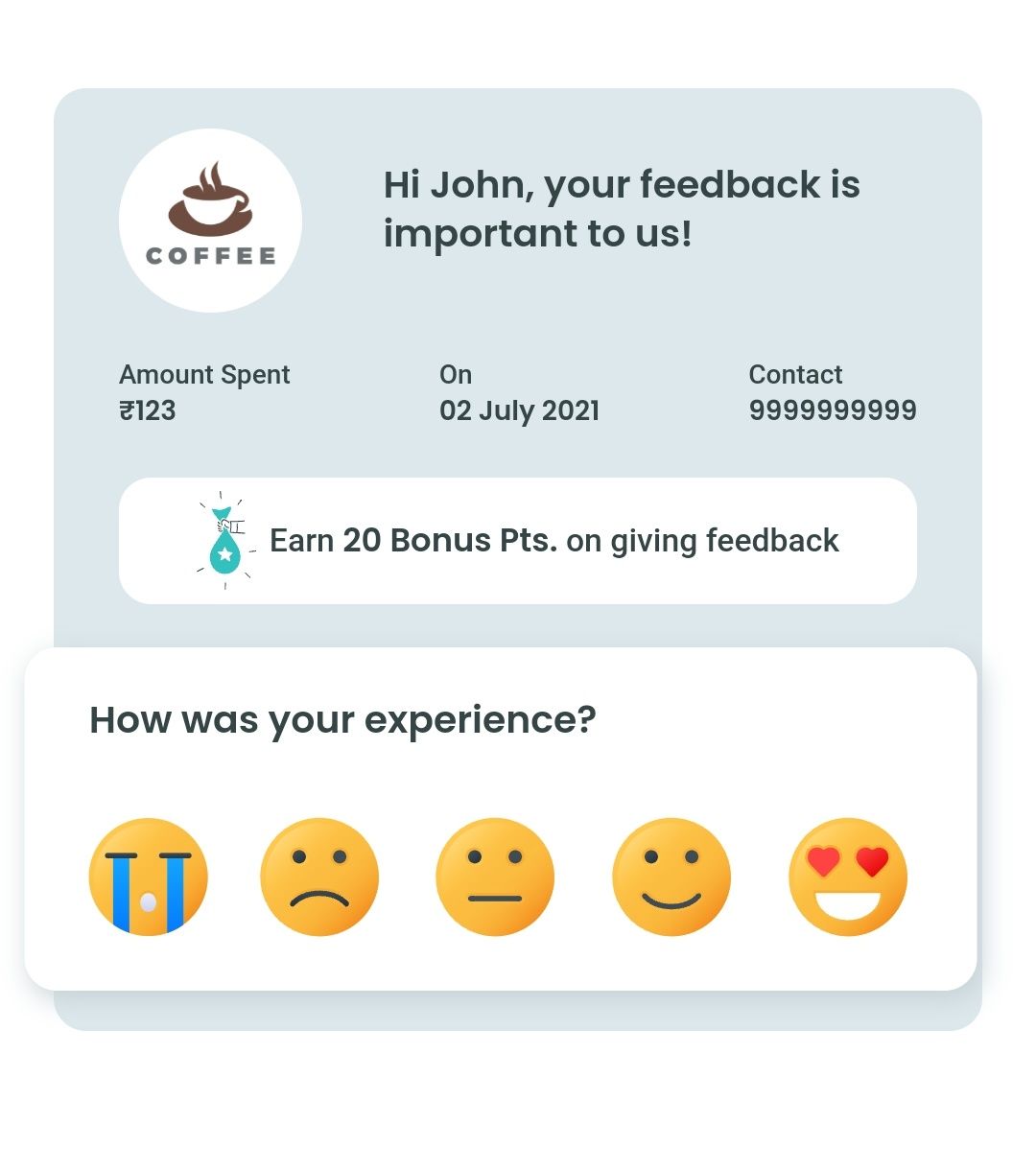 3. Increase customer engagement through loyalty program integration
Ok, we understand it's challenging to get feedback from customers. Often restaurant owners or staff members hesitate in asking for feedback from the diners. It's because they are usually stuck with one question — How to ask for feedback from customers? Well, one of the ways to do it is while giving/collecting the bill. Ask them politely to leave feedback for your restaurant.
Collecting feedback is not enough. Tell your customers about the rewards or loyalty points they can get if they leave feedback for you. This will make them feel valued and even lead to an increase in customer engagement. For example, when a customer leaves a review for your restaurant, you can offer them 100 loyalty points which they can redeem on their next visit.
But, have you designed your loyalty program yet? If not, then don't worry! Reelo has got you covered. We allow you to build your own loyalty program, create a robust feedback management system, and enhance your customer engagement.
4. Ease in understanding customer behaviour
Customer feedback management becomes seamless when you start getting detailed insights on a customer's behaviour. As a restaurant owner, it is important for you to keep yourself updated and look into what makes them happy and the areas you need to work on.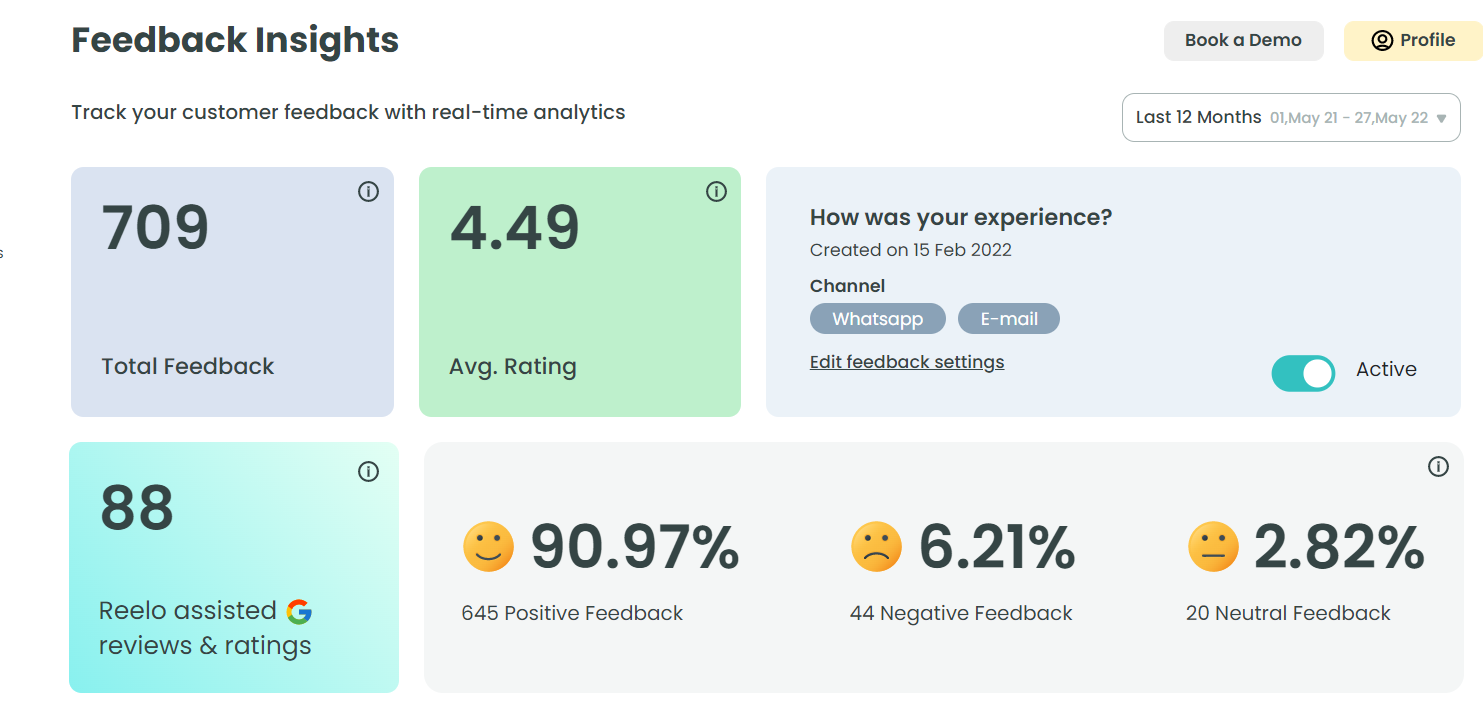 Real-time customer feedback can help you easily understand your customer behaviour, leading you to make the right business decisions.
5. Negative feedback alerts
Restaurant owners are often left with one question about what is the right time to react to negative feedback. Well, the right time is ''now''. If you don't take action immediately, you may fail to turn customers' negative perceptions into positive ones.
Restaurants often struggle with getting timely alerts for customer feedback. Hence, they need restaurant feedback software that can give them instant negative feedback alerts. With Reelo, you can get these alerts via SMS or on your WhatsApp whenever a customer leaves negative feedback. Therefore, you can instantly sort the issue without any further delay.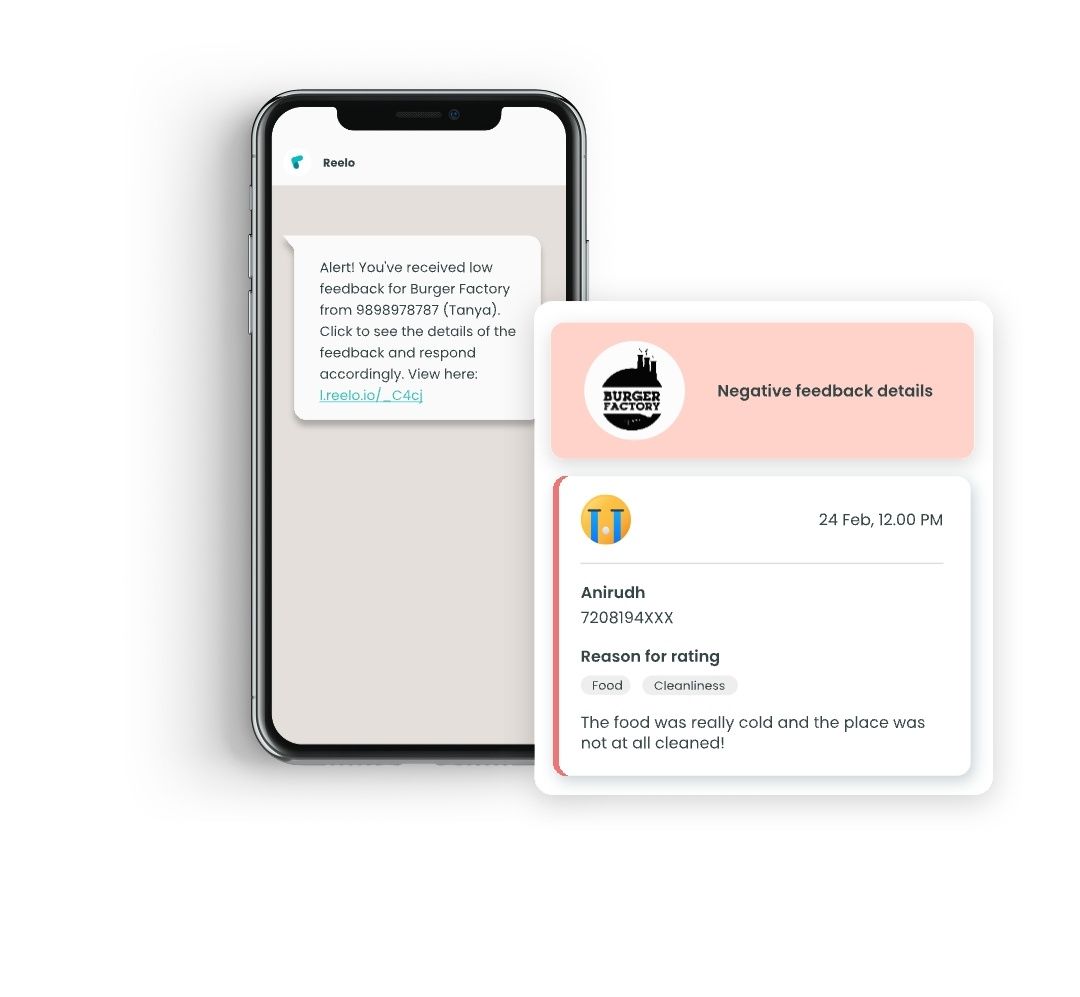 6. Increase in positive Google reviews
A good restaurant feedback system lets you fly high. Did your customers leave positive feedback about your restaurant? Then, why not share it with the entire world? Whenever customers leave positive feedback, it is a good practice to encourage them to share their reviews online on Google. This will not only improve your brand reputation but even help you rank higher on Google.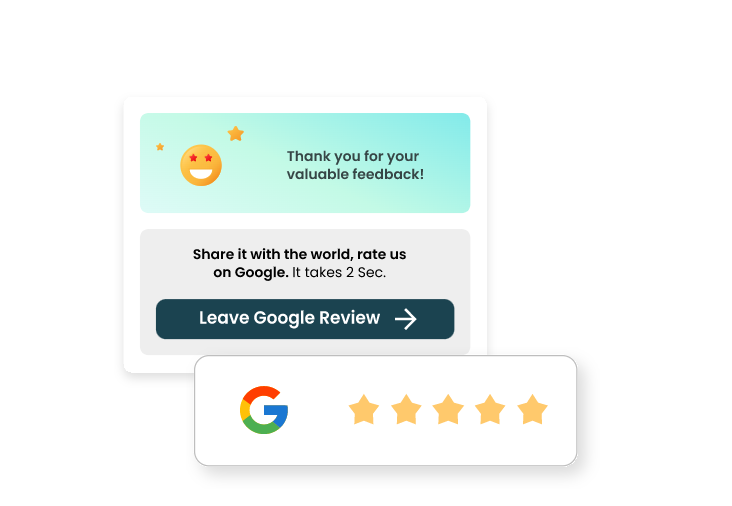 Collecting feedback made easy
Now that you know the benefits of leveraging restaurant feedback software, here are a few ways you can ask for customer feedback to improve your overall service!
Create a reviews tab on your website (Here, customers can easily go to the section and leave a review)
Use your social media channels to ask customers for feedback
Create surveys or polls
Use restaurant feedback software like Reelo to create digital feedback surveys
Using an effective restaurant feedback system can help you streamline the process of getting customer feedback. It not only allows you to capture real-time customer feedback but even improves the customer experience. Do you want to make your restaurant stand out from the crowd with the help of a good feedback management system? Then sign up for Reelo's 14-day free trial today!