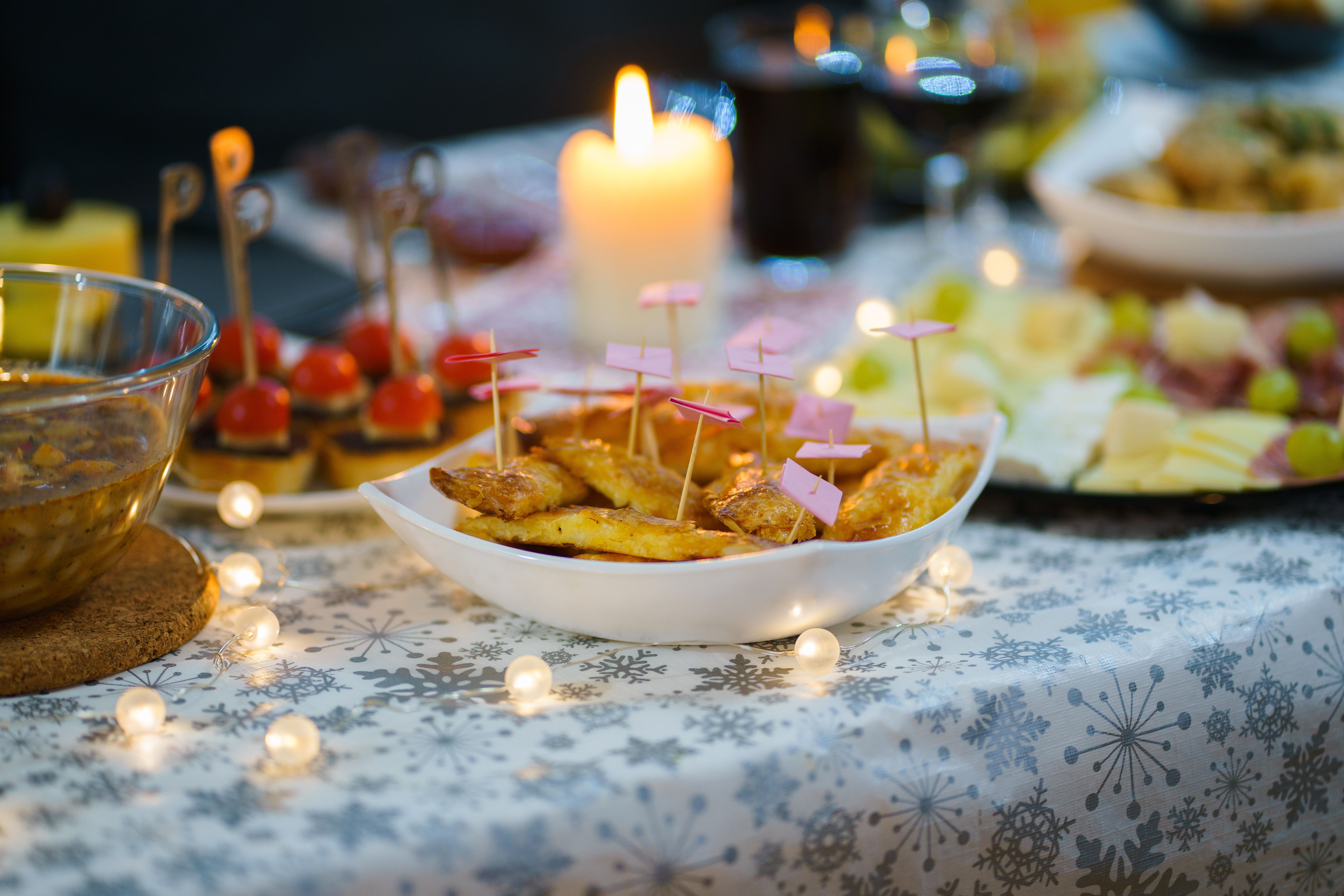 Are you a restaurant owner? Leverage this Diwali with the best promotional ideas for your restaurant.
Someone has rightly said, "opportunities that look small are the foundation of great brands." Likewise, Indian festivals offer the best opportunities for any business, especially restaurants. Festivals are the best times when people meet, greet, and dine out to enjoy their favourite meals. In Indian culture, food is considered a way of celebrating life. And this is why you need a promotional idea for restaurants to make a big change in the food business during festivals.
Considering the impact of food promotions, let's ask some questions: Are you a restaurant owner without a promotional plan this Diwali? Do you have any Diwali marketing campaigns for the restaurant? Well, if the answer is 'No', you are losing a lot of money on the table.
Let's get some facts here! Do you know that according to bdtask India has approximately 3 crore food service businesses? Out of which, there are over 5 lakh restaurants, QSRs, bars, and cloud kitchens. The Indian restaurant industry is worth around 4 billion dollars. And your restaurant can make a mark in this industry with a marketing strategy. Want to know how? Read on!
Restaurant Marketing Tactics for Diwali 2022
India is the land of festivals, but Diwali is one of the most celebrated ones. While many of you know Diwali for firecrackers, delicious mithais, new clothes, and a lot of fun, it is not limited to only these. Diwali festivities start much before the actual festival. This period of celebration is the perfect time to roll out your restaurant promotional ideas to improve customer engagement and sales. Many Indian food outlets like Dominos, Behrouz Biryani, and others use restaurant promotion ideas consistently to increase their usual sales. But how? Let's take you through some of the most creative restaurant marketing ideas for Diwali 2022!
1. Make Use of Social Media Platforms
Social media is one of the most powerful tools in today's generation. From school-going students to old-age adults, every age group loves to use social media. But how does social media contribute to restaurant marketing ideas? You can use social media as a source for announcing your promotional campaigns to your potential market. Do you know that, as per sproutsocial, around 75% of customers search for a restaurant on social media before visiting it? Social media gives a vibe check of your restaurant to your target customer. Instagram is the most commonly used platform for restaurants to announce their festive offers. Brands like Domino's and Subway are well known for their food promotion ideas on Instagram.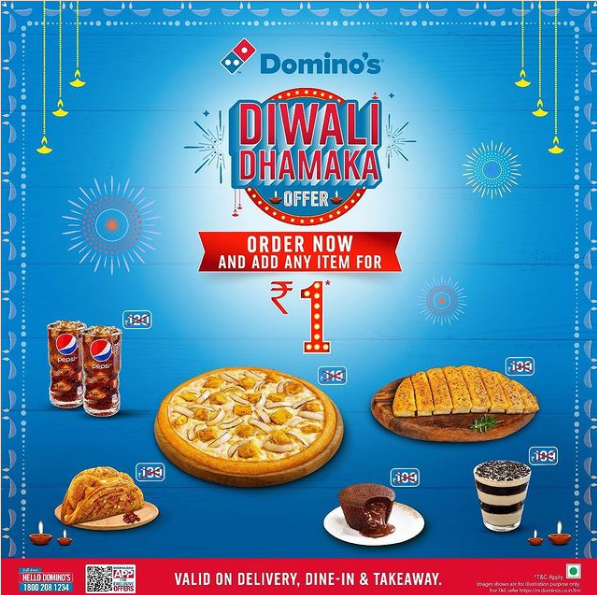 Source
So How can you use social media with promotional ideas for restaurants? Narrate to your customers the significance of Diwali for your restaurant and them. Assure them that your restaurant's food is the only thing they want to try out. To make an impressive impact, you can also use Instagram Reels to inform the audience of how you designed the menu, especially for Diwali.
2. Diwali Freebies
Everybody enjoys gifts. And Diwali is all about celebrating in abundance. Restaurants can also add the concept of giving free food items to their menu. They can create combo deals with the offers of a free dish with a combo. Offering a free complimentary sweet with a customer's order or giving personalized freebies are the most common types of gifts that restaurants often give during festivals.
Freebies are a great restaurant marketing strategy for Diwali. They help you have a distinct touch with your customers and increase sales with customer engagement. A restaurant should always keep in mind its budget while deciding the freebies. You can also check your insights to see the most loved dishes and can then plan to use them as freebies.
3. Hosting an Online Competition
The online presence of a restaurant is another important factor for establishing customer engagement. You will be surprised to know that according to facebook around 86% of millennials try a new restaurant after seeing its food content online. A restaurant can have an online competition or contest to engage customers online. It is quite a popular promotional strategy that many restaurants and clubs perform.

One of the most common examples is Zomato. Zomato once hosted a video contest where they asked their customers to create ads for them in exchange for the winning amount. Restaurant owners can use this contest promotional tool and put any gift or combo offer as a prize to the winner. You can also use an offline contest for promotional activities. A festive environment at your restaurant will help your visitors get attracted to the ambience and food.
4. Create a Diwali Campaign
Marketing campaigns are the best way to engage and retain your customers. Be it the promotion of a new menu, or engaging visitors, campaigns help you build a relationship with your customers. Most of the brands use a familiar tone that relates to the customers. The latest ad campaign by McDonald's, releasing its chicken burgers, is a prime example.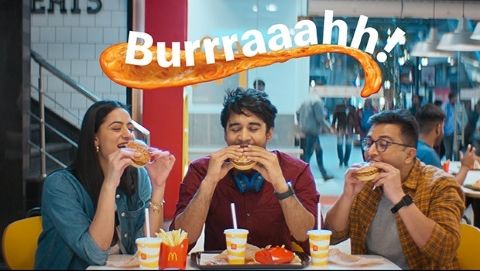 Diwali is a time when customers won't mind paying some extra bucks for high-quality dining offers. And this is when you can attract them with some eye-catching campaigns. There can be many types of Diwali campaigns for restaurants. For example, Restaurants can update festive menus, contests, coupons, food fests, etc.
But the question is: How to build a creative campaign that serves the purpose of your restaurant marketing?
Reelo can be your perfect partner in building beautiful and lucrative campaigns. Here's how Reelo enables you to create an imaginative and eye catching campaign for FREE!! Reelo offers thousands of templates in its curated campaign library.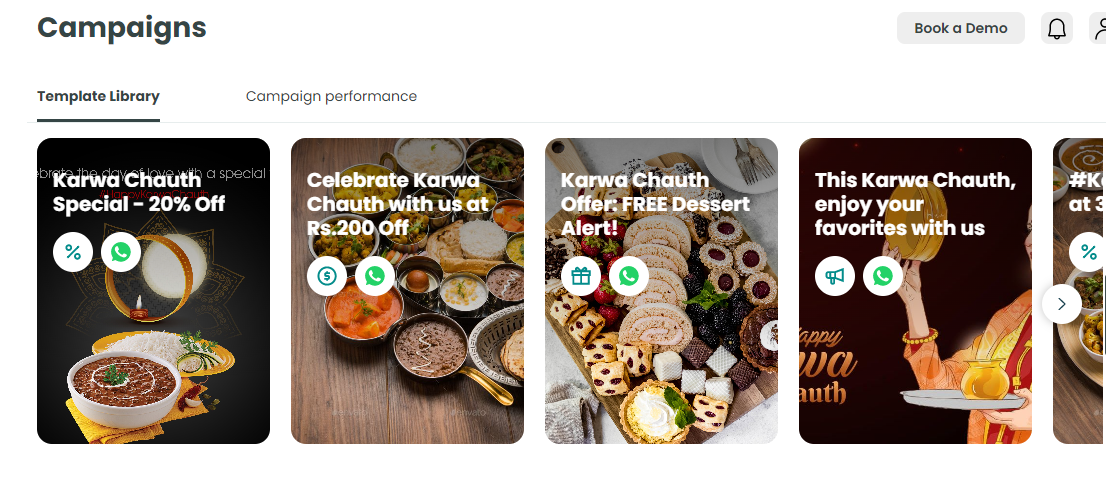 Source
From New year to Diwali, one can get any personalized campaign on Reelo. The restaurant owner can choose templates, customize the details, use any communication channel (WhatsApp, SMS and Email), and gain inputs from campaign insights. Watch this to know how you can have super professional and impactful campaigns for your restaurants for free. Brands like La Pino'z Pizza, Jamie's Italian, and Winni have been using Reelo's services for promotional ideas.
Summing Up
Altogether, Diwali is the ideal time for every restaurant to make some extra sales and earn some loyal customers. It is important to use this festive time and have some ready-made restaurant marketing campaigns for Diwali. You can read more about marketing ideas for your restaurants here.
If you are also interested in creating simple and effective customer-engaging campaigns, then get, set, and go with Reelo! You can try Reelo for FREE!