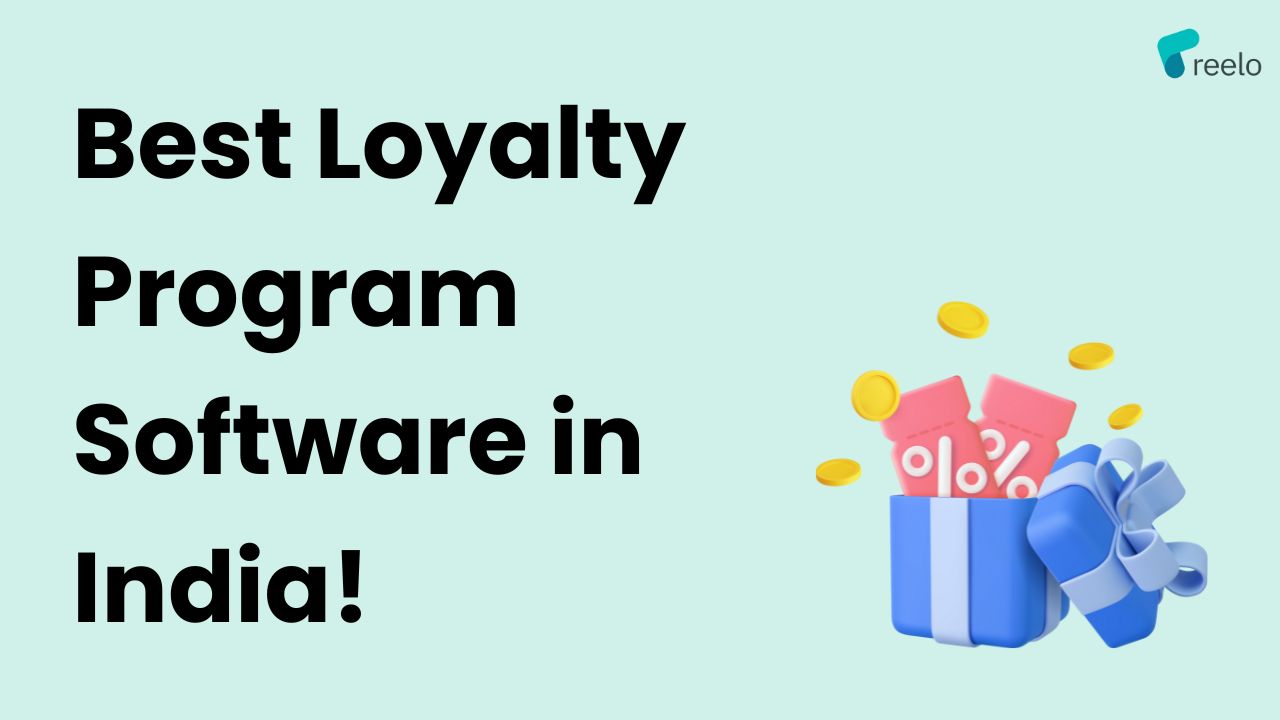 Building customer loyalty takes time. You have to go through several loyalty program software providers to choose the right one for your business. Imagine a quick guide that can help you compare the best software. Here's your dream guide!
Running a business is not an easy task. You have to constantly attract the right customers to build a successful business. Acquiring new customers is a costly affair. So, what should you do? One should focus on building a community of loyal customers which will be a cost-effective means of building a successful business. And that's why customer loyalty programs are crucial!
There are tons of loyalty program software solutions available in the market. How can you find the one that is right for your business? We did this research so that you don't have to do it, and came up with a detailed comparison of different loyalty program software in India.
Before we start with our list of loyalty program software, let's dive in and know the factors you should consider before choosing the right loyalty solution for your business.
Factors to Consider When Choosing a Loyalty Program Software
Getting a reward program for your business is an important choice. Hence, it's important to consider some factors before you make this big decision:
Aligns with your business needs
Ease of use and user-intuitive interface
Integration capabilities with other POS and e-commerce systems
Scalability and the ability to accommodate business growth
Customisation and flexibility to suit different business models
Security and data privacy features
Analytics and reporting capabilities
Support and customer service provided
Keeping these factors in mind will help you find loyalty software suited for your business. Without further ado, let's explore and discuss the top loyalty program software in India.
Top Loyalty Program Software Providers in India (2023)
Reelo is one of the best modern-day loyalty program platforms that help you create an engaging and attractive reward system for your customers. With Reelo's personalised loyalty programs, one can engage and retain customers like never before. It has helped thousands of businesses increase their repeat business by 30–40%. For example, Reelo's loyalty feature helped a popular cafe, Old School, increase its repeat business by 40%. Watch here:
Reelo provides unique features that let you create a customised, attractive, and easy-to-understand loyalty program. Here are some key features of Reelo:
Seamless POS integration: This loyalty program platform integrates seamlessly with leading POS systems.
Customisation options: you can choose any colour, theme, banner image, or logo, and also decide the type of loyalty rewards you want to offer.
Choice of communication channel: You can decide which channels (WhatsApp, SMS, email or all together) you want to use to communicate the Loyalty updates with your customers.
Track analytics: You can also measure the performance of your loyalty program by tracking analytics and drawing conclusions from it.
Loyalty samples: Reelo also has many loyalty samples, from where you can take inspiration, and create one for your business too.
Reelo also provides the option to turn your loyal customers into brand ambassadors by building an engaging referral program.
Dedicated customer support and onboarding assistance.
The platform is available both in free and paid models. There are two paid plans, keeping in view the requirements of the users, and both are very affordable. Thus, if you want to build a loyal fanbase for your brand and want consistent repeat business, then Reelo is your perfect partner! You can read more about ways to engage and boost repeat customers for your business here.
It is a next-generation loyalty program software with a user-friendly interface. Xeno's loyalty platform helps different business models build customer loyalty and retain customers. The platform primarily provides services to the retail sector and has quite a popular name. Xeno guarantees that it provides exclusive experiences through its loyalty program platform. Some of the key features of Xen's loyalty program solutions are:
Customisable loyalty program structures to fit different business models.
Seamless integration with existing systems, such as POS and e-commerce platforms.
Choice of running a loyalty program through social channels like WhatsApp, Facebook, and Instagram.
Offer exclusive experiences like sessions with influencers, and special benefits like complimentary gifts, coupons, etc.
Advanced analytics and reporting capabilities to gain valuable insights.
Robust security measures to protect customer data.
Bingage is a unified reward and loyalty software solution that majorly helps retail and e-commerce brands increase customer retention and CLV. The company was initially created as a coupon company but then pivoted to loyalty rewards. Here are some key features of the Bingage loyalty program platform:
Selecting your preferred loyalty rewards type.
Gamification elements to engage and motivate customers.
Seamless integration with around six POS systems.
Bingage also provides VIP tiers which allow brands to recognise their VIP customers.
In-depth analytics to track customer behaviour and campaign performance.
Paytm m'Loyal is a mobile loyalty technology that helps retailers and B2C companies to engage and reward their customers. This platform integrates with brand POS and other social, web, and mobile systems. Here are some notable features of the platform:
It provides self-serve mobile loyalty, data analytics, and a precision marketing platform.
Real-time customer analytics.
Integration with POS software.
Easy deployment.
Automated management and scheduling.
Summing Up:
Choosing the right loyalty program software is crucial for businesses seeking to enhance customer loyalty and retention. The loyalty program software mentioned in this blog post is some of the best loyalty solutions available in the market right now. If you are looking for the perfect loyalty management software, then these can be ideal options to explore.
Customise a loyalty program for free with our loyalty program feature!