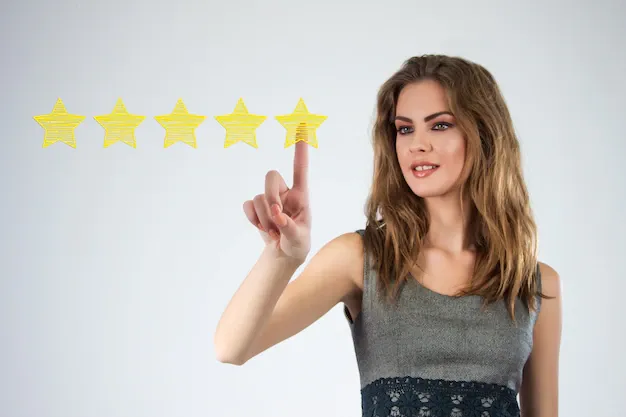 Wondering how to get more Google reviews? Let's dive into a complete guide to help you increase google reviews for you.
Did you know that, according to invespcro, customers spend 31% more on businesses with positive reviews?
Modern-day consumers keep a thorough check on online reviews before making a purchase decision or going to a restaurant. Consumer Reviews allow customers to get a sense of how a company is treating its potential and existing customers. While most businesses have joined the race of building a strong online presence, google reviews are the real judge of their credibility.
Companies need to increase google reviews effectively to achieve a stellar reputation. Positive reviews indicate the quality and worthiness of a company. Surprisingly, as per inc, 84% of consumers trust online reviews as much as personal recommendations. Therefore, reaping the benefits of Google reviews should be of utmost importance for restaurants and retail shops.
Although online reviews and ratings influence the local search, some questions still remain unanswered — How to get more google reviews?
Here is a complete guide where we will dissect all the details to help you get more clarity. So, let's dig deeper and help you drive more customers, shall we?
Why are Google Restaurant Reviews Important?
Shoppers and diners consider reviews as social proof while searching for your business or restaurant respectively. Online reviews have the potential to drive consumer behaviour and influence their purchasing decisions. Google reviews may seem like a simple process but their impact is immense. The more positive reviews, the higher the chances to increase the footfall everyday.
It has become imperative to increase google reviews and prioritise your local marketing strategy. Attracting a wider audience is one benefit; there are a couple of secondary benefits about why getting more reviews from customers is an ideal decision. Here's why your restaurant or retail business needs to focus on generating Google reviews right now!
1. Improves SEO search rankings
Higher SEO rankings are the best reward you can get from Google. But, how is it possible? Businesses with more positive reviews are likely to rank higher because Google finds them trustworthy. Higher the reviews, higher the business visibility, and more the chance of customers visiting your offline store or restaurant. Remember, search engine rankings give you a greater competitive edge.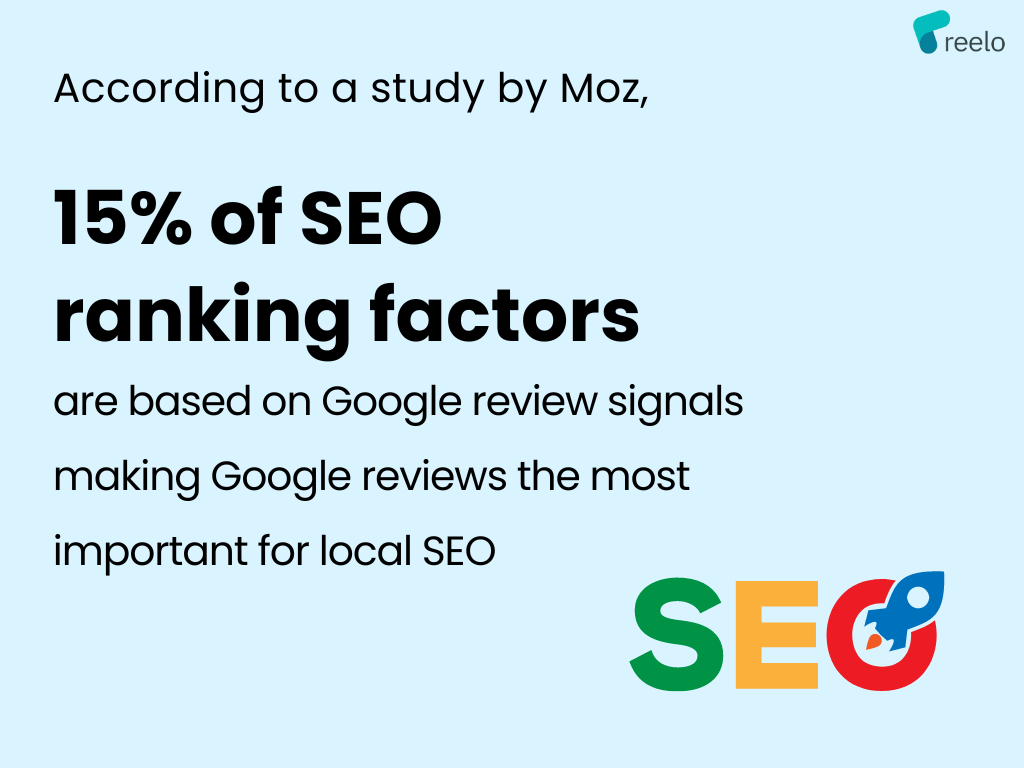 2. Increase in conversions
Google lists your business higher on search engines when consumers say positive things about you. This ultimately leads to an increase in leads and conversions. Reviews speak volumes about your business. Thus, focus on increasing positive google reviews from existing customers to convert potential leads.
3. Improves credibility and trust
You can market exponentially about how your products and services are better than the competitors. But nothing builds trust and credibility like unbiased perspectives of other customers. In this digital era, people look upto online reviews before making a purchasing decision or choosing a restaurant to dine-in. Online reviews can boost trust and credibility without spending a dime and strongly communicate the trustworthiness of a business.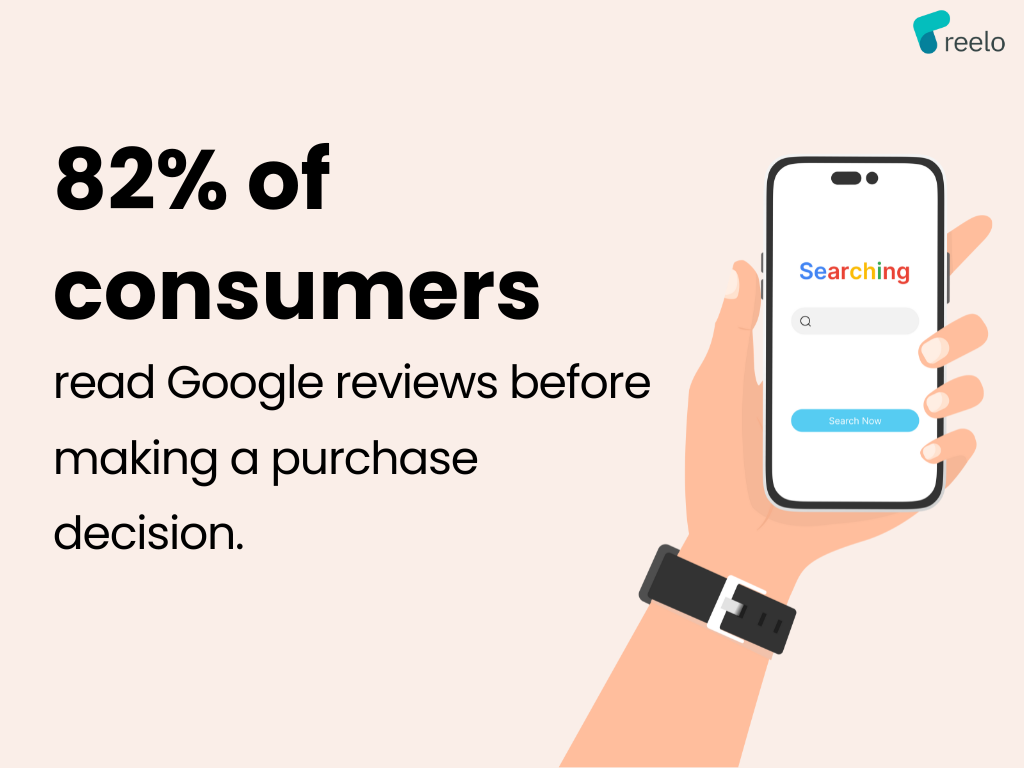 Furthermore, positive reviews improve your brand reputation and leave a long-lasting impression. Through the reviews, people see how you treat your customers. Therefore, focus on providing value to your customers. This will in turn motivate them to leave a positive comment about your business.
Now you know how crucial it is to place emphasis on Google business. Wait, we are not done yet. Here are some secret hacks that answer another question you have - How do I encourage customers to leave Google reviews?
How to Get More Google Reviews?
Let us finally spill the beans to help you increase Google reviews for your business.
1. Just ask your customers to leave a review for your business
Did your customers have a good time dining at your restaurant? Or did they have an amazing purchasing experience with you? Then, why not tell this to the entire world? Start interacting with your customers and ask them politely to leave a google review for your business. Well, if you don't ask, the answer will always be a no!
For example, indulge in a conversation with a customer who completed his meal. After paying the bill, you can ask him to give an overall review of your restaurant.
Asking customers to leave a review is a great way to garner trust and credibility for your brand. When they eventually write one, don't forget to respond to their review.
Reelo has made the process even easier for you - A simple 3 step process and category wise rating will help you gain deeper insights.
2. Tell customers that leaving reviews is a quick process
Be it diners or shoppers, they will always ask you one question — Will it take a huge amount of my time? That's where you play your part and explain them patiently. Tell them about how a good review will help in attracting potential customers like them. Don't forget to show them some gratitude after they post one.
For example, you can say, ''Thank you (name of the customer) for shopping at (store name). We are really glad to have you as a part of our family."
3. Send a quick SMS asking for feedback
Customers are always in a hurry. The easier way to increase feedback is by sending a quick email or SMS to your customers.
Now here's where Reelo's feedback management feature makes the process smooth for you. You can now send automated messages through Reelo. All you have to do is customise feedback questions & options, select the communication channel, and collect feedback from them. Reelo lets you add your Google review link towards the end, after the customer has given their feedback. This will remind the user to leave a review for you.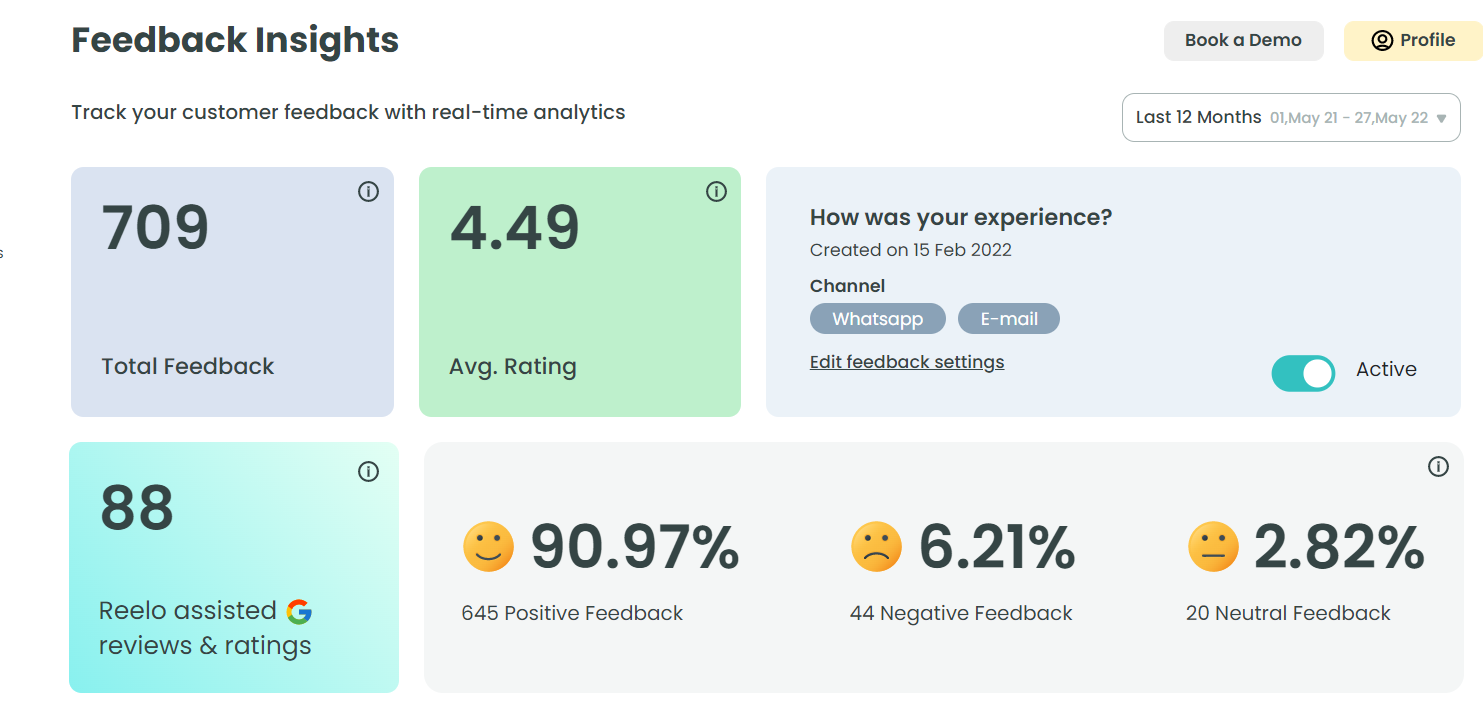 With Reelo, you can even get detailed insights about customers and track your customer feedback with real-time analytics.
4. Ask for reviews on social media
Many times, customers forget to leave a review. How to remind them to do the same? By leveraging the power of social media. Ask your social media audience to leave a google review for a business. Provide a link to them in the bio where they can leave feedback.
5. Offer loyalty points for leaving reviews
While it is difficult to get every customer to leave a review, here's how you can encourage them to do the same. When you ask your customers to provide a review, tell them that they can get loyalty points or rewards if they leave a review. Furthermore, explain to them about how they can redeem these rewards or points on their next visit.
You can even design your own loyalty program through Reelo. With thousands of templates, you can personalise the communication and send automated messages to remind the customers about redeeming their rewards.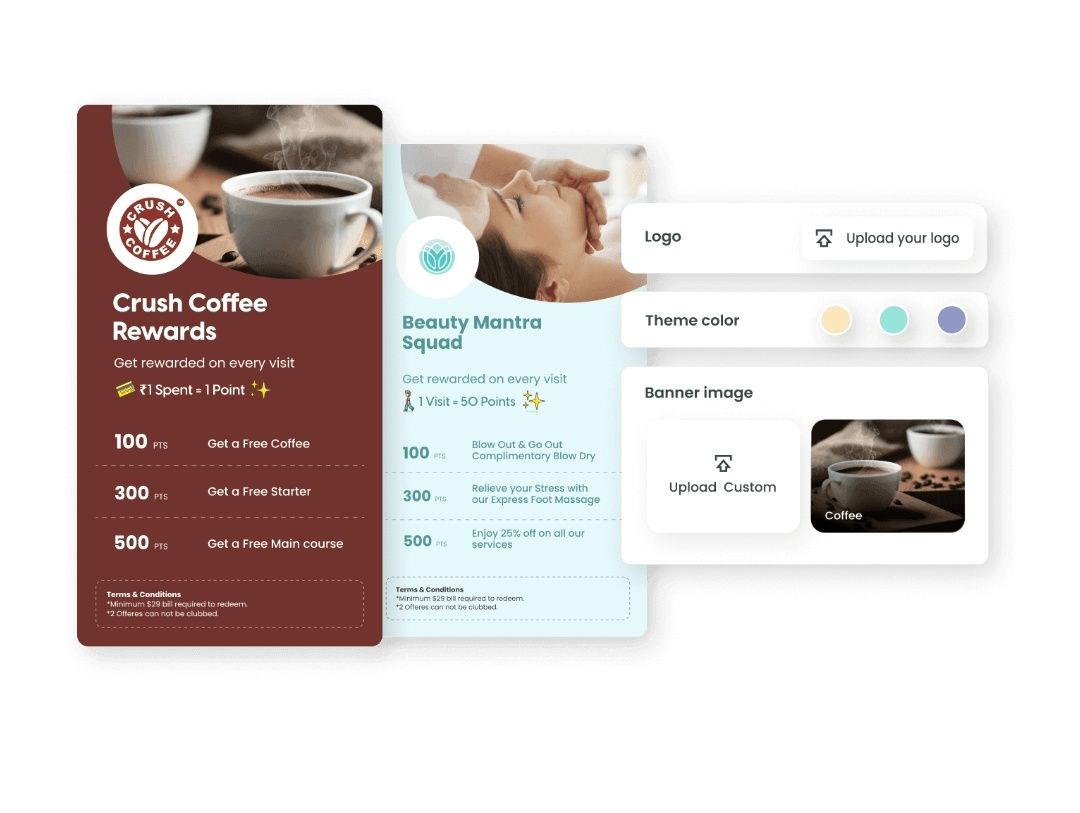 6. Monitor and address negative reviews
It's important to monitor your Google reviews regularly and address any negative reviews as soon as possible. Responding promptly and professionally to negative reviews can help turn a negative experience into a positive one. Ultimately, it shows potential customers that you're committed to providing the best possible experience. Reelo helps you get instant alerts on any negative feedback. This way, you can immediately pacify the not-so-happy customers with a better experience.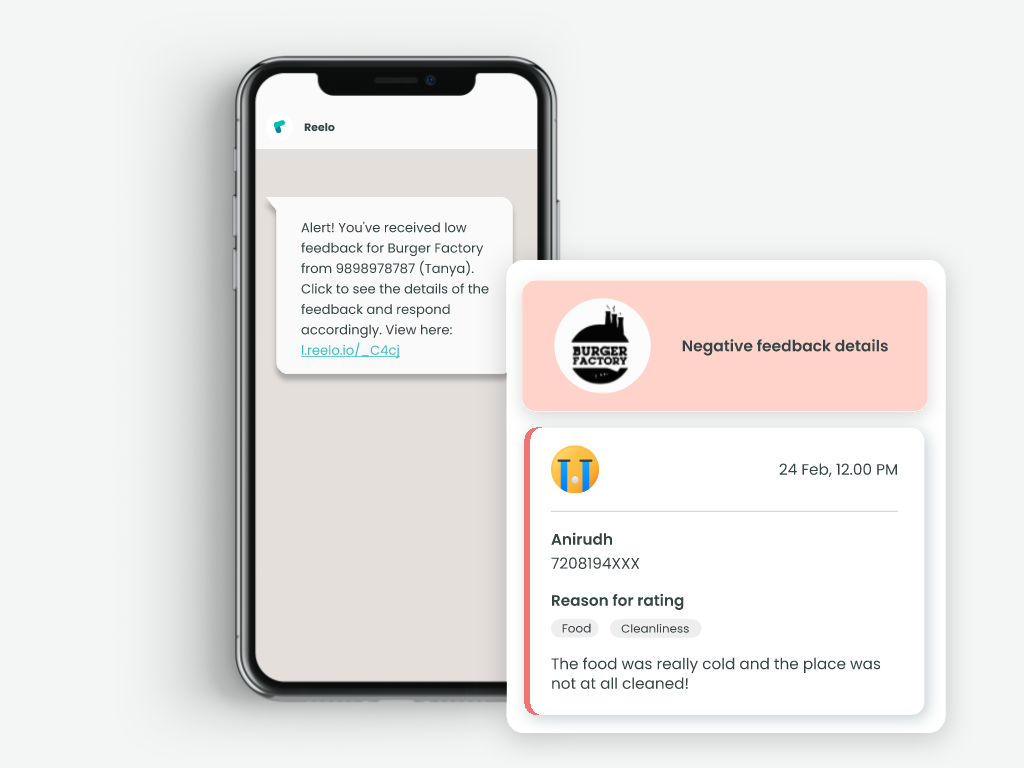 Final Thoughts
Now when someone asks you ''how did you manage to generate more google reviews?'', share these secret hacks with them. There are several methods to increase google reviews, you just need to find the right fit. As many people online value a stranger's review equal to a personal recommendation, use it to your maximum advantage.
Start reaping all the benefits to improve your local search rankings and increase conversions. Sign up for a free trial with Reelo and successfully utilise the customised feedback system created for your business.