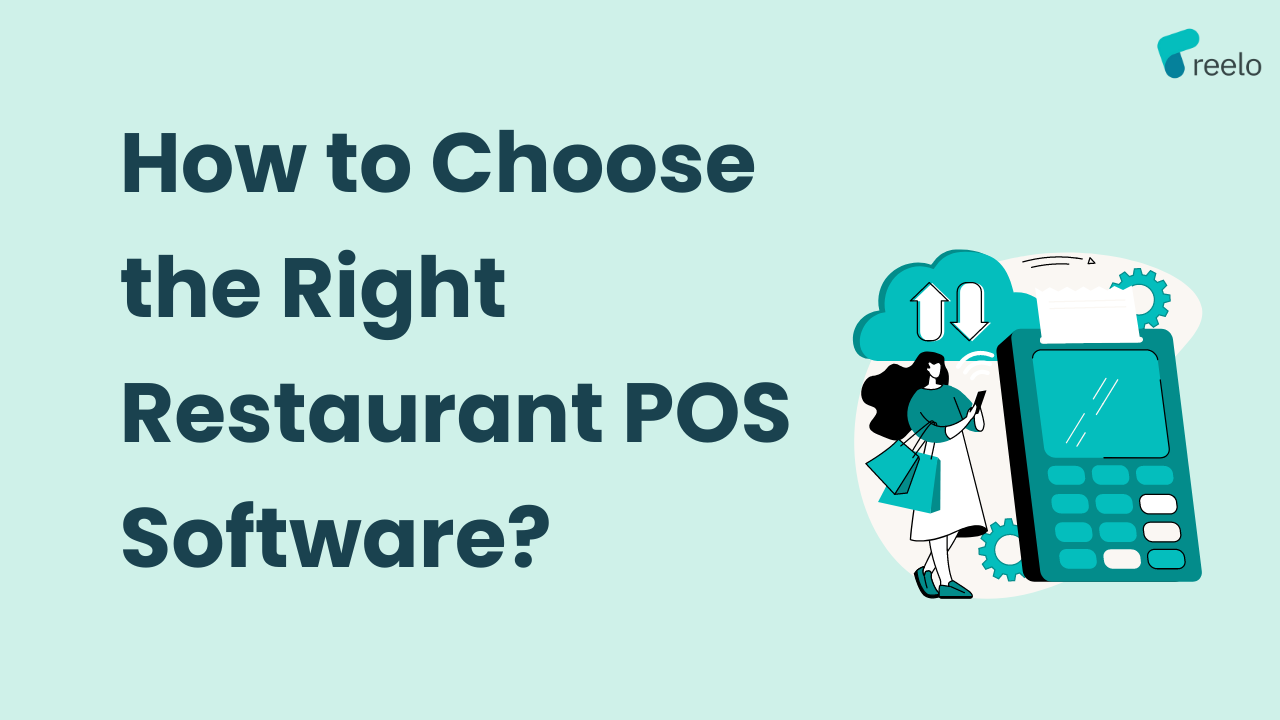 Wondering how to get the right POS software for your restaurant? Here's a quick guide to answer all your doubts, read now!
Point-of-sale (POS) software is one of the most basic requirements for any restaurant. It serves as the brain of any restaurant. A restaurant POS software handles a lot of activities. Choosing the right one is one of the most significant investments.
Nowadays, restaurant POS solutions provide features that will help a restaurant manage everything—billing, inventory, marketing, analytics, and much more! Although the market is flooded with POS software solutions, restaurant owners often end up making the wrong choice.
We have put together this quick guide to help you learn how to choose the right restaurant POS software in 2023. Here's a checklist that will guide you on how you should decide to buy a POS system for your restaurant:
Understanding the restaurant's requirements
Analysing key factors
Researching and shortlisting restaurant POS software providers
Booking demos and trials
Making the final buying decision
How to Choose the Right Restaurant POS Software
Choosing the right POS system for your restaurant can be a tedious task. You have to compare and evaluate thousands of restaurant billing software products available on the market to find the one that will act as the central system of your restaurant business. Traditionally, billing systems were looked at only as a means of recording financial transactions, but with more awareness and technological tools, POS systems are now not only used for billing but also for managing and tracking different activities. You also want to find a similar POS system. Here is your checklist!
ALSO READ:Top 10 Billing Software for Retail Shops in 2023
1. Understanding the Restaurant's Needs:
Every restaurant has different needs. There is no point in choosing POS software just because someone else is using it. You need to identify your unique needs and then choose the right restaurant POS solution. One needs to consider factors like the type of restaurant, size of restaurant, number of stores, scalability, etc. This is because every POS system comes with different features and functionalities. For instance, if you have a quick-service restaurant, you might need POS software that manages the inventory differently than a fine-dining restaurant. Therefore, one should always choose a POS that suits their specific needs.
2. Analysing Key Factors:
The process of finding the right POS system for Indian restaurants requires them to analyse specific factors. Factors like cost, pricing model, user interface, support team, reporting, and integration system are some of the major elements that influence your restaurant. Let's discuss these in detail!
Cost and Pricing Models:
Cost is one of the most sensitive elements for any business. You would always like to get the maximum benefit out of software at the lowest possible cost. Hence, it is crucial to compare different pricing models, discuss the cost implications, and analyse the ROI of the software that you are choosing. Additionally, you should also see if the software is affordable for you in the long run.
Ease of Use and Training:
You are good at using digital products, but your restaurant manager or receptionist might not be. Not everyone has a way with technology. Hence, one should choose a POS system with a user-friendly interface, intuitive navigation, and customisation options. Moreover, easy-to-use software will require less time to train employees and get them use-to it.
Integration and Compatability:
Check if the POS system provides seamless integration with other systems. Nowadays, restaurants want POS solutions which allow third-party integrations like:
Accounting integration
Payment integration
Online delivery integration
CRM integration
You should also inspect if the software is compatible with various devices (mobile, laptop, tablet, etc.) or not. It will help you use your software from anywhere. Data integration comes in handy when one wants to shift from one POS software to another. Hence, it is important to check for integrations and compatibility while selecting a restaurant POS software. You can learn more about how these integrations help boost restaurant sales.
Cloud-based POS Software:
We recommend going with cloud-based POS software for restaurants. Cloud-based POS systems are less prone to data loss and system crashes. These POS solutions simplify operations, provide flexibility, and are more compatible.
Customer Support and Updates:
You should look for a POS service provider that delivers omnichannel customer support. If not omnichannel, then check what channels are provided for technical support. One should consider a POS provider that keeps them updated and provides robust customer support.
3. Researching and Shortlisting POS Software:
After analysing these factors, you should utilise online resources, read customer reviews, and ask for recommendations to create a list of interested POS software providers. Moreover, you should also consider the reputation and track record of the software providers and compile a shortlist of potential POS software providers.
4. Booking Demos and Trials:
Almost every POS software provider gives a free demo to their users. This helps the users to know the software firsthand. One should reach out to the shortlisted providers, and book demos and trials with them. These demos help in experiencing the product before even paying for it. One can evaluate the user interface, navigation, functionality, and overall user experience, with the help of demo sessions.
5. Making the Final Buying Decision:
Now, you should also consider factors like cost, ease of use, integration, support team, etc. of the potential POS software solutions. One should make the final buying decision only after aligning the needs of the restaurant with the POS software. The decision to buy the right restaurant POS software should be made after summarising and aligning all the factors. You can also have a look at the top 5 POS systems in India in 2023.
Conclusion
In conclusion, we affirm that selecting the best restaurant POS software in 2023 is an important choice that can have a big impact on the effectiveness and success of your restaurant business.
You can choose the right restaurant POS software by keeping in mind the points discussed throughout this blog post, and following them. By carefully considering your needs, conducting thorough research, and evaluating key factors, you can make a confident choice that sets your restaurant on the path to success in 2023 and beyond.