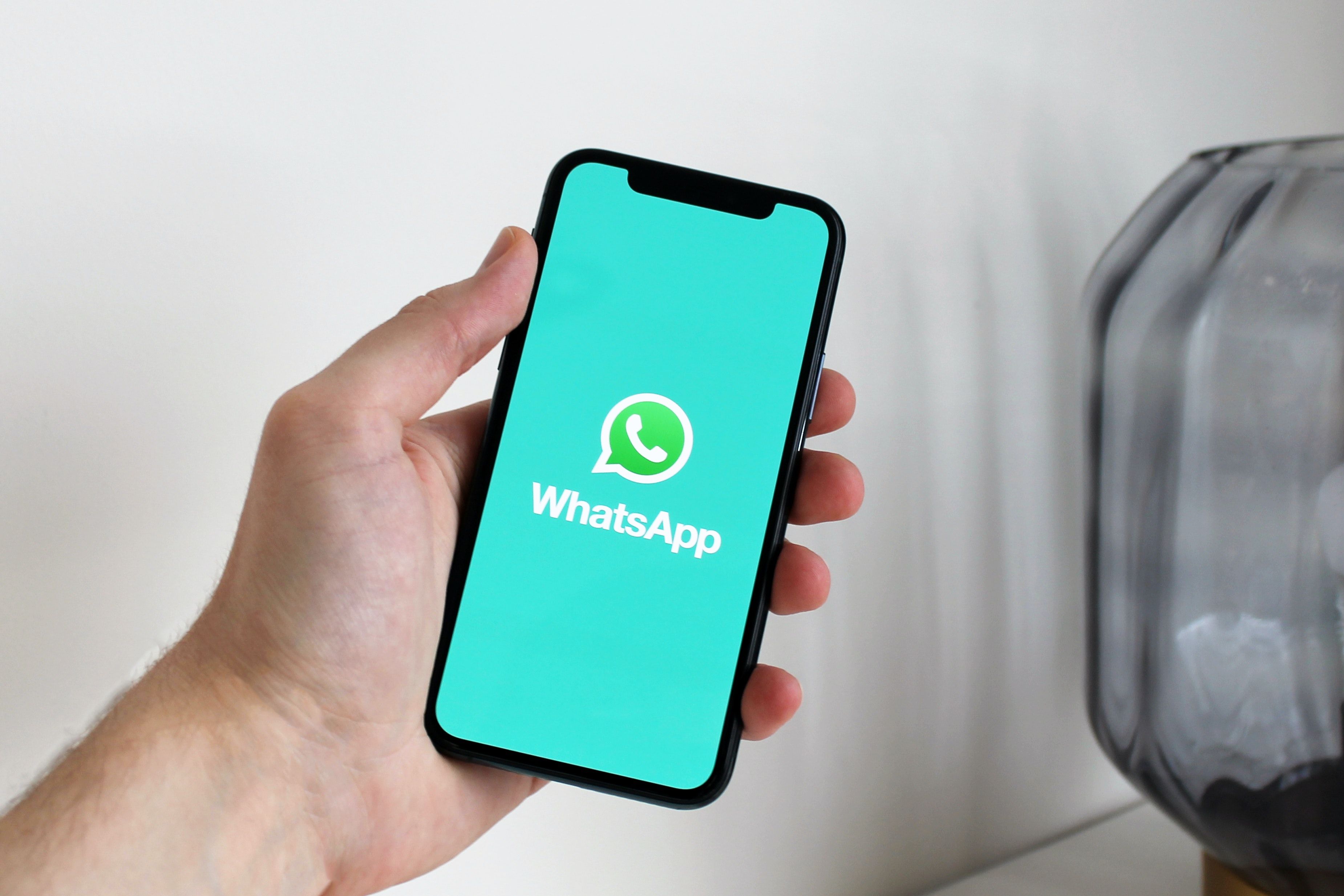 What if we told you that you carry a marketing tool on your phone? Well, it's WhatsApp. Almost all of us use WhatsApp for personal messaging, but did you know businesses use it for marketing too?
WhatsApp marketing is one of the most popular marketing trends in recent days. It is a type of messenger marketing that helps build customer relationships, brand awareness, and enormous reach. With all these merits and many others, WhatsApp marketing services are giving tough competition to SMS and email marketing.
WhatsApp has around 487 million users in India, and the number is constantly increasing. While you all know that it is used for messaging and media sharing, businesses are investing in using it as a marketing tool.
Let's take a look at how WhatsApp can be used for marketing!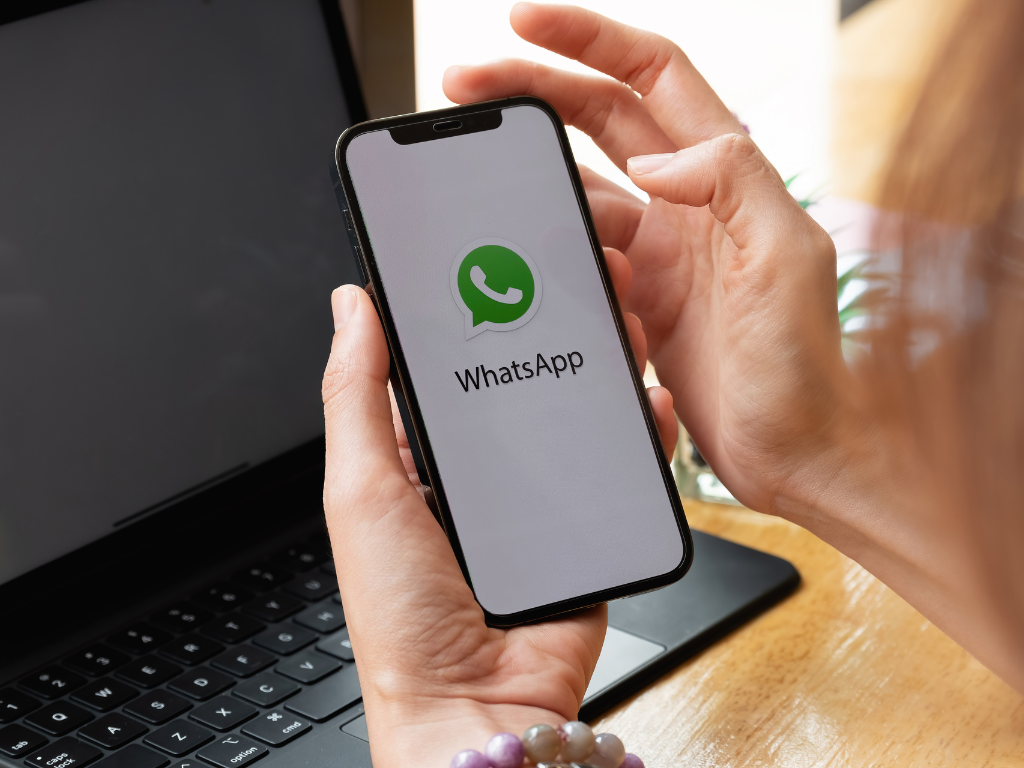 Why should you opt for WhatsApp Marketing Services?
The need for WhatsApp marketing services comes from a lot of factors. Be it the emerging digital trends or over-dependency on mobile phones, WhatsApp has gained massive popularity as a marketing platform. Traditional marketing has its limitations and will not cater to the needs of businesses serving this technology-driven generation. Hence, the need for WhatsApp marketing feels more than necessary for modern businesses.
Moreover, WhatsApp is a tool that is free to use. Of course, some elements come under paid plans, but small businesses can at least start marketing their products and services. The benefits of WhatsApp marketing are endless; let's take a quick look at some of them!
But before that, here is a quick distinction between types of WhatsApp accounts:
WhatsApp Messenger Vs WhatsApp Business Vs WhatsApp Business API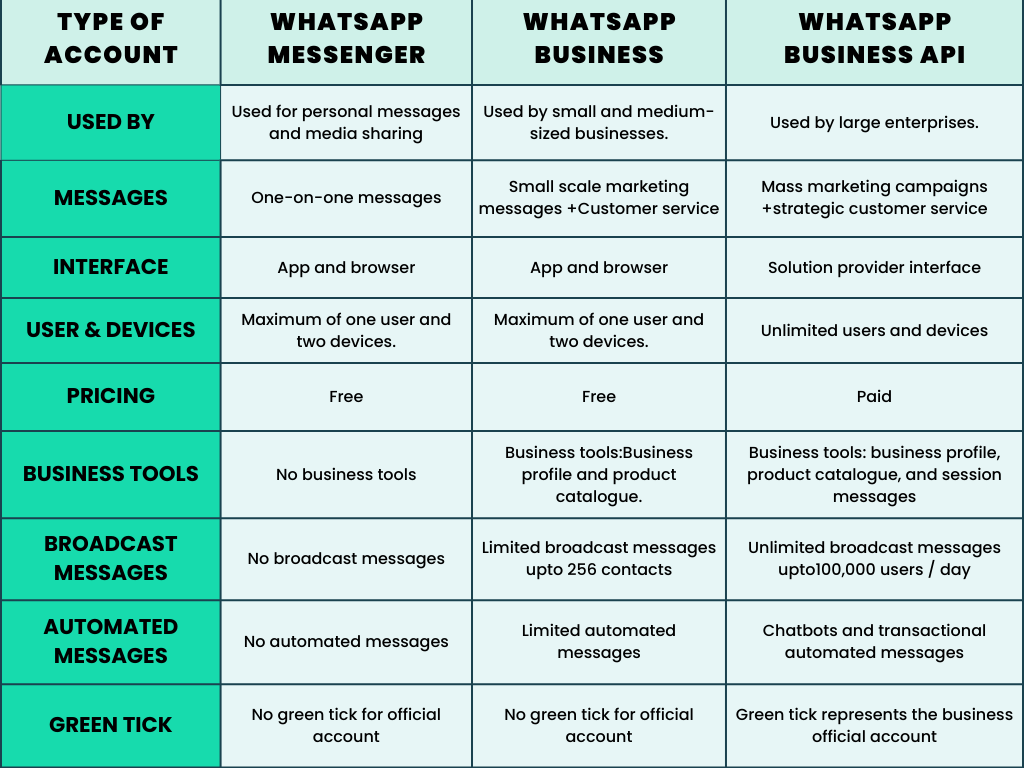 Top Benefits of WhatsApp Marketing for Any Business
WhatsApp marketing is an effective and efficient way to promote your business. From showing catalogues to reaching customers directly, here's the long list of benefits that WhatsApp offers:
1. Secure and Fast:
WhatsApp is designed to be fast and reliable, allowing business owners to communicate with their customers in real time. With this, businesses can now respond to customer grievances and queries quickly, leading to an improvement in the customer experience.
Moreover, all WhatsApp messages are encrypted, which means they cannot be read by anyone other than the sender and receiver. It helps maintain the privacy of customers and protect sensitive data from any breach. Thus, by using WhatsApp marketing, you can give quick and secure responses to your customers and project a superior brand image.
2. High Open Rate:
The open rate of WhatsApp messages is 98%, which means 98 out of 100 messages are read by WhatsApp users. But why do open rates matter? A higher open rate means a higher response rate, which signifies that customers are responding to your messages. Since all your messages are sent directly to the customers' phones, they are more likely to be opened and read.

The high open rate is due to several factors. Firstly, people carry WhatsApp all the time on their phones. Secondly, engaging messages make sure people open them to read them. Overall, a high response rate is one reason that makes WhatsApp a highly effective marketing channel. With this, you can engage customers easily and drive conversions.
3. Easy to Use
There is no denying the fact that WhatsApp is probably the easiest platform to use as a marketing channel. From small businesses to multi-brands, WhatsApp is easy to use for every business. The platform has a user-friendly interface, which makes it super easy to navigate through all the features. You can access many features after creating a business account on the platform for free.
In addition to its ease of use, WhatsApp is also accessible from anywhere. Hence, it is a convenient way to communicate with your customers whenever you want.
4. Improves Customer Relationships
According to a report, 55% of customers feel more connected to a brand through messaging apps like WhatsApp. One of the key reasons for improved relations using WhatsApp is the personalization of messages. Direct and personalised communication helps engage customers better and improve customer relationships.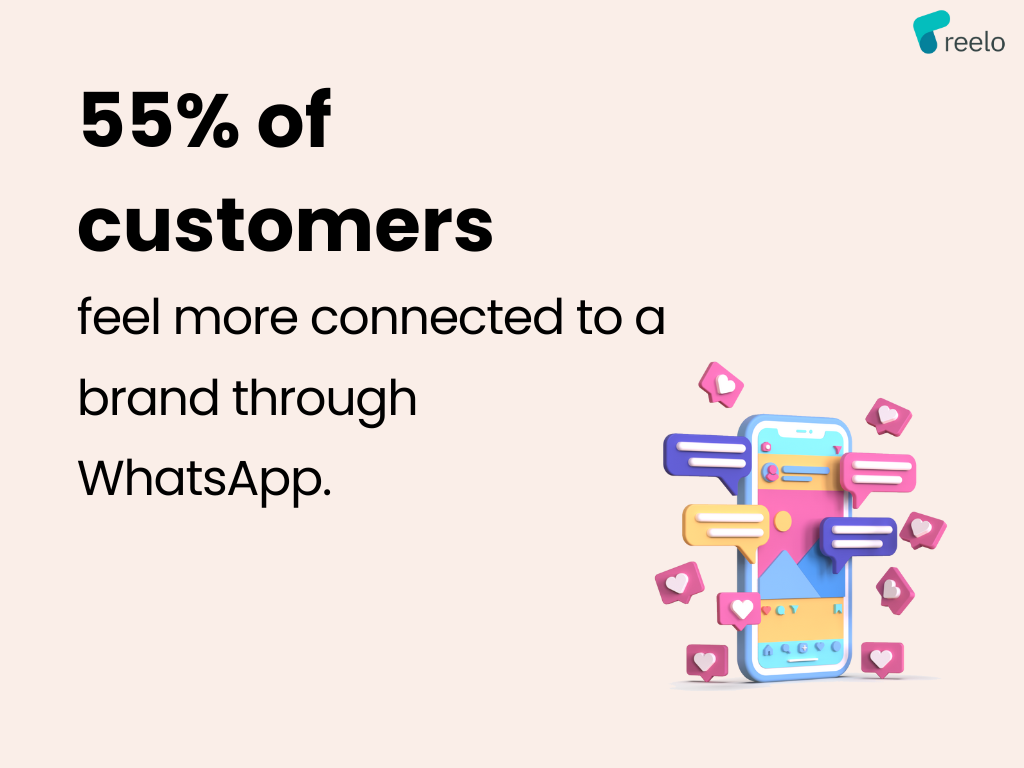 In addition to engaging messages, WhatsApp helps in taking direct customer feedback, giving quick responses to customer queries, sharing promotional offers, and providing improved customer service. All this builds strong relationships with customers.
5. Better Sales Opportunities
WhatsApp marketing is a secret sauce for more and better sales. And why not? You are going to get better sales opportunities when you engage your customers, listen to their feedback, respond to their queries, and create a strong brand image.
Reports suggest that your sales can increase significantly by 27 % if you simply add a WhatsApp number to your website. It seems that buyers feel more confident in reaching out to brands through WhatsApp.
6. Cost-Effective Marketing
WhatsApp is a cost-effective marketing channel. You can start by creating an account for free and then starting your promotions using it. An average user checks WhatsApp 23 times daily, meaning your message will reach the customer on time.
As explained above, WhatsApp comes in three forms. While WhatsApp for Business and Messenger are free to use, the WhatsApp Business API is a paid plan. However, in general, WhatsApp is a cost-effective tool that is free to use and has an incredibly high ROI.
ALSO READ: WhatsApp Marketing for Restaurants: The Ultimate Guide
7. Wider Reach
You have often seen how WhatsApp messages are shared massively. You need to get one right message, and it will go viral in no time on WhatsApp. This shows the reach this messaging platform can give your business. WhatsApp is available in 180 countries, and India has the highest number of users of the app.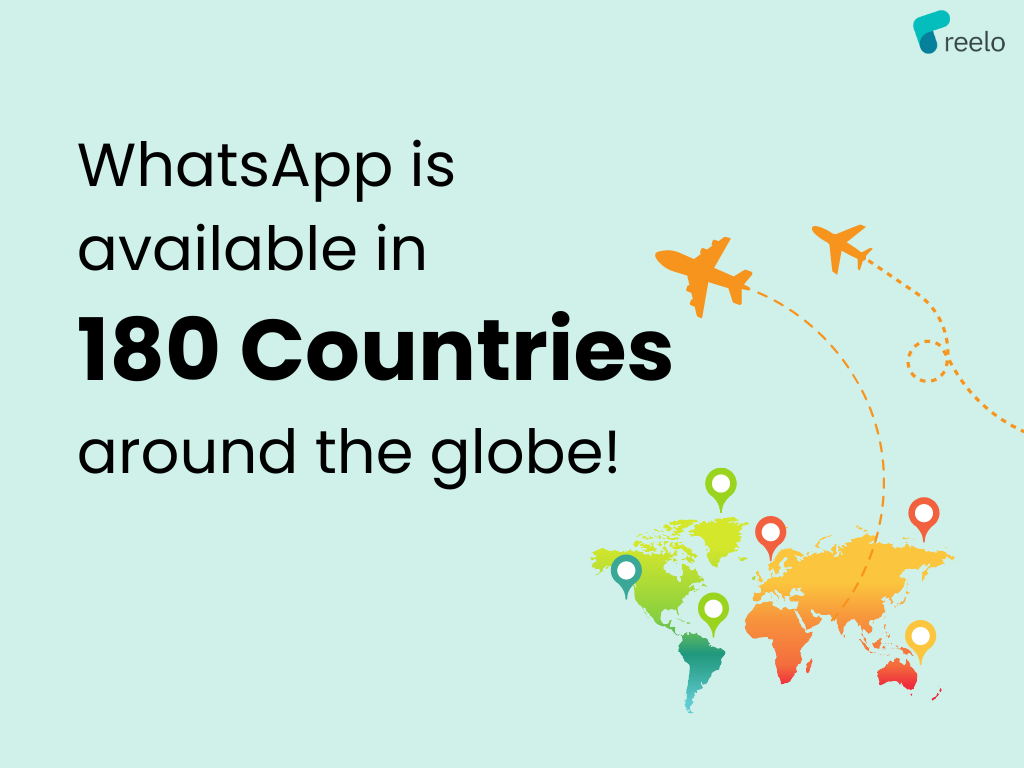 With every person carrying their phones all the time, it is more likely for them to open WhatsApp and read your messages. Moreover, viral messages and WhatsApp group messaging have provided a boost in reach.
8. Encourages Automation
With WhatsApp Business, you can set automation for all your communications. You can create automated responses in the case of repeating queries. Customers might inquire about common queries; this is where you can use automated replies. It will save you time and create a hassle-free workflow.
If you are a business looking for the most affordable and best WhatsApp marketing services, you are at the right place! Read the next section to learn about the best WhatsApp marketing tool for retail and restaurant owners.
How Reelo helps your Business with WhatsApp Marketing?
If you are a retail or restaurant owner looking for an automated WhatsApp marketing tool, then Reelo is for you! Reelo helps you create, customise, and auto-send WhatsApp marketing campaigns to your target customers.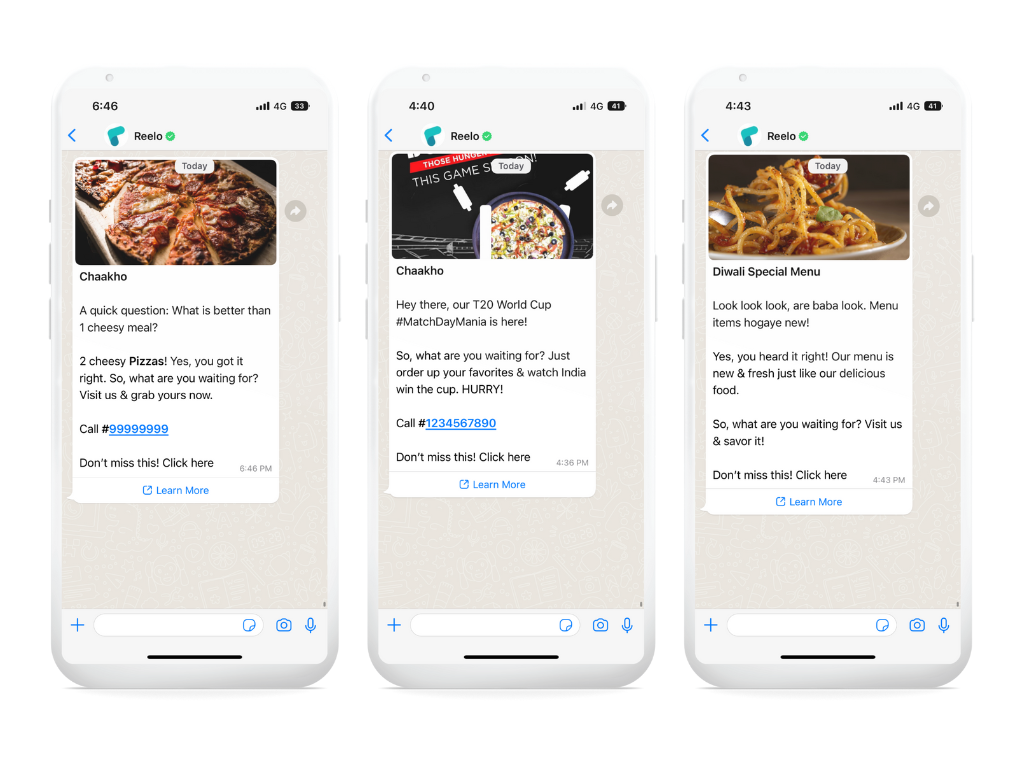 Here are the top features of the Reelo WhatsApp campaign feature:
We have around 3000+ pre-built templates. You only need to choose a desirable template, and you are done!
You can customise everything-colours, themes, headlines, logos, and more.
You can see the performance of every campaign you have sent.
You can select the type of reward you want to share for your marketing messages.
You have the option to edit your campaign anytime you want.
Reelo also provides SMS and email channels for your marketing campaigns.
If you want to start with WhatsApp marketing campaigns for your restaurant or retail business, get started with Reelo for FREE!